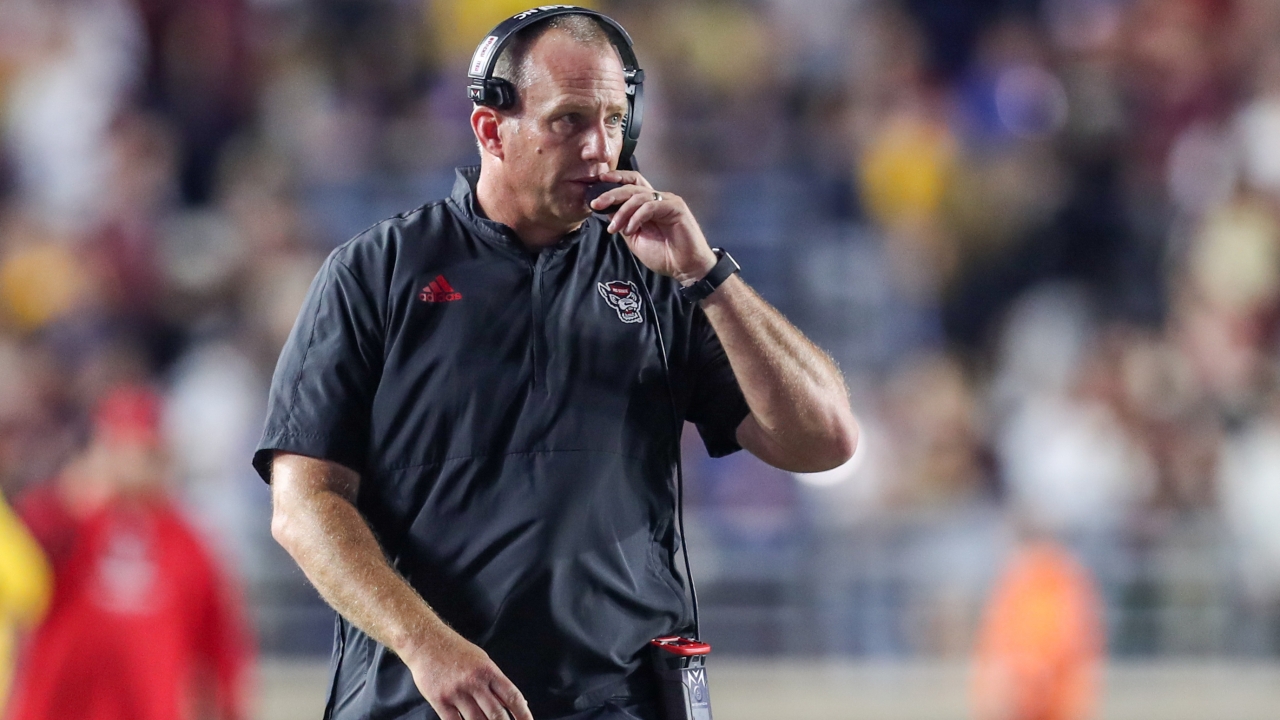 Photo by Paul Rutherford-USA TODAY Sports
NC State Football
Dave Doeren: "We Want to See the Best Version of Us"
---
No. 12 NC State head coach Dave Doeren met with the media ahead of the Wolfpack's upcoming matchup versus Connecticut.
NOTE: Click on the video in the player above to watch Doeren's interview.
---
"[Tyler Baker-Williams and Jordan Houston] are day-to-day. I expect both of them to be back with us soon, but I'm not going to tell you before the game what we're doing."
"I just told them it's our fourth game. We want to see the best version of us. Last week, we got better in a lot of areas. There are still areas we need to improve in. It doesn't matter which side of the ball. It's completely about getting better each week of the season. The kids practiced hard in the heat this week. We had a really good focus day today. I expect to see that."
"It feels good. [Payton Wilson] was sore Tuesday, but it was a happy sore though. It was a good sore. He had a really good week of practice. He's in a really good spot."
"You know, if my son were in the same situation [as Bryce Ramirez] in another city, I would hope someone would do that for my son. It doesn't matter. This profession is a brotherhood. I've always looked at coaching that way. We're competitors on game day, but if you're in this for the right reason, you're in it for young men, trying to help them be better. It just felt like it was something I could do to help him in a tough moment. He had an incredible story. He's a really, really uplifting young man. Going in there, he's got a smile on his face after his second surgery. It was good to meet his father. Sometimes, you get an opportunity, no matter what you do, to help someone else. I felt like that was an opportunity for me to do that with Coach [Dantonio Burnette], Coach [Brandon] Howard, and Adam Clark from my staff. It was nice to go out there and make him feel better."
"[Joey McGuire] hit me up afterward and thanked me for going. Our staff just talked about it. J.J. Daugherty from our recruiting office had a good idea of putting together that giant get-well card we all signed for him. It was just the right thing to do."
"Coach [Todd] Goebbel does a great job, first of all. It's not just the scheme. It's the fundamentals and energy he gets those young men to play with. They understand that they're not the third wheel of our team. It's equally important to everything we do. They're performing well. Devan Boykin had a great tackle inside the 20. Sean Brown, Colby Johnson, and other guys are getting off blocks and screening. We've talked about setting up our defense. Making their offense have a long field increases our odds of stopping them, and, vice versa, giving our offense a shorter field increases our odds of scoring."
"[C.J. Clark] is a little bit more like Justin Jones [than B.J. Hill], to be honest. He's a guy that gets off the football, like Justin did, very quick. It's good to see him get back in the statistical categories of sacking the quarterback. He was really excited after both of those plays, and we need that from our front. He's a really good player. It's good to see him get over the hurdles of the injury he had. There's a process you go through with an injury like that, and he's feeling very confident right now which is a great place to have him."
"[Bryson] Speas was voted captain for every game, you know. He's one of our six captains. He's had a great journey here. He's done a lot for our team, way more than I can explain in this setting. He's a great leader behind the scenes to a lot of guys, not just O-linemen. There are kids on our team that really respect him and coaches alike. He's a hard worker. He's a guy that shows up everyday the same. He's going to give you everything he has. He treats people with great respect. He's an incredible human being. His parents raised him very well. I'm fortunate, with the Covid rule, to get some guys back for a sixth year for a lot of reasons, but to have a guy like him on your roster, it's a pleasure to be around Bryson Speas."
Never miss the latest news from Inside Pack Sports!
Join our free email list