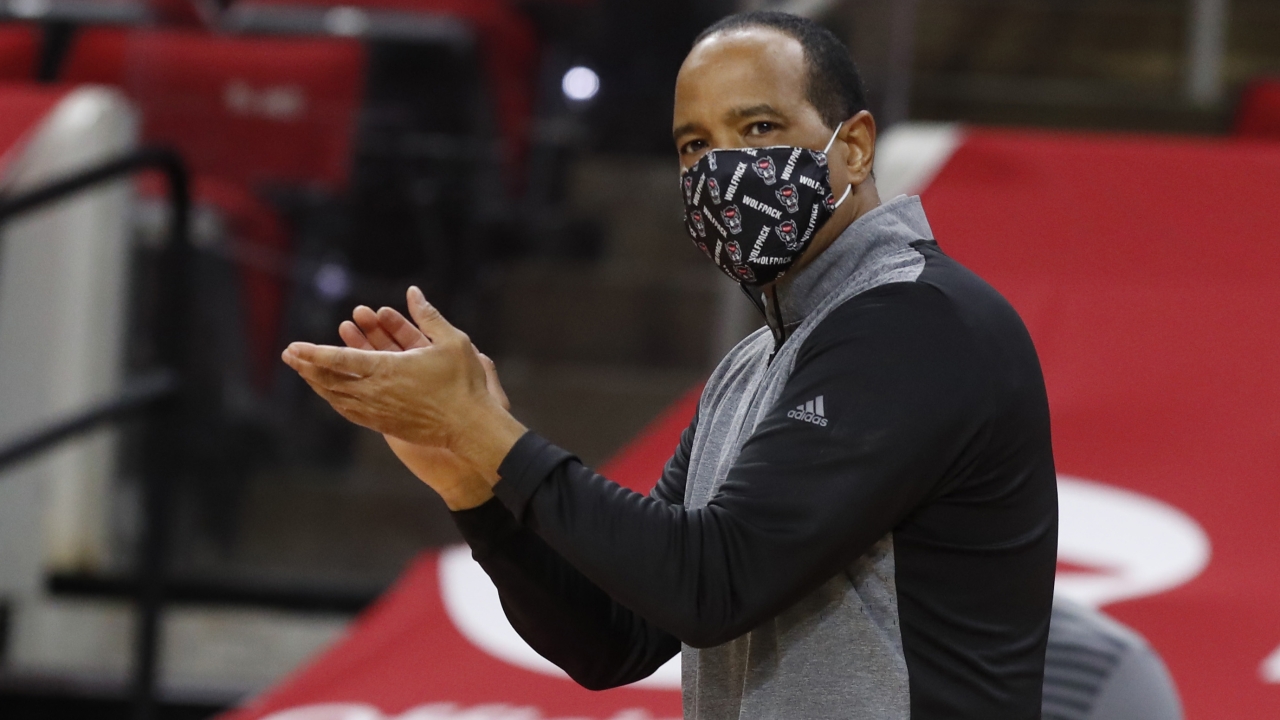 Photo by ehyman@newsobserver.com
NC State Basketball
Kevin Keatts: "I Was Excited About Our Play Tonight"
---
NC State head coach Kevin Keatts met with the media via Zoom following the Wolfpack's 79-63 road win over Louisville Wednesday night.
NOTE: Click on the video in the player above to watch Keatts' press conference.
---
Opening Statement
It's a good win for us, a good road win. I'm proud of my guys. We completely fought. I thought our young guys were tremendous, and those guys were the guys who closed the game. They did a tremendous job. We're getting better. We're fighting. It's one of those things where, I think every day, guys are starting to play a little bit better. Give a lot of credit to Ernest Ross. I thought he came in and completely changed the game around with his energy and played hard. Thomas Allen was good early. Cam [Hayes] came off the bench. Casey Morsell did a great job on the defensive end. Our big three played well. Cole [Hellems] led us early on, [Terquavion Smith] was spectacular, and [Dereon Seabron] was just steady throughout the game. It was a good road win. We want to continue to build on it. We built a really good Louisville team on their home floor. Give those guys credit. They'll bounce back. I was excited about our play tonight.
Ross' minutes have been up and down this season. Has he solidified his position as the second guy off the bench when Ebenezer Dowuona subs out?
That position is not set. He's continuing to get better. It's not his natural position, but because of our situation, he has to play there. If he continues to get better, his minutes will continue to go up. He's working hard. There's a possibility that we could see him in the starting lineup at times. He was tremendous tonight. He's a freshman, so he's going to have good nights, and he's going to have bad nights. He's shown in practice that he's getting better and understands what we're asking him to do.
Hellems has been up and down this season in terms of production, but he seemed to put the team on his shoulders in this game. What are your thoughts on what he's done as a leader to help get the Wolfpack back into things?
First of all, I couldn't ask for a better player in our program. In today's world, there may not be another kid in the program who will be there from freshman to senior year. At this level, you either play well enough where you go to the NBA early whether you're ready or not, or if you don't play, you end up transferring. This is a kid that's gotten better for us every year, and he's sacrificed his body. He's worked hard. He was very steady. He was a guy that came out with a calmness as a senior and got us going early. When you look at his stats, they were off the charts tonight. I think he played like a senior, and that's what we need him to do on this young team.
How important is making shots, especially from a momentum standpoint?
When you look at who we are, we've always been able to score baskets. They may not be pretty all the time. I think one of the biggest things is that we've had so many breakdowns defensively, and you're going to have them. We were not happy when we went back and watched the tape of Clemson scoring 44 points in the paint. We made a conscious effort to make sure we defend, don't have any blow-bys, and don't give up many post touches. I think that was the key to us winning. I think we're always in a position when we're scoring, but what separates us and what always puts us over the hump is whether we can get stops. I thought we got stops tonight.
You started tonight in zone defense. Have you been working on that a lot in practice, or is that something specific to preparing for Louisville?
I just wanted everybody to have a heart attack because we played a little bit of zone early. You guys won't remember this because it wasn't very good at the time: we played one possession of zone at home against Louisville. Nobody knew it because Noah Locke hit a three, and I got out of it. We spent a little time working on it. We'll sprinkle it in every now and then, but I thought it was a good change-of-pace defense.
How good is it to see Seabron continuing to be the player that not only scores for himself but also facilitates for others?
He's had a couple of games against Louisville. In the first game, he had 11 points. This was 15. People are going to gameplan against him, but he's got to do other things. He and I have talked about him passing the ball as one. Because of his ability to drive and draw so many defenders, we're going to have some open guys, and he's got to make the right play. He wasn't making those right plays earlier in the year. Now, he is. You become a really good player when you impact the game not just by scoring. I think that's what he's doing for us.
When you get a win like this, how gratifying is it to see your players bouncing back from adversity, bouncing back against a team that beat them earlier in the season, and not giving up on you, your staff, and the season?
Well, it's a long year, and I hope there's no team in the country that's given up after playing five conference games. Our guys fight. That's where we are. Every team in the country is going to have struggles up and down, but our guys have been in every game and have a chance to win. I'm proud of them. They've accepted coaching. They'll continue to accept coaching. They will continue to fight.
Every win is important. Every win is important in this league. Road wins are special, and this was a good, special road win for us.
Did you feel like playing zone early on helped keep the team fresh down the stretch, or was this an instance of the team just being able to finish strong?
I think that we finished strong. When you look at our zone, we still pressed into the zone. Obviously, there'll be a lot of conversations about the zone, but if you look at it, Noah Locke hit two huge threes against it, so we had to get out. I think our pressure in this particular game where we could pick them up fullcourt and disrupt them a little bit really helped us. We were prepared to play a little bit more zone, but I saw how we pressured the ball defensively. We just stuck a little bit more with man-to-man. I don't think it kept us fresh. I thought we played great on the defensive end.
Are you going to lobby to wear the black jerseys at home?
I'll let everybody fight that out. We're going to do whatever's best for our team and our program. I'll let that be Twitter talk. Whatever my kids feel comfortable in and whatever we win in is what we're going to wear. It's about the kids.
Can you discuss some of the strengths Allen provides when he's on the court?
We were playing young, but we've got to get something out of our older guys, one of them being Thomas Allen and the other being Casey Morsell. Casey Morsell had a couple days of rest and a really good practice. He just got in foul trouble. We need Thomas' experience. I think, after Christmas, he realized that, and he came back as a different guy. He gives us an older guy on the court that knows how to play. We were able to play him a little at point tonight even though that's not his natural position, but his experience of playing in the Big Ten and playing in the ACC certainly helps us as a young team right now.
Never miss the latest news from Inside Pack Sports!
Join our free email list