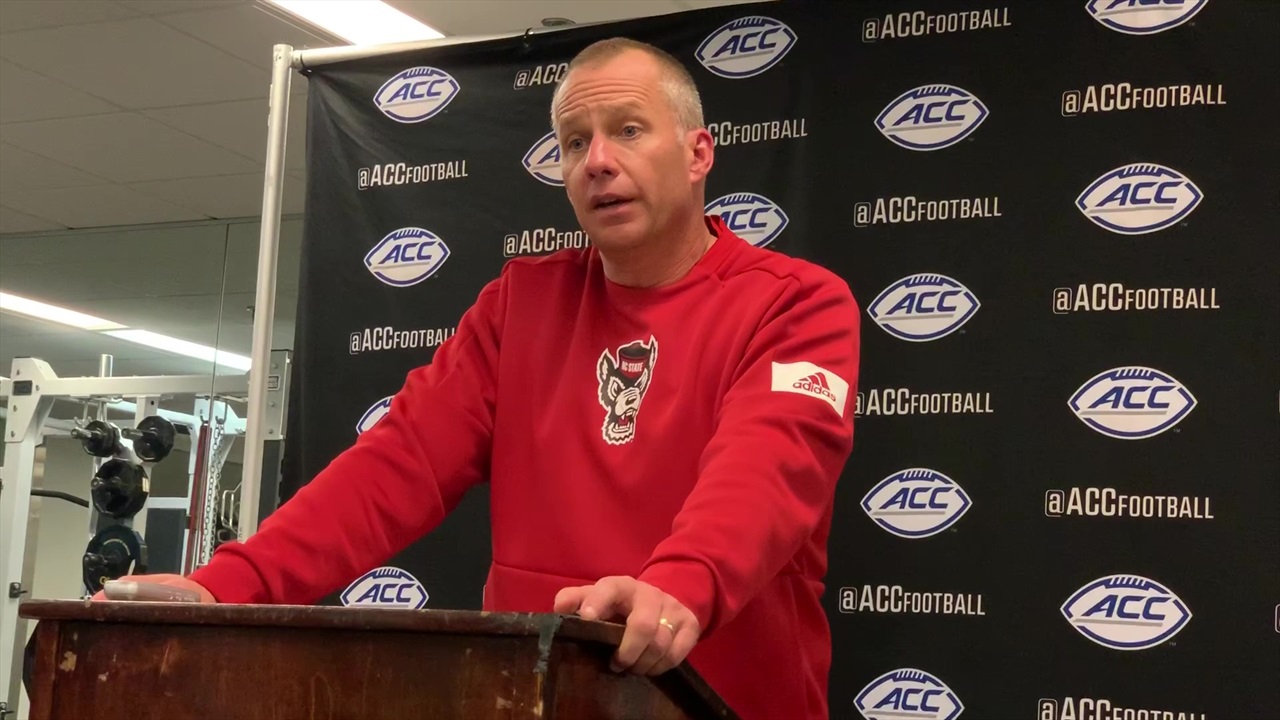 NC State Football
Dave Doeren: 'It was good to see the guys out there'
---
NC State football got in its first dress rehearsal for the 2021 season Saturday with its annual spring game, with Team Red defeating Team White 37-17 at Carter-Finley Stadium.
The Wolfpack got its first look at some key contributors for next season, including quarterback Devin Leary. Dave Doeren spoke with the media after the spring game, here's a full breakdown of everything he had to say:
---
Opening statement
It was good to see everybody. It was great to have the weather we did today. I appreciate the fans and the parents coming out that made it today. It was a fun day. It was good to see the guys out there. We had one penalty the entire day. We were trying to play as clean as we could and I felt like we did that. We were physical in the run game. There were some guys that made some good catches. I thought it went about how we expected. I thought Jordan Poole made a heck of a play running down Jordan Houston and stripping the ball out defensively.
We got everybody on our roster in there, so that was fun that everybody got a chance to play today. Typical spring game. Your goal is to get everybody in to play as clean as you can and not have any injuries. I think we came out pretty strong on all three of those.
You talked about Demarcus Jones and Delbert Mimms and how hard they had run in the last scrimmage. With Bam Knight and Ricky Person out, how big was today for those two guys to show off their skills?
They've been impressive all spring. They're tough. They understand the offense. They're good in protection. They're playing within themselves. They're not trying to do too much. They're physical backs. They're not going to dance a whole lot. They're going to get extra yards and run behind their pads. I think we've built depth at that position this spring. We were able to cross train [Jordan Houston] and [Trent Pennix]. You saw those guys playing at other positions today. Jordan was able to play receiver and running back, so that was good. But that's probably one of the benefits when you hold a couple players out at a spot, is that you build depth for when they come back. We were able to do that at running back today.
How scary was it to see Ben Finley get rolled up on the second play of the game and then how encouraging was it to see the way he bounced back?
He has a knee brace on to protect him on things like that. You hate for anyone to get rolled up, but I was right behind the play. I didn't really think it was anything major. I think it's more of a contusion or a bruise than anything. It was great to see him go through the process of being evaluated and say 'I want to come back in' and then throw a really good fade ball, followed with a run down there in the red zone for a touchdown. Ben's way ahead of where he was a year ago. You'd expect that. I think all those guys at quarterback are, but just that position, you don't touch those guys. Every now and then they do get hit, and as long as they come up healthy, that isn't a bad thing for them to have to feel contact every now and then.
How would you evaluate Devin Leary's performance?
Outside of the interception and the first pass, the first one he had a guy pretty open and rushed it and then the one pick, but outside of that he played well. I don't have the stats in front of me so I'm not sure what exactly he was out there from a completion rate standpoint. The thing I like about how Devin is playing is he's just comfortable right now. He knows the system. His eyes are in good places. He's communicating well. He's making quick decisions. He's doing what coach Beck wants him to do. It's just fun to watch him in his progression from last year to this year.
How much does it help you to have so many guys back that are familiar with the playbook?
That's one thing that you can't do, is add experience. I think being a young football team a couple years ago, these guys are now reaping the benefit of reps. I think as a program we are as well. There's competitive depth at a lot of positions. There's experience in the first string and the second string. There's positive things that they've done in games, which breeds confidence. There's been learning moments from losses and negative things, which brings opportunity to grow through adversity. These kids have been through a lot together. They've overcome a lot together. To have all that back, it's just a matter now of getting them all healthy and having a really good summer. We lost out on a lot of training last year. Everybody did. For Thunder and his group and the strength program here to have that time with them, it's an important five weeks coming up. I do love the experience factor we have. But we need to get into that weight room now and really take advantage of that time we have from now until fall camp.
Is there any update on Jordan Houston?
They x-rayed his foot. He's a negative x-ray. Probably just a sprain. It sounded like turf toe more than anything. I think he'll be fine. Obviously we don't want anybody to come out injured, but everything I've heard is that it is pretty minor.
Never miss the latest news from Inside Pack Sports!
Join our free email list