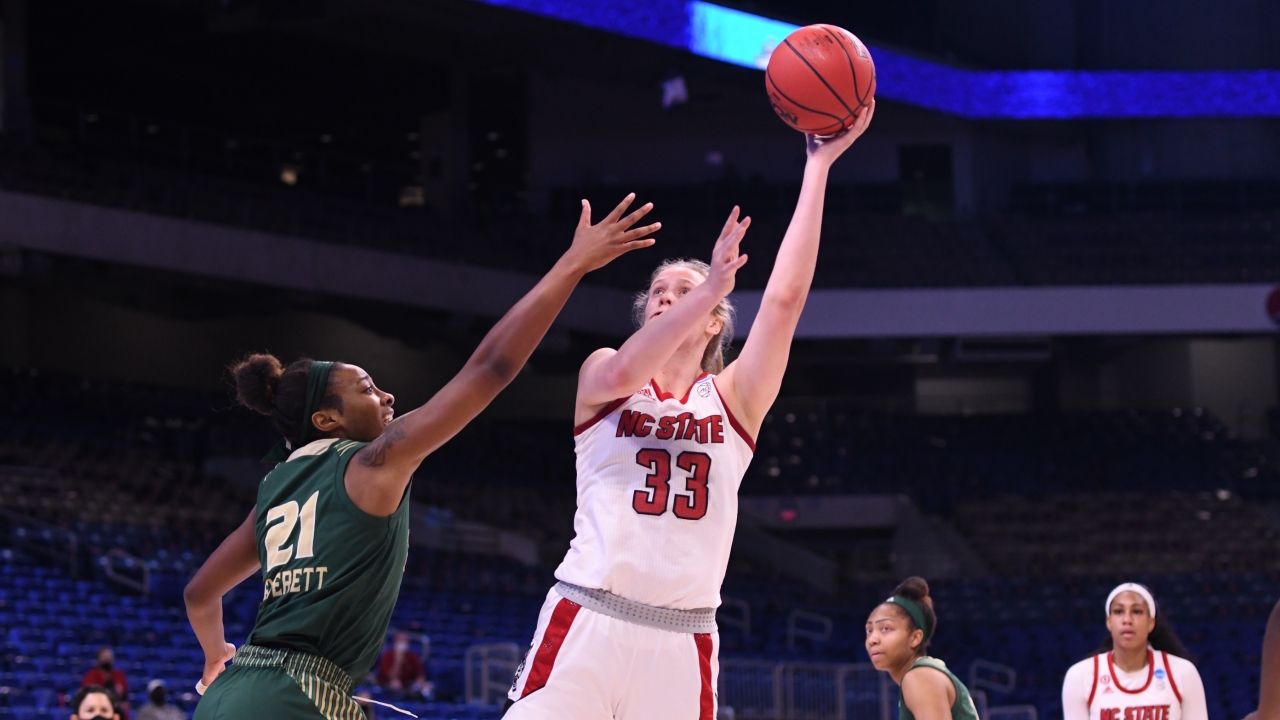 Photo by Chris Downey, NC State Athletics
NC State Women's Basketball
Elissa Cunane: 'I really believe that we can go further'
---
NC State women's basketball will play in its third straight Sweet 16 Saturday against Indiana. For star center Elissa Cunane, it will be her second straight Sweet 16, as the Wolfpack reached that round her freshman year.
Cunane spoke to the media via Zoom about the Wolfpack's upcoming matchup, here's a full breakdown of everything she had to say:
---
This is the program's third straight Sweet 16 appearance, but it's your second. What do you think is different for you personally from being a freshman last time and now being a junior?
I think that this year, I'm just older than I was freshman year. I have a lot more responsibilities on the team this year as a leader. I'm one of the main producers on the team, so I think that kind of changes from freshman year. I just have to lead the team a little bit more. I think expectations are also a little bit higher this year. I think we can perform a lot more and go deeper than we did. Obviously this is the point that we got to my freshman year, and I really believe that we can go further than we did freshman year.
What do you think has changed about your game and what do you think you've learned over these past two years?
I think my game has become a little bit more versatile. I've been able to expand my shot to the 3-point line a little bit. I also think that I've gotten better at passing out of double teams. Freshman year, people didn't really know what to expect, and so I could just have my way in the paint. Now I get double and triple teams everywhere we go. So I think I've had to learn from that, and that's opened up my teammates a lot more, which is why we've had such a spread of scoring.
This is Jakia Brown-Turner and Jada Boyd's NCAA Tournament, what does it say about them that they've been able to step right onto this stage and have the production they have?
They haven't faltered at all. [Boyd] and [Brown-Turner] walked in here like they own this tournament already. I'm just really proud of them, because they've worked really hard for this. They worked really hard freshman year and then didn't get to have the postseason, so they've got to make up for some lost time their freshman year. I think that they've been really productive for us all season. We have a balanced scoring attack, so one of them can be producing and one of them can not be producing, but they're always consistent for us and I think that's what's carried us this far.
Now that you've been down in Texas for quite awhile, how is life in the 'tournament cocoon' going, and how is the team staying entertained off the court?
It's been pretty sweet so far. We had an off day yesterday since we had two games, so that was nice. In our conference room, that's where we spend most of our time watching film, eating. We have a little court set up in there, we also have an arcade game. Coach Moore has been beaten multiple times and knocked out in back-to-back-to-back champions. No biggie though. We've been playing lots of Uno and spades and just hanging out with each other when we can since we haven't been able to see each other that often. A lot of us have been watching games. Yesterday we just watched games all day long. So it's been sweet. We've been getting good treatment. I think we're just ready, and we feel really ready for these next couple games.
Are you getting tired of each other yet?
Not yet. I think it's maybe borderline, but no, not yet.
With more down time, do you feel like you watched more college basketball this season? Was it mostly ACC stuff or did you watch other conferences as well?
I was able to watch more. I think I definitely watched more ACC than anybody, just because those are the teams that we're going to be playing against our next opponents, and then just knowing people throughout the ACC. I also think that in the postseason with all the games being televised on ESPN and major networks, that has made it so much easier to watch games. During the regular season, there would be some times the games were blacked out and we can't go to them, so what do you want us to do. But I for sure watched more basketball, mainly ACC. And I was able to rewatch our games a lot too, just with the downtime.
Without as many nonconference matchups this season, there wasn't as much opportunity to compare conferences. With four Big Ten teams in the Sweet 16, did you have any thoughts on the Big Ten coming into the NCAA Tournament?
I think with the ACC coming in, we had the most teams that even made the tournament out of all the conferences. So I think that's one testament to the ACC being the best conference. I think you just saw day in and day out the battles, and we had to fight. So I think now, in the Sweet 16, the Big Ten has their people, everyone has their respective teams. So I think we just have to keep going and do it for the rest of the ACC.
What are you guys expecting to see from Indiana, and is there another team you guys have played that they remind you of this season?
Honestly we haven't started scouting them yet. Like I said, yesterday was an off day. We'll mainly focus on ourselves, probably for this first practice. But watching the game yesterday, they're very physical and they're great shooters from the outside. They're a very fundamentally solid team. I think that we're really going to be focusing on taking care of the ball ourselves and playing lockdown defense. I think our defense will turn into offense, which is kind of the foundation that we've played on all season long.
What does it mean to you guys for coach Moore to be named national coach of the year?
It's amazing, what coach Moore has done with this program. Back-to-back ACC Champions, leading us to multiple Sweet 16s and having the chance to go beyond this year. He's just a great leader for us on and off the court. He really just molds us into the players and people that he wants us to be. I think he knows the sky is the limit. In practice, he says 'If it's not perfect, it's not right.' Which is a crazy standard, but it's his standard.
He doesn't let us settle at all. He humbles us, and I think that's what's kept us going this season. We haven't ever been complacent about where we're at, because coach Moore is always pushing us to do every little thing right. I'm super thankful for that. I'm super thankful for his coaching. I'm glad that everyone's now recognizing it and giving him the respect he deserves.
What's something about Wes Moore that we don't know?
He loves his tea. Everywhere we go, he's carrying around his tea. We got jugs delivered the other day to the conference room, and I promise you he took a whole jug and ran out of the room. So Coach Moore loves his tea. He's from Texas, so that's a given, but it's pretty funny.
How tough is it to have your families right there in the same city and not be able to interact with them?
It has been tough. I'm honestly really blessed that my Mom was able to make the trip out here. She came for the first round, she's going to come back for the later rounds as well. So it was really sweet of her to come. I think it's tough though, because my Dad doesn't like traveling, so my Dad's not going to make the trip. My brother has to work. So on the biggest stage of our life, it's really tough to not have family here. I think also not being able to see them, we waved to all of our fans in the stands, but that's it.
It's really unfortunate, but at the same time, we're here and we're playing in the NCAA Tournament, which is an honor because we didn't get to do that last year. So for a couple weeks, we just know that we have to lock down and understand the sacrifices that we have to make to try to do something special.
Have you been able to watch the other tournament games?
For sure. I've been trying to watch every game that I can, flipping back through channels when there's a commercial. Yesterday, I think I got to watch almost all the games. Shoutout to them being televised. I've for sure been keeping an eye on everybody and all the close games. It's really shown March Madness is living up to its expectations.
Never miss the latest news from Inside Pack Sports!
Join our free email list