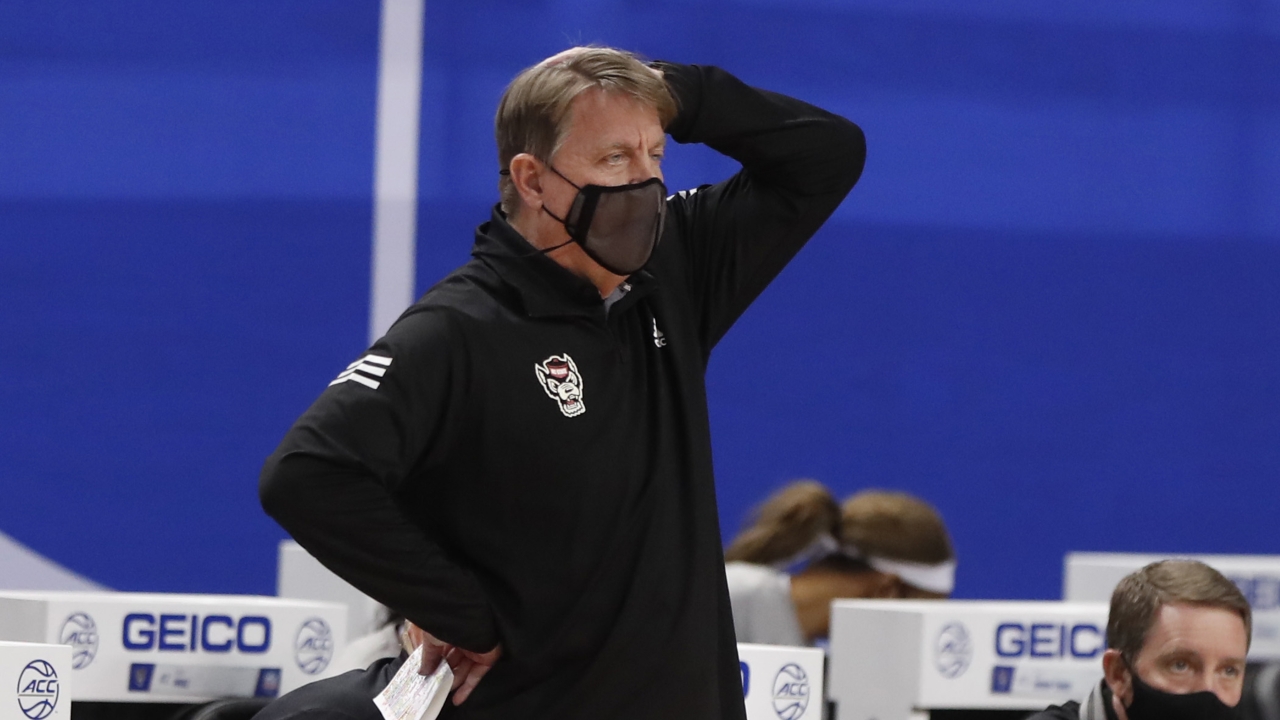 Photo by ehyman@newsobserver.com
NC State Women's Basketball
Wes Moore: 'We did some great things'
---
NC State women's basketball overcame a sluggish start in its 79-58 NCAA Tournament first-round victory over NC A&T Sunday, outscoring the Aggies 48-21 after trailing by six in the second quarter.
Wolfpack head coach Wes Moore spoke to the media following the victory, here's a full breakdown of everything he had to say:
---
How important was Jada Boyd's performance off the bench?
I thought Jada Boyd did a great job, gave us a great lift. She does that a lot. She's just so athletic and long. We were able to get the ball inside to her there a couple of times, and she did a really nice job of finishing. We needed a lift. We needed a bolt of energy, and I thought she really gave that to us.
How nice was it to get back on the court after all the time off?
It wasn't pretty. You always struggle with how to handle that, with how much time to give them off, how hard to go, how many days to go and all of those things. We didn't have our energy. We didn't have our mojo, so to speak. And we need to find that in a hurry. Part of it is that you have to give North Carolina A&T some credit. They came out and hit shots. We felt like they were so athletic and so explosive that we wanted to try to contain them and try to force them to shoot jump shots, and they made them. They knocked down a lot of good shots.
For whatever reason, we seemed to kind of lose our energy. Fortunately, we were able to get going in transition a little bit and see the ball go through the net a few times. Yeah, we've got to find it. This is the time of year you've worked so hard, so long for. My goodness, you've got to come out here and be ready to go. Hopefully we'll be better on Tuesday.
Do you have an update on Kayla Jones?
Really they don't know. We've got a doctor with us, travelling with us, and they said they'll probably get an MRI tonight and see what it is, what's going on in there. We don't think it's an ACL or anything like that, but obviously it's really tender and all those things. Hopefully we can get some ice on it and she'll feel better, tonight or tomorrow or whatever. Obviously she's a big part of what we do and a great leader for us. We won't know until we get that later tonight.
How big was the 3-pointer by Genesis Bryant late in the first half to spark a run? Did you plan on playing her more or was that a result of foul trouble?
It's a combination, but I told her yesterday in practice 'You're going to be our first option on the perimeter coming off the bench.' And how impressed I was with her in practice. Coming out of high school, she had really solid numbers. She was really close to being a 90/50/40 player, 90 percent from the foul line, 50 percent from the field and 40 percent from the 3. She can shoot the ball.
She's been looking really good in practice, so I wanted to get her out there. Jakia Brown-Turner picked up a couple of quick fouls. We decided to let her go to the offensive boards, and yeah, she got a double-double, but she also picked up some quick fouls. We're gonna have to be a little smarter there. And then with [Kayla Jones] also, it did give Genesis a lot of opportunity. I thought she did an outstanding job with it.
What was the difference in the last few minutes of the first half?
I thought we did a better job in transition. We want to push the ball and try to spread some people out. I thought we got some good buckets in transition. Again, they did a really good job. They were collapsing and doubling on Elissa Cunane in there. I think Elissa had to recognize it and settle down a little bit. She can really do a good job of passing out of the double when she slows down a little bit. I thought she did a better job of recognizing that. Again, I think [Bryant] gave us a lift.
Jada Boyd gave us a lift. So, I'm not sure until I watch the film. I don't know exactly. But I think two is that we got some stops finally. When you're taking out of the net and taking it out of bounds and they're pressing you a little bit, it does kind of mess with your ability to get in a flow. I think we got some stops, and that allowed us to score a little bit off our defense.
How important was it for her future for someone like Genesis Bryant to get in a game like this and contribute?
Without a doubt, it was good for her to play that well. Moving forward now, I think she'll have that to draw from and lean on a little bit. Again, it takes a freshman some time. I know we're in a microwave society, everybody wants it to happen right now. It's a big jump from high school to this level. The ACC, for instance, that's a big jump. It takes people some time. But I'm very encouraged late in the year with how she's looked, and I thought she deserved her opportunity and ran with it. Hopefully that's going to help her come Tuesday night as well to be comfortable.
How big is it to have people contributing off the bench?
Jada Boyd's done that for us all year. Camille Hobby has as well some. But today, Jada Boyd gave us a big lift, coming in and scoring 18 points. And then [Bryant] having nine points herself, that's a pretty good boost you're getting from those players. It gives us some confidence moving forward in being able to go a little bit deeper on our bench, and feeling comfortable with it. It was good to see, obviously.
Is this a best-case scenario in the sense that you had the struggles, you can learn from that and still come away from a comfortable win?
Personally, I'd rather have jumped out early to start the game and been clicking and firing on all cylinders. We didn't particularly look like a No. 1 seed or any of that in that first half. So hopefully it was just a situation where maybe we've been off so long, and maybe this will help us knock off a little bit of the rest, maybe draw from it, have some confidence, but we're going to have to play a lot better moving forward.
We did some great things. I thought Kai Crutchfield did a really nice job defending, and then we out-rebounded them comfortably. We gave up six total offensive boards, but two of those were team rebounds, so we really only gave up four offensive boards. So that's pretty impressive, because they are a great offensive rebounding team. So they presented some things. They're going to deny passes. They're going to get in the passing lanes. They're going to be great on the boards. They're like top four in the country in forced turnovers and steals. They can make you look ugly at times. So maybe that's good for us to have to go against some of those things before we head into the next round.
Obviously you've seen everything with the differences between the women's and men's tournament, and obviously you are getting a lot of equipment now for the workout room. But for you, being a man in this female-dominated league, and knowing how hard these girls work, how does it make you feel having to explain to them 'I'm sorry that it is the way that it is?'
It's disappointing, obviously. I think our game's gotten pretty popular and taken some great strides. A lot of that credit goes to some of our trailblazing coaches. I was fortunate enough to be around Pat Summitt my first six years right in her backyard. Kay Yow, I was an assistant for her. Those people had to fight so many battles for us to get where we are, but we still have a ways to go.
It was very disappointing, obviously, our kids worked hard and this is it. This is your big stage, this is what you put all that time in the last year, basically, leading up to this. So you want it to be a first-class situation, first-class opportunity.
And I'm very appreciative of the NCAA and all they're going through to make it happen this year. But there's still some things that are getting overlooked and shouldn't be. Hopefully, social media, sometimes it's good, sometimes it's bad, but it definitely in this case brought some attention and got some results. Hopefully we'll keep making strides. I'm really proud of our players and all they've been through to get to this point. Hopefully we'll continue to grow the game.
Never miss the latest news from Inside Pack Sports!
Join our free email list