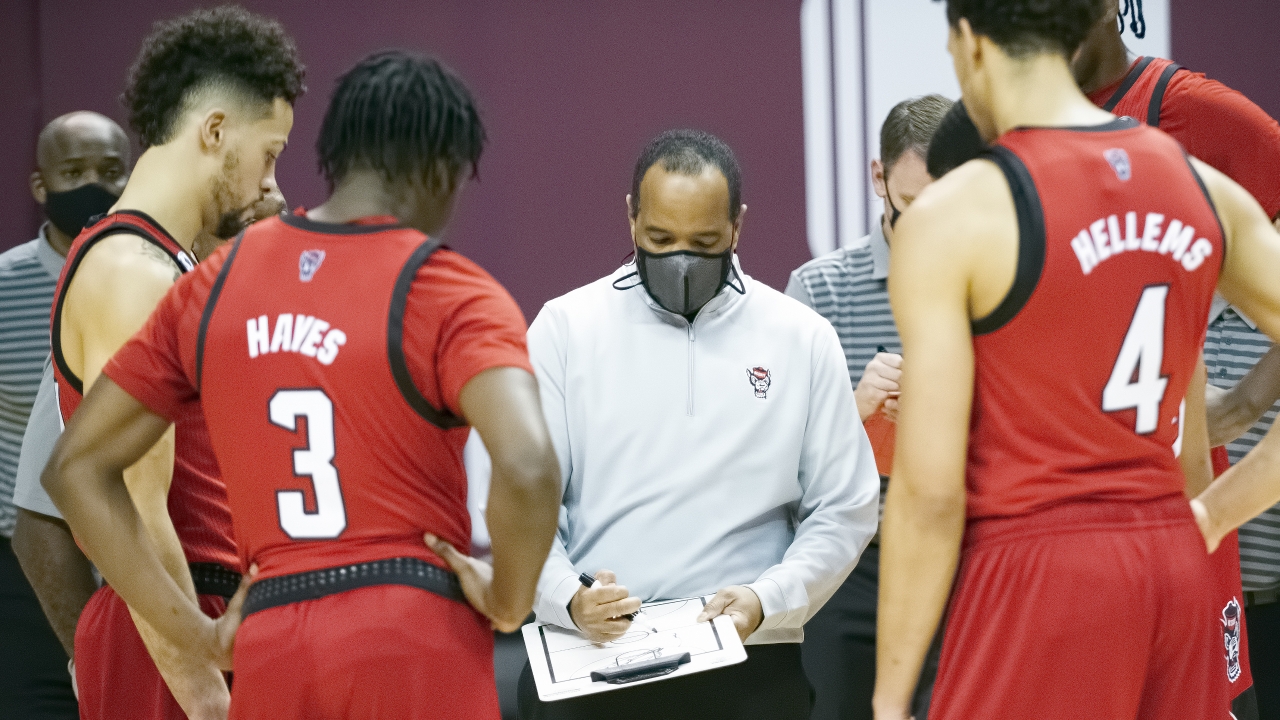 NC State Basketball
Kevin Keatts: "Every Team In This League Is Desperate"
---
NC State head coach Kevin Keatts met with the media via Zoom to discuss the Wolfpack's previous matchup versus Duke and its upcoming contest against Pitt.
NOTE: Click on the video in the player above to watch Keatts' press conference.
---
How can a desperate team be a dangerous team this late in the season?
"I think every team in this league is desperate now because, number one, you're trying to figure out if you can get into the NCAA Tournament, and you're trying to figure out how well your team can play from one game to the other. In our case, I'm looking for us to play better. Let's start off with that part of it, and for me, it's more about ball security. As we talked about after the Duke game, our desperation from me is to see some of our younger guys start to play a little bit better basketball as far as taking care of the basketball. This time of year, we're talking on February 15, I think everybody is in some type of desperation. If you're in contention for the NCAA, you're trying to fight for what seed you can get. In our league, unfortunately, the talking heads don't have a bunch of us going to the tournament, so we're all fighting to get to the tournament and finish out the season strong. For me, I want to see some improvement in some of our guys."
What is your impression of Pitt's Justin Champagnie, the season he's had, and the challenges he presents?
"He's playing at a high level, and that says a lot about what Jeff [Capel] has done with his program, but it says a lot about the kids that are in our league. When we do retain some of these guys who don't turn to the pros right away, you can see the players that we have in the league. He's been one of the bright spots. He's a tough matchup. He can score the ball inside and out. It's unbelievable how he's rebounding the basketball. I don't care who you are; if you've had a game where you've got 20 rebounds, you're pretty good. It's a tough matchup for us because obviously it's hard; how do you play him? Do you switch screens, like we typically like to do, one through four and then chance having a smaller guy over him where he can shoot the ball over him? He's become a three-level scorer. He's scoring around the basket, he's getting out in transition, he's getting to the free-throw, and he's also been deadly behind the three-point line. We just played against one of the two guys that present a matchup problem for us in Matthew Hurt, and I think Champagnie is similar in that way."
Do you have any theory as to why the traditional powerhouse teams are struggling this season?
"Well, when you say that so many teams are struggling, it means that other teams are playing well, and I don't want to slight the teams who are playing very good basketball. When you look at the entire season, a lot of teams and coaches are typically in some type of rhythm, and I don't know that anybody is really in a comfortable rhythm as we would normally expect. It's unusual, or there's a stoppage in play whether it's you because of the virus or whether it's the team you're playing against. I think everybody took the non-conference schedule for granted. Some of those guys need to get into a groove. Coaches find their rotations a little bit earlier in the year. I know it's weird because it's February, but I think people are still trying to search for a great rotation at times. When you add the fact that the younger guys don't have the opportunity to play as much in the non-conference, and we don't even talk about some of us that didn't get a chance to have our guys for summer school the entire time. I know the season got backed up a little bit. I think it's a combination of a lot of things. Typically, when you look around college basketball, the teams that are playing really good are probably the older teams because they didn't have to adjust. They're older. Some of those guys may have needed rest from the summer or non-conference, and they're starting to play. If you're playing one or two freshmen in your rotation, your team typically has struggled at some points. Maybe some teams have figured it out, but most haven't."
Do you have any updates on Braxton Beverly?
"He's been getting treatment all morning. We're going to practice at 2:30 p.m., so I'll have a better update. He's banged up. That guy's been through a lot over the last three or four years. It's not so much his back as I thought it was. I think it's more of a hip deal now, and we're trying to get him back aligned and see how he can go. He may be a guy, from this point on, who may get one day of practice before the game, and some days he may not even practice before the game. I've got to determine if I'm going to get more out of him in the game or practice, and I'm not sure I can get both right now."
What do you do in practice to remedy the turnover problems?
"It's weird. We talked after the game with the coaches and assistants. 'Are we over-dribbling?' 'No.' We're turning it over in several different ways. We just have to continue to stress to those guys the importance of taking care of the basketball. Some of this is timing. When you look at Braxton Beverly and Cam Hayes who both turned the ball over against Duke, neither one of those guys practiced the day before because they were both dealing with a stomach bug. Some of that has to do with getting out on the floor and making plays. We're going to continue to play the way we play. We're going to try and cut down on our turnovers. In basketball, you're going to have travels. You're going to have charges. You're going to have different stuff. The ones I don't like are the ones you can't defend against. When you look at that, we've given up close to 20-some points in the two games because of turnovers. That's the biggest issue. You know how I play; we like to be the ones that's turning people over, not the one who's getting turned over. We've got to figure that out. We'll keep working with our guys and talk about the importance of ball security and everything else."
What did you see that Duke did better against you defensively versus what you'd seen on film?
"I thought Matthew Hurt was unbelievable, and that's not to take away from what Duke was doing defensively. They changed a little bit. When you insert Mark Williams into the game, it gives them a guy that can affect the game, especially when you look at our game where he had five blocks. As much as that helped them on the defensive end, it also helps them so much on the offensive end because it allows Hurt to play more on the perimeter and make shots and everything else. Every coach, when you go into a game trying to emphasize something that appears to work, obviously you hop on it. I think it was more, in my opinion, what they did offensively than defensively. I'm certainly not saying that they weren't better because we didn't score as many points as we normally would, but at the end of the day, I thought their offense was really good. I thought they were clicking on both ends and moving the basketball. What happens is, when you get behind in a game, we turned the ball over 13 times in the first half, and so now you're fighting uphill the whole time, and that defense becomes even better because we're going to take some tough, challenging shots trying to get back into the game. They were better than us in the game we just played, and certainly Coach K knows his team, and he knows that they're playing better on one end of the floor than the other. Give him credit for that."
Never miss the latest news from Inside Pack Sports!
Join our free email list