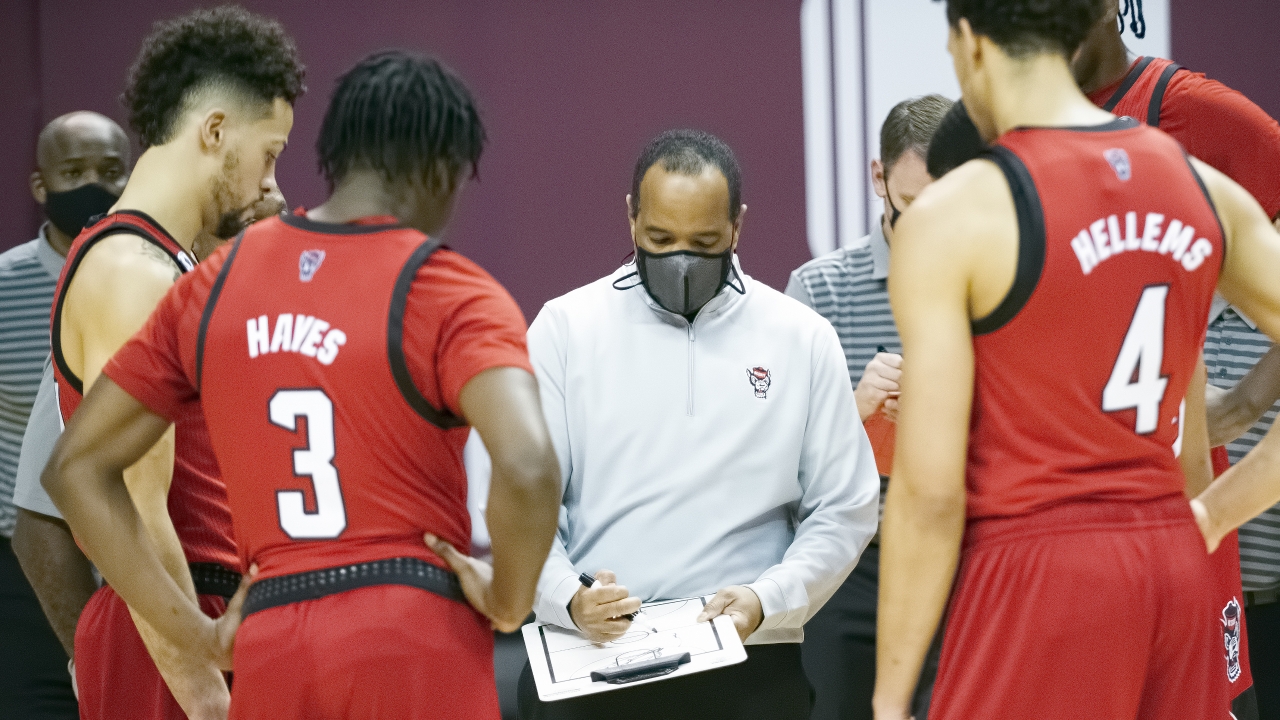 NC State Basketball
Keatts discusses team's status on weekly radio show
---
NC State men's basketball has seen its last two games postponed due to COVID issues, but is hoping to get back in action on Saturday.
Head coach Kevin Keatts spoke with Tony Haynes and Jeff Gravley (of NC State Athletics) on Wolfpack Weekly, his radio show, this week. They discussed the issues his team is facing. Here are some highlights of what he had to say:
---
Tony Haynes: [Can you] give us a status report on your team?
Kevin Keatts: We're going through a little bit of a rocky road right now. Obviously, we're doing testing, but after your Florida State game, we've had a tier-one person who was positive, and then obviously we were overly cautious. We're testing daily, and a couple days later we had another tier-one guy become positive. We're praying and hoping that in the next couple days we don't.
When you look at the virus, the first time we went through this, we had the first positive on a Friday and then we ended up having a few more, the latest one was on a Tuesday. Now that we have a control over the virus, not that we know everything that's going on, but it usually takes anywhere from three to five days if they have been around somebody and the person who's negative could be exposed and turn positive within three to five days, that's what we're usually finding out. I have several members of tier-one that are in quarantine right now.
Jeff Gravley: How different is this from the first time you guys went through this?
It's different because every time it's different. You just don't know, because the virus is so unpredictable, and then they have a new strand of it. So some of our folks in tier-one that may have had it in the early summer that maybe passed their 90-100 days without being tested, it's a possibility that they could turn positive again. That's the toughest thing, because the virus is kind of doing its own thing. There's a lot of similarities. Hopefully we've learned from the first. It's hard, because you don't know where it comes from, you don't know how they catch it. It would be the easiest thing to say 'Hey man, I'm mad at you catching it.' But that's insensitive, because that's not the way it is, and nobody intentionally tries to get the virus.
Gravley: What are you guys allowed to do right now?
It's different. First of all, you immediately have to go on some type of pause. It depends on how many days you need to pause for contact tracing to make sure that you find out anybody who's been around the exposed person. Secondly, they'll transition you out after a couple tests of those who may not be contact traced, those who are able to get back in the gym. It's a process that you could have some out, you could have some in, you could have some that have to quarantine, because of where we live in our county, seven days. It was 14 at one point. So it's just difficult.
The stages it happens in, it doesn't happen like people think. I think a lot of times, I want you to imagine if you were at home and you didn't have sports and you lived in the same house and somebody was positive, typically you're going to be out seven to 14 days. We're fortunate enough because we've been able to get tested a little bit more, that we may be able to get some guys out a little quicker, not because of contact tracing, because contact tracing you can't get them out, but if they haven't been exposed or haven't been part of contact tracing, you can get them in the gym. So I know that's a crazy, mixed-up, weird answer, but that's just how it is.
Haynes: I bet you never thought in your coaching career you'd have to explain something like that.
I didn't, but I don't take this thing for granted. We're talking about basketball games, and I know everybody, including myself, are upset that we can't play games, but when you look around the country, it's a bigger picture than what we've got going on. It's folks that have to bury or have to go through the death of some of their family members. So when you look at the perspective, and you look at the whole entire thing, this virus is really disturbing. It's really disheartening. My prayers go out to anyone who's had it or anyone who's had some tragedies because of it.
Haynes: Everything happened so quickly last week. Walk us through what happened after you guys got back from Tallahassee.
We got back to Raleigh the next day, Thursday, we had one member of our tier-one wake up symptoms of what they thought was the Coronavirus. We immediately got that person tested, and it was positive. From that point on, it's now how do we figure out who else was in contact and how do we obviously try to protect the rest of the party until we figure some of these things out?
Gravley: How disappointing is it that you have to pause at a point in the season where you're trying to get the wheels back on the car, so to speak?
I think it's disappointing for a lot of reasons. It's hard enough in basketball when you just go through regular injuries. When you look at our situation, we haven't really hard our team or been able to practice with our main team. Just Manny Bates alone has been out for an ankle injury. And then obviously we played against Carolina without D.J. Funderburk. And then when you add the fact that we add coronavirus into the mix, it makes it very challenging for any coach in any sport to be able to put his best players on the floor and be able to perform. So it's a little frustrating, because of the fact of the entirety of everything, but it's something we have to go through and we have to deal with it.
Haynes: How is Manny Bates doing?
He's getting round the clock treatment. Hopefully we'll get an update. I can tell you this, we haven't had him do much but get some individual workouts, which hasn't been long and try to jog a little bit. So it's a process. It was a pretty good ankle sprain. It was a grade-two ankle sprain, so we don't know when he's going to be back.
Haynes: Do you find it interesting how different teams are responding to this?
I don't. A lot of that depends on why you had to shut down and who was caught in contact tracing. In Florida State's situation, from what I understand, I don't think they missed much practice in 15 days. Theirs was more of an error where I think their machine was getting false positives and all of the sudden they continued to practice. I think they got better and got healthy. I think in Clemson's situation, they had to miss a lot of days. I think I read somewhere that Brad Brownell was not even able to be in practice because he was part of contact tracing. So it's different.
When you look around college basketball in general, the motivation has to come from the coaching staff then the players and your older players. There have been more close games, but there have been a lot of blowouts. Does that determine how good a team is or not? When you look at Virginia, they got blown out against Gonzaga, who's a very good Gonzaga team. When you look at Clemson, Clemson gets blown out by Virginia. You look at us, Florida State couldn't miss a shot and we get blown out. Miami goes to Boston College and the same thing happens. Boston College goes to Syracuse, Syracuse makes 16 3s.
Gravley: How would you evaluate your offense in transition vs. half court?
I hear a lot of questions about does NC State score in the half court? Our numbers don't lie. If you look at us over the last three to four years, we've always been one of the highest-scoring teams in our league. Do we get out in transition? Where I disagree with a lot of folks is I don't think we get out in transition enough. So the majority of our offense this year has come from our half-court offense. I would like to get out more and score the basketball. One of the biggest arguments I have is, people say they're not scoring in transition, when you pull our numbers, our transition numbers are not eye popping. We've been able to score and execute against some really good teams in the half court.
Haynes: Have you had to make any adjustments in your half-court offense since you don't have a player like Markell Johnson?
What we've had to do is run more plays. When you had Markell Johnson at the time, because he made big shots, all you needed was a ball screen, a high pick and roll, he could make a play off of it. Or there were times we would just send everybody to the base line and let him go make a play. That's certainly what happens. It's only two or three guys in our league that can do that every year. The times where we had him, he was one of those guys.
We don't have that guy right now. We've had to put a couple different guy in a couple positions to be able to make some shots, but it's got to come off more of a set play than anything.
Gravley: Is there another ingredient that you feel has led to a few more turnovers in conference play?
I think it's everybody. It's coming from everybody. The two guys that their assist-to-turnover ratio in nonconference was at another level was Braxton Beverly and Cam Hayes. Those two haven't played at that level. Braxton's been hurt and Cam had to take all that time off. When you look at those two guys, they were at the top of the league as far as assist to turnover. It's a little bit of everybody.
Everybody has a hand in this. Everybody's turned the ball over. We'll be fine, we're always trying to go 10 and below or nine and below. At Florida State, we only turned it over 11 times. That's tough against their team because they switch a lot of things, so that was the one encouraging thing that I could take away from the game is that we got our turnovers down a little bit more.
Haynes: Is Jericole Hellems a guy who needs to see the ball go in the basket?
He is. He started great against Florida State; he was two for two with the first two 3-pointers that he took, but he needs the ball to go in. He needs to see the ball go in. He's gotten a lot better in a lot of areas. He's become a really good, reliable player for us. But I like him when he gets off to a fast start.
Never miss the latest news from Inside Pack Sports!
Join our free email list