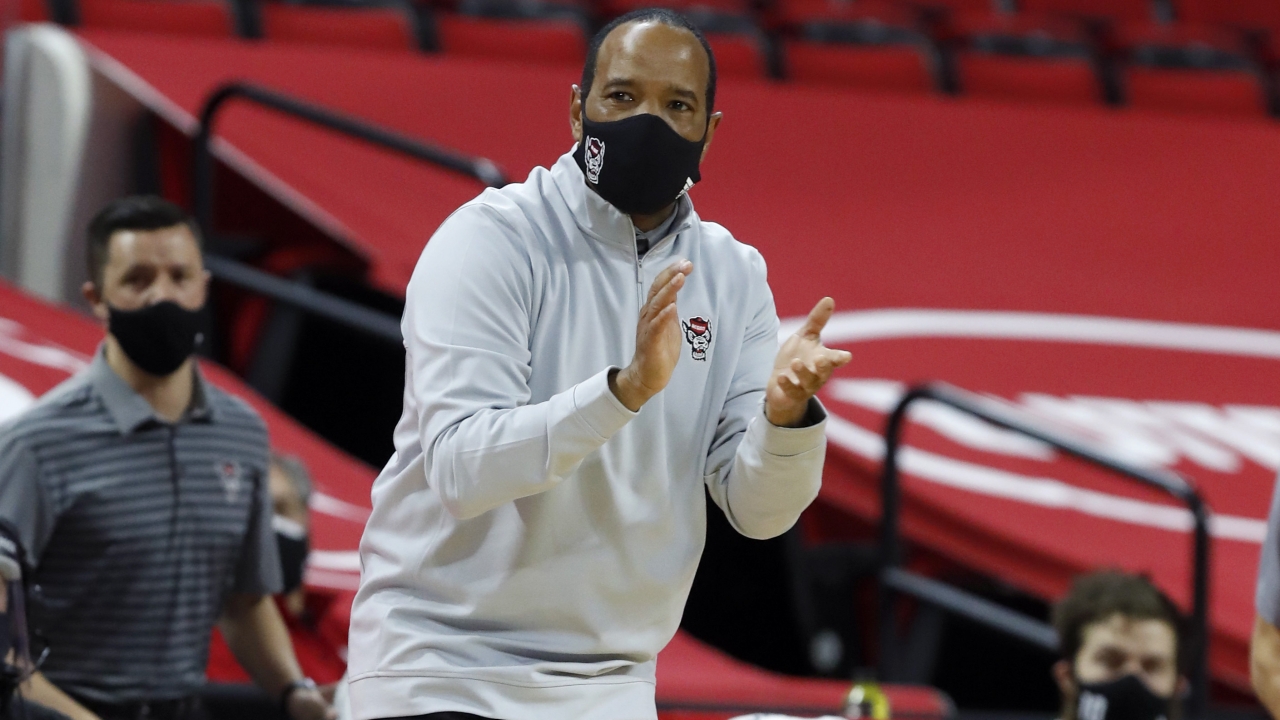 Photo by ehyman@newsobserver.com
NC State Basketball
Kevin Keatts: 'We had guys making too many mistakes'
---
Despite leading for most of the game, including by three with under 40 seconds left, NC State suffered a tough loss to No. 19 Clemson Tuesday night, falling 74-70 in overtime.
Head coach Kevin Keatts spoke to the media following the loss, here's a full breakdown of everything he had to say:
---
Opening statement
I thought it was a very good game. Obviously, if you look at that game, you're saying it's two really good teams playing really good, hard basketball. I thought we did a lot of great things in the game. I thought, obviously, the first half was really good. We defended, we executed. We did a great job getting the lead and extending the lead in the second half. Too many mistakes towards the end of the game.
We didn't win the game simply because we made mistakes down the stretch. When you look at the Boston College game, there was a calming effect. Guys knew they were going to win. Too many turnovers, too many defensive breakdowns. Too many young guys made mistakes, and our older guys did too. So I'm not pinpointing anybody. If it's one of those games, we have to get better from that. We've got to learn from that. Every game that we play in the ACC's going to be a possession game. I thought we did a tremendous job finishing the Carolina game. Same thing with Boston College.
Tonight, I thought we fell apart at the end because we had too many guys making mistakes. I needed our veteran guys to step up, because they were a part of it also. So, we've got to get better. We will get better. I told my guys I'm proud of them. They played their butts off. It was a great game. If I had one mistake, I thought we had too many. It wasn't just one person, everybody had their hand in it.
What do you say to a guy like Devon Daniels after this game, because he played 45 minutes overall, the most minutes of anybody, but then he had the three critical turnovers down the stretch. What do you say to him?
He can't make those mistakes when you're a senior guard. I told him, I said, 'Your leadership is what we need.' In the Boston College game, he had a calming effect. He turned the ball over a few times, and it was almost like he was pointing fingers. And that's not picking on Devon Daniels. But when you have a senior guard, and for us, because obviously without Braxton playing, we were playing freshman guards, other than Thomas Allen, we'll learn from it.
I told them, 'We've got to get better on it, we've got to be able to finish games. I thought Devon had a really productive game but just obviously at the end, unfortunate turnovers.
DJ Funderburk had 20 points on only eight shots, and seven rebounds in 27 minutes, what are your thoughts on his performance tonight?
I thought he was great. I thought he did a tremendous getting on the offensive glass, he got us some and-1s. He made a big 3 for us. We're trying to get him the ball in a situation where they had a switch. Devon tried to throw him the basketball about 10 feet away from the basket. I thought he could've got a better look off of that instead of trying to throw it to him post and up.
I thought DJ was a real bright spot. My guys played their butts off. I'm excited about all of those guys. If you don't know that we are a really good team, we are a really good team. But we have to clean up the mistakes that we made down the stretch tonight.
The offense only made two field goals in the last 10 minutes of the second half. Was it more a lack of offensive execution or something that Clemson was doing on defense down there in the last 10 minutes?
I don't think it was anything Clemson was doing. We just didn't make shots. I thought we got some looks we didn't make shots in. By the way, Clemson's a good defensive time. I thought in the first half, the pace was completely in our favor. We were able to score 39 points in the first half. We had Clemson playing a little faster than they like to play. But at the end of the day, give their defense some credit. We missed some shots. But a lot of that is because they're a good defensive team.
I think you take pride in winning the turnover margin, but the last two games you've lost it. How do you improve that moving forward?
We've got to take care of the basketball. Most of our turnovers probably came late in the second half, where I thought guys got really careless with the ball. We've got to do a good job in that situation. We only had eight assists. Obviously Clemson's a team that if you drive, they sell out to protect the paint. Sometimes, we didn't make those extra passes. There weren't a lot of opportunities for those, because in the first half, we shot over 50 percent. I don't know what we shot for the game. But I thought we did some really good stuff. We've got to clean that up.
How have you seen Manny grow over the last two years?
He's gotten better, extremely, extremely better. He's worked at it. Obviously, give him credit. When I told you guys he was a game-time decision, he was a game-time decision. For him to stick it out and be able to play in this game, I didn't know until probably about 5 today that he was going to play in the game. But he's gotten better because he works at it.
Do you feel like your team is finally hitting its stride after the crazy start to the game?
I really like my team. I like our pieces. I told my team, when I went into the locker room, I'm so proud of them. It was a good game. It was a great college game, back and forth, on somebody else's floor. If we clean up the mistakes, because it's not a major problem, this is the first game this has happened. If we clean them up, then I certainly think we can compete and beat most teams in the country, and I'm excited about our group. I love our pieces. I think we've got a chance to have a really good basketball team. But we have to fix this. If you're going to lose a game, hopefully you learn from it. If we learn from it, I'll take the loss to get better.
What did you see from Shakeel Moore in his first ACC road game?
He's a good player. He's getting better. He's getting confident. The good thing about Shakeel is that he's not afraid of the moment. You can count on him at the end to make some good plays. He's aggressive. That being said, when you're playing two freshmen the bulk of your time, there are going to be some mistakes. These two guys, when I say him and Cam Hayes, they both have to learn on the fly. They've both been thrown into an ACC situation, and I think they're both doing a tremendous job. Shakeel's toughness is what gets him through. He's one of the toughest guys that I know, mentally and physically, and he's only going to get better.
Late in the game, you guys were up 3, Clemson had a run out and they knocked down a 3 to tie the game up. How would you like to defend that play?
I had a freshman in a bad spot. They got a transition, they were driving up the right wing. Instead of Shakeel getting out to the shooter, I think it was No. 4, he sucked in and they got a shot off. It wasn't a strategy thing, we wanted to defend it. He just got sucked in, and those are the things that you're going to have to learn when you're dealing with young guys playing in the game, he'll be better for it. But that's one of the things, I think the score was 62-59 at that moment. They were coming up, he got sucked in and they kicked it for a 3. As he gets more mature, gets more playing time and more situations, he won't come off on that guy.
You would want him to stick on the shooter, right?
Absolutely, 100%.
Are these two teams that could compete for an ACC title?
I hope so. They've got a good team. The reason why they are a good team is because they stick together, they play together. [Aamir Simms] didn't have a great night, and they found a way to win. We have a good basketball team. Getting DJ back and getting Cam Hayes back, certainly we have a good basketball team. I hope. I hope that's the case. If you know something that I don't know, we'll do it right now and play that game tomorrow. But, I'm excited about my team. We're going to clean some stuff up. We're going to get better for it.
Never miss the latest news from Inside Pack Sports!
Join our free email list