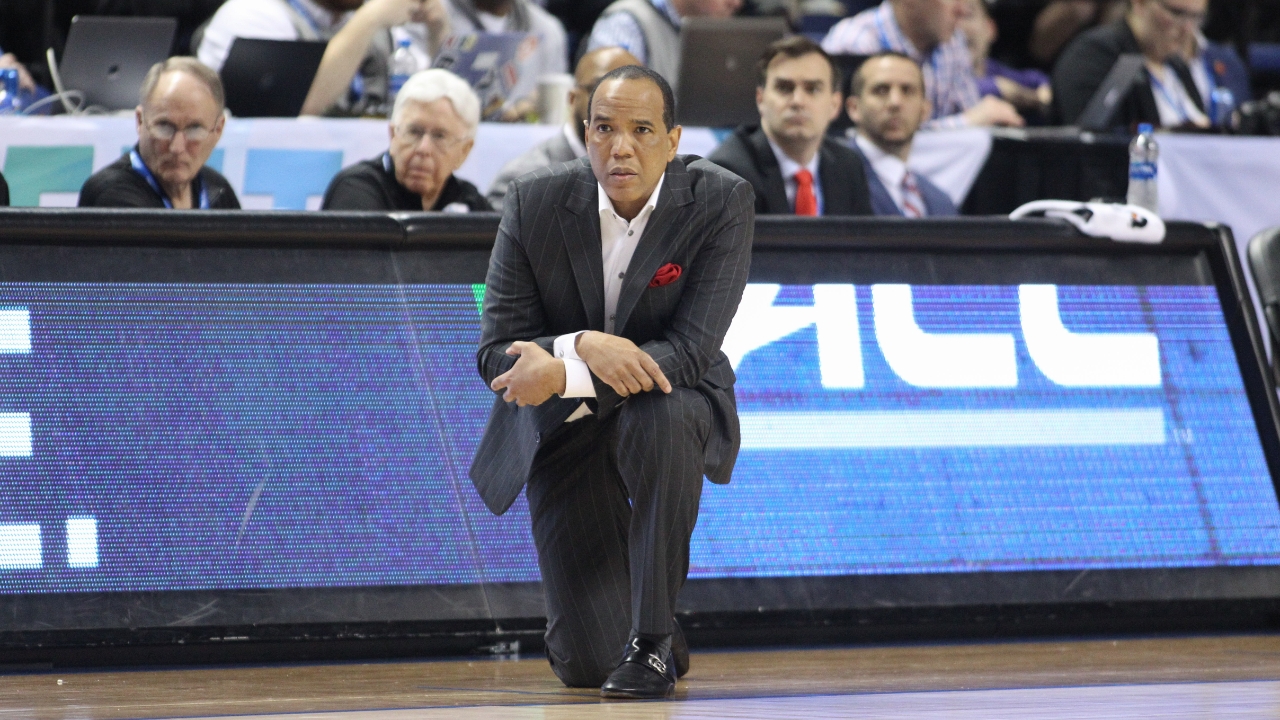 Photo by Steve Murphy/IPS
NC State Basketball
Kevin Keatts: "They're Going To Get Thrown Right Into The Fire"
---
NC State head coach Kevin Keatts met with the media via WebEx as a part of the Atlantic Coast Conference's preseason press conference for all 15 head coaches.
The Wolfpack finished last season 20-12 overall record with a 10-10 record in the ACC. Keatts' squad enters the 2020-21 campaign picked to finish eighth in the conference.
Keatts' comments to the media are transcribed below.
---
Opening Statement:
"I'm excited about my team. I have a mix of older guys who have been battle tested, and I've got a bunch of freshmen who have not played in the ACC. When you think about the guys who are returning, our best players so far have been Devon Daniels and D.J. Funderburk, and then when you look at Manny Bates and what he did last year, he was a big contribution guy to our team. Jericole Hellems, Braxton Beverly, and Thomas Allen, who sat out last year, are veterans who have played really good basketball, and hopefully they play like veterans right away. The tough thing for us is that we don't have scrimmages or exhibitions for our new guys, so they're going to get thrown right into the fire."
How do you feel about the possibility of games getting cancelled or March Madness pushed to as far as May? Are there any scenarios you've heard on the matter?
"We hope that, if we need, there could be adjustments. I would say, at this time, everybody's planning on having the season finish when it's supposed to and trying to have March Madness in March. We're a little different than football. In football, most of the schools had two or three open weeks where they could play a game if something happened. In our situation, if you're looking for 14 or 21 days if we had to pause for that amount of time, we could lose four or five games. We're hoping, if it gets to that, certainly they could have some conversations at the end of the day about possibly moving the tournament back, but I would say right now everybody's going to plan on like it's scheduled.
How much do you feel like you're going to have to rely on the freshmen early on?
"We've tried to create tough situations in practice to prepare them for the game. The tough thing about that is that you won't know until they get in the game. The couple of guys I know that stand out that will have to play for us, especially the way we want to play, will be Cam Hayes and Shakeel Moore, and then one or two of those big guys are going to have to play the four or five for us. They're talented freshmen, but as you know, being a freshman and playing the point guard is the toughest position to adjust to in college basketball, especially when you play in a great conference like the ACC. I know there are going to be some ups and downs. We're going to have to live through some of their mistakes, but I do think those guys are prepared to play.
Are you committing to two freshmen playing point guard?
"I'm not. I don't know when or who will start at the point on opening night. We have several options that I've talked about for weeks now. I certainly love what Cam Hayes brings to the table. I certainly love what Shakeel Moore brings to the table. They're both different. They could both play some one and two for us, but we do have an opportunity to play a guy like Braxton Beverly at the point and Thomas Allen if we need to. It just depends on the feel that we have going into the game. Do we start off with some veteran guys and then bring those guys in and let them play after watching the game for a little bit? It's completely up in the air. I probably won't know until Wednesday who's going to be our starting point. That being said, we're not in a situation where I don't feel good about it. I think all of those guys bring something to the table."
How important is it to have senior leadership in both the frontcourt and backcourt returning for this season?
"It's always important to have seniors to return. We're fortunate that we do, I think more so in Devon's situation, to have a veteran guard who, we can make the argument at the end of the year, was playing the best basketball out of any guard we had on our team. I think that's a major plus for us. When you look at D.J., D.J. brings something different to us because he has the ability to play the center position and also some power forward, and we can go with a bigger lineup. That being said, he complements Manny in a good way as opposed to last year. I thought sometimes when we had them on the floor together, they kind of clicked together, and we worked a lot in practice, being able to see them play together and see how they could coexist on the floor at the same time. Having both back is a major plus. We've also got guys who have gotten better. Manny Bates has gotten better, especially on the offensive end. We've also got guys like Braxton Beverly, and a lot of people aren't talking about the fact that Thomas Allen played a couple of years in the Big Ten, so we do get that experience from him, also."
How will you deal with empty arenas moving forward at home and on the road?
"It's going to be different. I don't think any of us understand how different it is. We're all used to playing in scrimmages where there are no people, and we all practice everyday where there are no fans in the stands. I think what we, not just us but every team, have to do is create their own excitement. I think you're going to have to block the fact that there are no fans. When you think about us, we're a pressing team. When we get a steal, that rush of the 20,000-plus fans at PNC Arena helps you win games. On the other end, it's different when you go to great venues here in our league, and there's such great home-court advantage because of their fanbase. The motivation is going to have to come from our coaching staff and each and every player on your team to create excitement for your own team."
Never miss the latest news from Inside Pack Sports!
Join our free email list