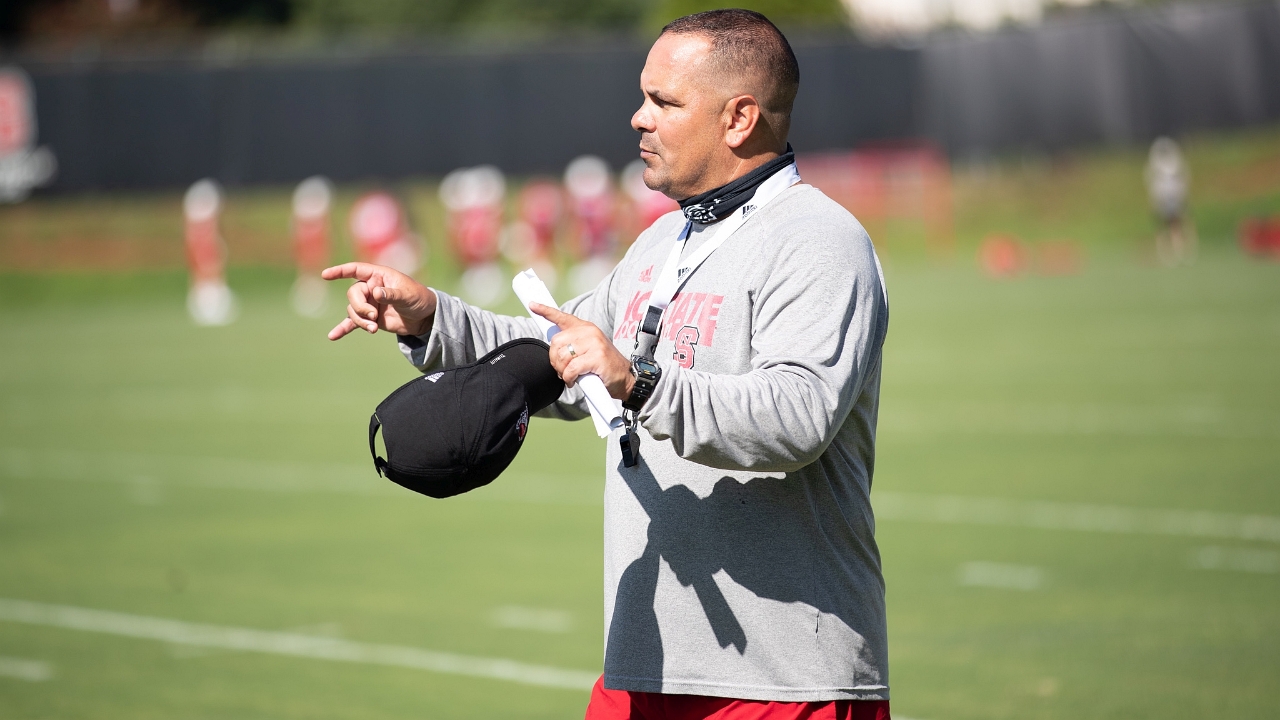 Photo by NC State Athletics
NC State Football
NC State DC Tony Gibson: "I Really Like This Group Of Kids"
---
NC State defensive coordinator Tony Gibson met with the media and discussed the Wolfpack's defense, personnel at linebacker, and much more.
---
Opening statement...
As you all know, we've had a different experience in fall camp this year. It's been unique, to say the least. I thought our kids, every day, came out and prepared the right way, worked hard. They overcame every obstacle that we had thrown at us, whether a guy was missing because of COVID or contact tracing, or whatever it was. I thought our kids did a really good job of getting through that, moving on and just preparing, trying to get better within our scheme. So I'm very, very happy with where we're at. I really like this group of kids. They're hungry, they want to win, they want to do stuff the right way and I appreciate that about them all.
We talked to Daniel Joseph yesterday. He thought you were the first one to reach out to him in the transfer portal; is that right? How did you guys entice him to Raleigh?
That was obviously a need going in. We needed to get an older guy or two with losing so many guys last year. So that was a priority for us, and we felt like we needed an older guy to come in. So when his name popped up on the portal, we jumped all over him. I don't know if I was the first guy or not, he would have to answer that, but we were looking, we had some options, and we felt like he was the best fit for what we were doing. We brought him on an official visit, sat him down and talked a lot of football with him.
We got down to business. He was coming here to play ball and start on his graduate program. We gave him everything he needed academically. We showed him what we were going to do on the football side of it and how we were going to use him. Once we saw him, he definitely was a guy that we wanted and was a guy we thought would fit well.
When you look at the linebacker corps this year, there's a lot of young talent, but a lot of guys that played a lot of snaps last year. How good do you expect that unit to be in particular when you have so much depth at that position and so many guys that did take a lot of snaps last year?
Last year, we obviously were decimated by injury at that position as well, lost a lot of guys. A lot of guys got to play, which is a good thing now. At the time we didn't think it was good. But obviously now, a year later, I think about every guy in that room that was here last year played at some point. So there's a lot of experience coming back, a lot of talented guys coming back.
Payton Wilson led our team in tackles and started in one game. We're very excited about him, very excited about Drake Thomas, Isaiah Moore, Louis Acceus, Vi Jones, Calvin Hart. So we're very deep. Jaylon Scott's another guy. So we're very, very deep at every position.
I feel very good about those guys, they've had a really good camp. I'm excited to watch them play.
Earlier in camp, coach Doeren talked about guys on the defensive line playing multiple positions, what do you look for in terms of that?
It's pretty unique with the scheme that we run. At times, they're going to be in four techniques, five techniques, three techniques at times. We need bigger bodies, 4-3 defensive ends that are 220 pounds are hard to fit in this system.
The guys that we can move around at nose guard like C.J. Clark and then also put him out at end, they have to be able to hold the point for us, they have to be able to penetrate double teams and fight in there. So really, all of our guys, we feel that they can go in and play inside as well as outside.
We like the group of guys we've got. Savion Jackson is a big-bodied kid that can do it. Terrell Dawkins is a guy that obviously we would just leave at end. But if you go through that list of guys, we probably have eight or nine guys that we feel good that we can move inside as well. That's counting our young kids.
Looking at the talent you have at linebacker, have you looked at other formations to get as many of those guys on the field as possible, and where does Vi Jones fit into that?
He could be an every-down linebacker for us. He could be in our dime package at linebacker as a rush guy, as a cover guy, he's very, very athletic. There's some guys that don't fit on third down with what we do and how we want to play in that linebacker room. But we can get big if people get big personnel with us. They get into 13 or 12 personnel and we want to get big, we can do that now.
We can get a four-down look with a linebacker being a field end or a rush end, per se. We feel like we've got of guys that can do a lot of different things.
The two guys that have gotten some work are Jaylon Scott and Vi Jones, moving around and playing some different spots to get that fourth linebacker for us.
With injuries and youth being an issue for the secondary last year, what have you seen there and how do you feel going forward?
I'm very excited about those guys. Obviously Tanner Ingle and Tyler Baker-Williams are two guys that have played a ton of football.
What's exciting about Jakeen Harris is that he got thrown in the fire last year and I thought he responded well at times. Now it's an every-down role for him. I like where he's at. As we started spring ball, he was showing flashes, he was confident, was a lot more confident, was able to make all the checks, have a voice back there and I really liked where he was at. He's continued to do that through fall camp.
Khalid Martin's another guy that we were kind of redshirting and then we played him in the Carolina game, started that game and played a bunch. So he's got experience.
The other guy is Rakeim Ashford. He's another guy that you guys haven't gotten to see yet. I'm very, very excited about him.
Devan Boykin's another guy. Josh Pierre-Louis is another guy. So all those guys playing at nickel and safety, we're excited about and really like where we're at with them.
Our corner group, with Teshaun Smith and Taiyon Palmer, we've got Shyheim Battle, Malik Dunlap, Cecil Powell, those kids have all grown so much. Coach Mitchell's done a great job of coaching those guys, working technique and they're playing with a lot of confidence as well.
We're excited. We've still got some youth back there, and I'm going to be excited to watch them play against Wake.
After watching the last two weeks of college football, it seems tackling will be an issue early on, how do you feel about that?
That's a great question. That's why I've been waking up at about 2 a.m. every night and not sleeping well. That is my biggest fear. What we've done, we've done a really good job. Coach Doeren will do a team drill with all the offensive and defensive skill guys and we'll all tackle, because special teams is involved with that as well. We do a drill every other day with the offense and defensive guys. Coach Roper, coach Goebbel and I have broken off and done some combatives one-on-one tackling in space. We do a lot of tackling circuits on the defensive side.
So we've tried to hit it the best we can. Obviously we've gotten one good scrimmage in where we tackle and then we've tackled pretty well. So obviously I was kind of shocked and excited watching that film with how well we were tackling. It was the first time since March that we were in a live situation. So I was happy to see the scrimmage. I didn't track a lot of missed tackles in that. Moving forward, it's going to be wait and see, and making sure our guys are at least running to the ball if we do miss one and the next guy there needs to make it. But that's a concern, and it's nationwide. So we have to keep coaching it up and keep working the drills. Hopefully it'll all kick into effect against Wake.
How much of tackling is attitude and how much is technique and talent?
A lot of tackling is want-to. That's the biggest thing. Do you want to tackle anybody, or are you a hitter? Obviously they're here for a reason. We thought they were talented enough to play at this level. But you get some kids in here that weren't taught the right way, maybe or are tackling a different way than how we want them. So you try to fine-tune that and tweak it, but a lot of it is effort. Getting to the football and being willing to wrap your arms and put your face on it. There's a lot of it that's attitude and want to, who plays aggressive and who doesn't. That's something that we've got to track. Everybody looks good in shorts and t-shirts, but when the pads come on the real guys step up. Hopefully we've got a lot of those real guys.
Coach Thunder was talking about throwback or old-school players. He named three linebackers. What makes guys old-school players?
Well they wear a neck roll still like coach Thunder so maybe that's what he's looking at first. Those guys are gritty, they're nasty, they'll hit anything that crosses their face, so they love it. And Payton Wilson's that same way. They seek out contact. Some guys may shy away from it, they love it. That's part of their DNA and they're throwback linebackers. They need to be wearing 55, 44, numbers like that the way they play. I like their attitude and the way they do it.
Never miss the latest news from Inside Pack Sports!
Join our free email list