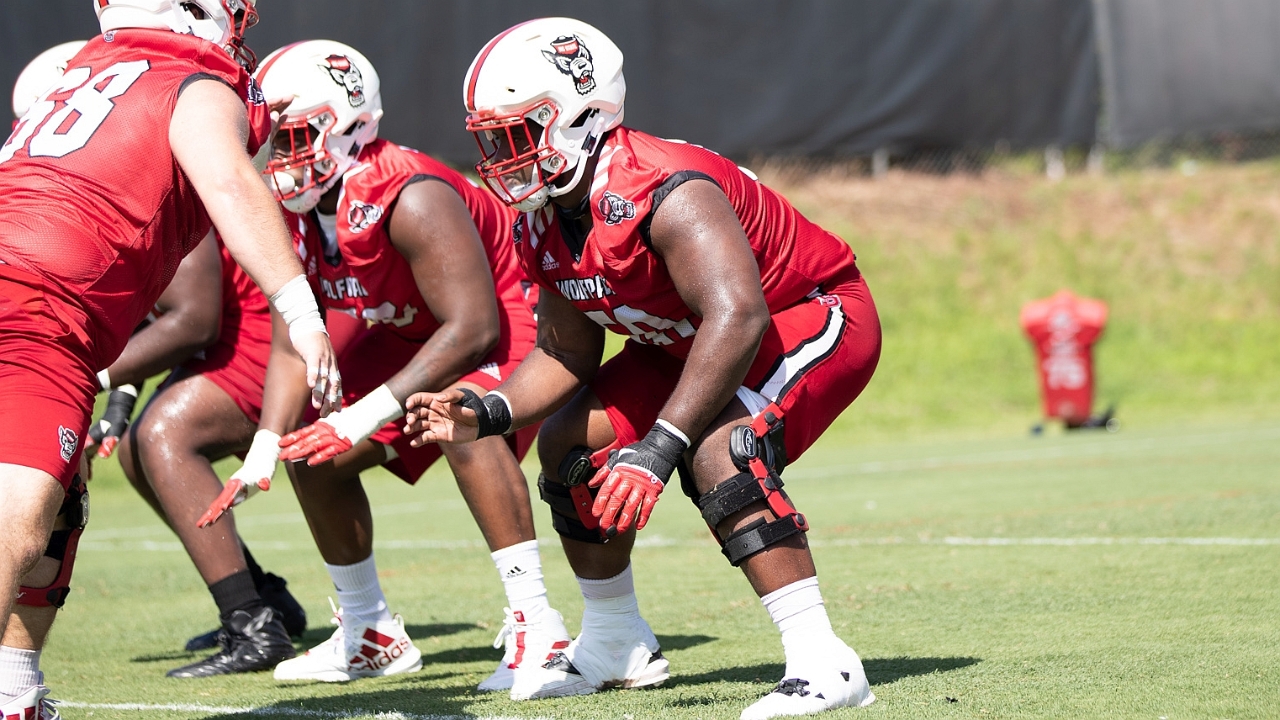 Photo by NC State Athletics
NC State Football
Grant Gibson: "We Want To Get The Chance To Play"
---
After making the switch from defensive line last year, NC State will expect Grant Gibson to be a leader on the offensive line for the 2020 season.
Here's a full breakdown of everything Gibson had to say about the start of fall camp.
---
One thing that Dave said was that the two of you [Gibson and Isaiah Moore] have stepped up as leaders for the team, both on and off the field. How important was it for you guys to do that this offseason, in particular, going into this upcoming year?
I think for me in years past, just looking up to the older guys and the stuff that they've done for me, they've helped lead me and teach me things. I wanted to be able to do the same thing for the younger guys. So that was one of my goals this past year is to just try and lead better and bring other guys along.
How much did you learn making the switch last year from defensive to offensive lineman that carries over to this season as well?
Last year was huge for me, just the things that I learned on the field. Just being out there and being able to play. I learned a lot. I can definitely tell that I'm much more able to handle things this year, just with all the things that have been thrown at me. It's been good, though. I've enjoyed this past year and I'm just trying to prep for everything; that's been good. I think that we'll have a great year as a team.
Coach Doeren has talked about being responsible away from the football field and making social sacrifices. Have you guys talked about that amongst your teammates?
I think we all understand that if we want to play this year then there's certain things that we can't do. We can't go out and [do] things, because everybody on our team wants to play. And we're willing to give up some things to be able to do that. So if we can't go out, that's fine with us. We want to get the chance to play.
With new coordinators on both sides, how different of a team are we going to see this year? Is it going to be completely different?
On the offensive side, I think you'll see a huge change, too. We obviously don't want to play the way that we did last year. It wasn't good at all, and we all know that. We want to change that, and the things that coach Beck has done, it's been great for us. I think we gel well as a group and guys are just excited to be out there and get the chance to play again. So I think that you'll see a huge change this year from what happened last year.
With the new ACC format, I know Clemson's been so dominant in the Atlantic Division, but now divisions are out the window, so everyone's on an even playing field as far as getting to the ACC title game. How exciting is it for you guys, and how does it change the landscape and throw Notre Dame in the mix? What can you say about all the ACC changes?
I think whoever's on our list to play, we're going to be prepared. So we haven't thought about 'Oh, we're not going to play these teams.' We just know that we have to get prepped to play this year. So we're going to do our best against any team that we play, and we're going to get ready for each team that we play. And we know that we can do anything that we put our minds to as a team. I think we'll be fine this year.
Coach said earlier that he wasn't aware of anyone that wanted to opt out of the season due to COVID-19. Has that been a discussion amongst players, maybe guys are a little worried about playing or not? Obviously everybody wants to play, but have you guys talked about the potential of somebody opting out?
I think that we all want to play. Everybody's been itching to get out there. I haven't heard anything about guys trying to opt out. I think we're all just happy to be back out there and get the chance to play.
Obviously camaraderie and guys gelling is a big part of playing offensive line. I know a lot of times in the offseason, guys build those bonds. But this was a unique offseason, because guys are all over the place and then you have to social distance. So what is the offensive line going to do in this camp to gel and get back on that same page going into the season?
The offensive line, we've always been close. But obviously when we went home, it was a little bit hard to do that. But we did some things as a whole team to make sure we were all still close. And I know that as the offensive line, we have our group chat and things like that. We're always trying to make sure that we're all working out, doing what we need to do. But I feel like even when we went home we still stayed close. You can tell when we're all out there, we're all on the same page, we're all just trying to work together.
That's what you need on the offensive line. I think as a team, as a whole, even when we got sent home, we stayed close. We made this group chat, me and [Isaiah Moore], and we tried to just make sure that everybody was still trying to stay in contact and we did that. I feel like it helped our team overall.
Never miss the latest news from Inside Pack Sports!
Join our free email list