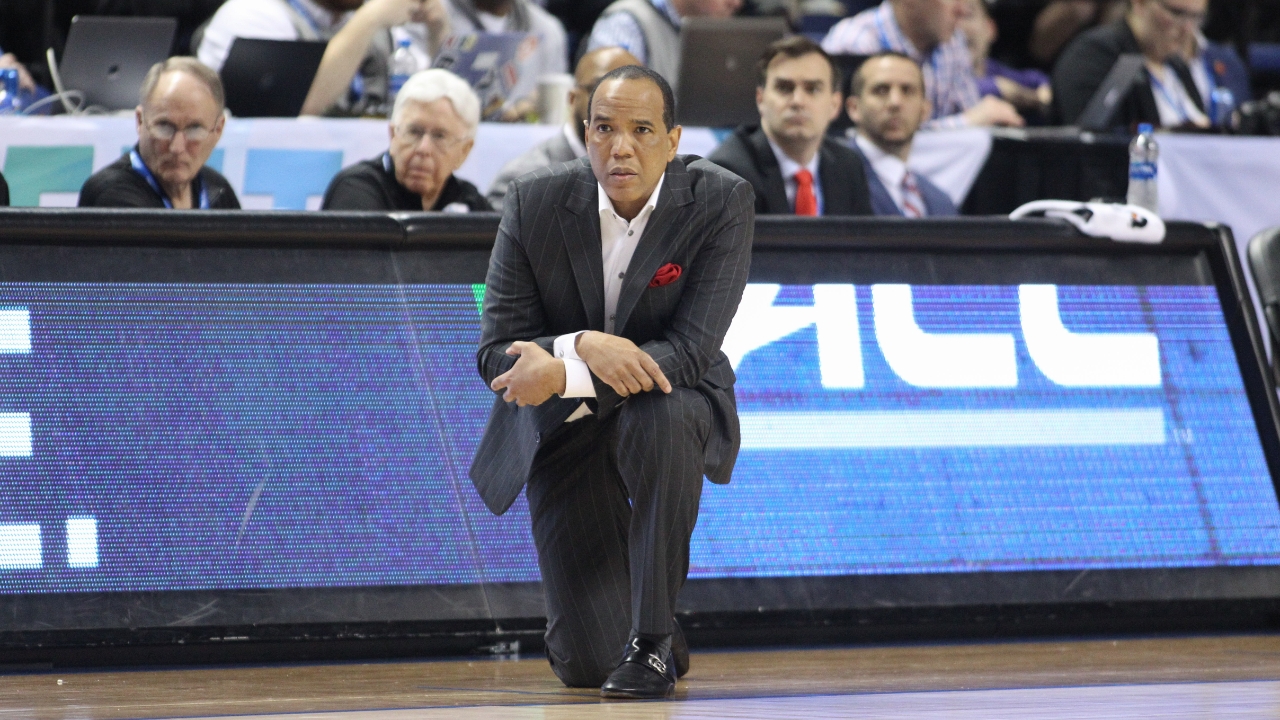 Photo by Steve Murphy/IPS
NC State Basketball
Keatts Discusses Expectations For Next Season's Roster, Recruiting
---
NC State head coach Kevin Keatts spoke with the media via Zoom Thursday afternoon to discuss his outlook for the 2020-21 season.
A transcript of Keatts' comments is posted below.
---
On the current societal experience to the COVID-19 outbreak as a college basketball coach...
"I'm like everybody else: we've all had to get used to it […] Obviously, I hope everybody is doing the right thing, staying away from folks, and staying in the house. On Monday, we started online classes, and I've had a couple of Zoom meetings with those guys, making sure that they understand how important it is to get back into the academic mode of it and making sure they take care of their business. It's a tough thing because every team has guys that need a little bit more help academically with tutors, so now I'm having to rely on our guys being able to login every day to be able to talk to the tutors and make sure that we're on track. One of the biggest challenges is that kids today don't check emails, and a lot of the teachers are now communicating through email, and we've had to adjust to that. In regards to recruits that we've signed, we try to stay in contact with those guys and keep them updated, and without saying any names as far as future recruits, we're doing a good job of texting, getting on the phone with those guys, and doing as much FaceTime as we can to make sure that everybody understands that this is a tough situation, but we'll all get through it."
On the makeup of the roster moving into the end of the spring and into next season...
"All of our stuff is about staying focused and making sure they finish out strong. I haven't had any indication that anybody is not returning. After the season ended, I had a conversation with pretty much every guy on our team, including the seniors and fifth-year guys. Two guys, D.J. Funderburk and Devon Daniels, will both go through the process with the NBA to figure out what their status is and learn a lot more about what the NBA folks think about them. They'll take the feedback, and we'll make an informed decision about what their future is here, but both of those guys will go through that process. That being said, I don't even know how the process will look. C.J. Bryce and Markell Johnson were both invited to the P.I.T. [Portsmouth Invitational Tournament], but of course that's been cancelled, and I don't even know if those guys will be able to have some workouts. We'll wait for that feedback to determine what happens with those two guys."
On how the COVID-19 outbreak has hindered recruiting...
"It's hindered, but it's something that everybody in the country has to do. I think we have to be creative. […] I understand. I'm not complaining. We're in a situation where we're fighting a dangerous virus, and right now, I'm telling the guys and our recruits, 'It's not about us. It's not about recruiting. It's not about athletics. It's about the safety of the country and the world.' Everybody's got to take a step back, put athletics on the back burner, and try to get through this."
On Athletic Director Boo Corrigan's response to the outbreak...
"Chancellor [Randy] Woodson and our athletic director Boo Corrigan have done a tremendous job of updating everyone, our entire athletic department, our entire school, on pretty much a daily basis. I'm getting very used to Zoom, so that means I'm having a lot of conversations from those guys. We get information, and we got updated early on about three or four hours. Now it's slowed down a little bit to where we get at least one or two daily. When they find out, they tend to share it with us."
Contrasting on what his experience was this time last year opposed to now...
"It's tough. This is tournament time. We would be preparing. Last year at this time, we were still playing in the NIT. I don't know what the recruiting calendar's going to look. I would say, if I'm guessing, there would be no April. I don't know how it will go from that point on. I don't know what will happen with July. If we're able to have a July, maybe they'll add a couple of weekends or days into July. There's so much uncertainty about what's going to happen because we're fighting a moving target right now."
On the timeline heading into the ACC Tournament and the team's reaction upon cancellation...
"We came off a great win. I thought we finished the season with a great home win against Wake Forest, and it was great for our seniors. Then obviously, we went onto the tournament, had a first-round bye, and played very well against Pittsburgh. Our attention automatically turned to the opportunity to play against a very good team in Duke again. I heard rumblings that morning of the Duke game that there possibly wasn't going to be a game. Closer to that, I want to say around noon, it was confirmed that the ACC was going to cancel the tournament. We were already set up to have a meeting, so I didn't change the meeting because we were going to meet before we went over. […] It's hard for guys like, Markell [Johnson] and C.J. Bryce, and at that time, we thought it was just going to be just the ACC Tournament. At that time, we talked about what we were going to do. We could stay, or we could get on the bus and drive back. We decided after a couple of hours that we were going to drive back. We talked about how disappointed we were. They were looking forward to playing another game, trying to play for an ACC Tournament Championship. We got back about 3 o'clock, and I let them all disperse. […] When the tournament was cancelled that night, I had to huddle those guys up. […] When you look at C.J. Bryce, he had the opportunity to go to three tournaments out of four years, and that didn't happen. For Markell Johnson, this would have been his second one, and that didn't happen for him. When you look at Pat Andree and Danny Dixon, both of those guys came to a Power-Five so they could have the opportunity to play in the biggest tournament in the country, and it didn't happen. When the tournament was cancelled, I was disappointed. I really was. I thought it should have been postponed, but as information started coming out, I realized it was the right thing to do, and that's when it hit me that this is way bigger than basketball. It's really unfortunate. I feel bad for the spring-sport seniors even though there's a possibility that they get the year back. It's still disappointing because obviously they've been building and working hard for this moment. I was in the CAA, and we were fortunate to go to two of those tournaments, and we beat Hofstra one of the two times to get there. A team like Hofstra, where Joe Mihalich has done a good job, gets their chance to go, and they don't get to go. It was so tough. It was the right decision, but at that time, it didn't feel like it."
On Keatts' meetings with Devon Daniels and D.J. Funderburk...
"We had meetings before each guy was able to get out, leave, and go home. When you've got guys who are juniors and are a little older, I think it's important that they get as much feedback as they can. During those two guys' meetings, we talked about filling out the paperwork to get the feedback, and that's the first step. Neither one of those guys know exactly what they're going to do, but we wanted to fill out the information to get the feedback from the committee."
On A.J. Taylor's rehabilitation process...
"I wouldn't say that A.J. [Taylor] is 100 percent, but he's in a much better place with his knee. He should be ready to go by the time we roll into the season. The tough thing about it is that the guys like A.J. and Thomas Allen who needed to get therapy can't do that because we're not allowed on campus, so it's tough to do that part of it. All of those guys are trending in the right direction."
On communicating with graduate transfers...
"I will tell you this: we're talking to graduates, we're talking to different people. I know everybody loves to do the numbers game, and they'll add up and say we've only got 13 spots. In today's world, I could go to the portal tonight, and we could have five guys in there. You have to continue to recruit just in case different scenarios happen, especially in regards to D.J. and Devon."
On ensuring his players' mental health...
"It's tough because the season ended abruptly, but also there's nowhere really to go play basketball. That's the toughest thing. […] I want to make sure all of our guys are doing well during this situation as well as their families. I'm encouraging those guys because a lot of times, they don't want to stay inside, and I'm encouraging them to stay away because even though they may not be at high risk, if they catch it, they could infect their parents and grandparents. I'll even extend it to the next weekend when it's going to be hot outside, and more people will want to get outside, and I would ask people to stay inside or exercise social distancing."
On ensuring his players maintain conditioning outside of team gatherings...
"Unfortunately, this is their time, and we're not allowed to monitor their time or make them do anything. I would hope that some of our guys are staying in great shape. That's all we can do. We can't mandate it nor will we."
Never miss the latest news from Inside Pack Sports!
Join our free email list