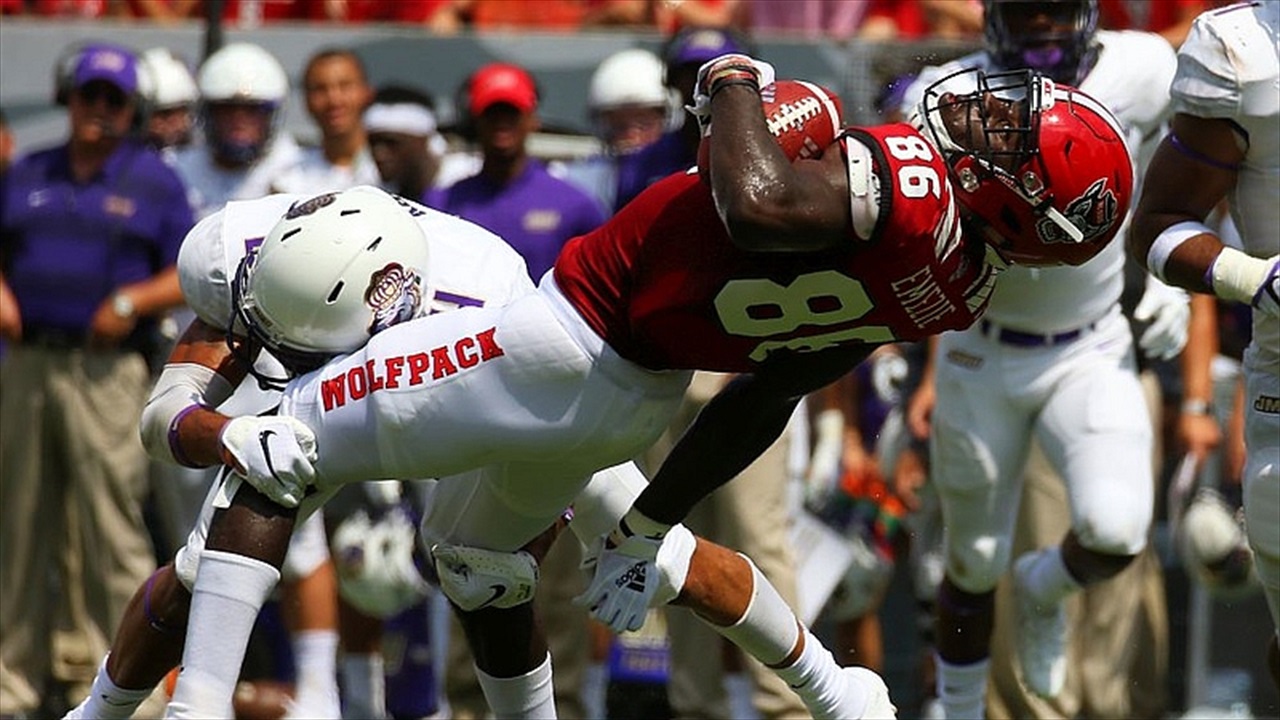 NC State Football
Old Number, New Mindset For Emeka Emezie
---
NC State wide receiver Emeka Emezie was expected to be the Wolfpack's go-to guy in 2019. He was coming off a solid sophomore season where he totaled 53 catches for 616 yards and five touchdowns, and with Jakobi Meyers and Kelvin Harmon leaving early for the NFL, those additional targets should've allowed Emezie to have a huge year.
In fact, Emezie, who looked up to Harmon his first two years in Raleigh, even changed his number from No. 86 to No. 3 as a way to show his respect for Harmon and how much the former Wolfpack star helped him.
However, Emezie's breakout year didn't happen. While his numbers were solid (56/576/2), it wasn't what he had hoped for, and wide receivers coach George McDonald acknowledged it was a tough adjustment for Emezie and the team's other wideouts.
"When you're a top guy but not the top guy, you think it's easy," McDonald said. "Guys are like, 'I can go do that,' but it's hard, it's a mental strain. I think that's what shocked those guys the most: the mental strain of what it takes to be successful in this conference, week-in and week-out, when they are preparing for you."
Emezie understands that mentally he may have not been prepared for the challenge ahead of him, and he opened up about his mindset following the season.
"That's why I had to change my attitude, how I came in," Emezie replied when asked if he was disappointed with the year he had. "When I went into the long break, not getting into a bowl game, I had to really look at myself and say, 'You can run away from your problem or you can attack it.' I came in every day, catching 600 or however many balls I needed to, just practicing every single day. If I dropped one... it's about your mentality. You're good. Don't even worry about everything that's going on. Just stay positive with it.
"I didn't have the right mindset. You think you're ready for something, but you're really not. You need to have the right mindset every single day; regardless of what happens, good or bad, just come in and work. "
McDonald has noticed the change in Emezie and believes the receiver is now much more prepared for the attention he will attract from opposing defenses each week next season.
"If you see him now, he's killing the workouts," he said of Emezie. "I come in early, so he's trying to beat me in early. He's catching balls, doing yoga.
"I hate projecting, but I think he's going to have a really good year because now he knows. Sometimes we all think it's physical, but it's mental, especially in conference. It's a mental strain, and I believe he understands the mental aspect of it more."
"He challenged me, and I challenged him," Emezie added on McDonald. "First one in the building, 5 am. We've challenged each other. I'll do my thing, catch tennis balls and catch jugs from him... he'll shoot for me. It's been really, really fun to challenge each other every single morning."
As for the jersey number? Well, Emezie is now back wearing his old one, No. 86.
"It was my idea," he said of returning to No. 86. "I just thought to myself... respect for Kelvin, he did his thing in three, but I was doing my own thing in 86, so just kind of do my own thing, live the mindset."
Witha big smile on his face, Emezie can't hide how happy he is back on the football field.
"[Spring practice has] been amazing," he said. "Honestly, with the new coaches and coach McDonald going over some things... it's been amazing. It's really, really fun."
Never miss the latest news from Inside Pack Sports!
Join our free email list