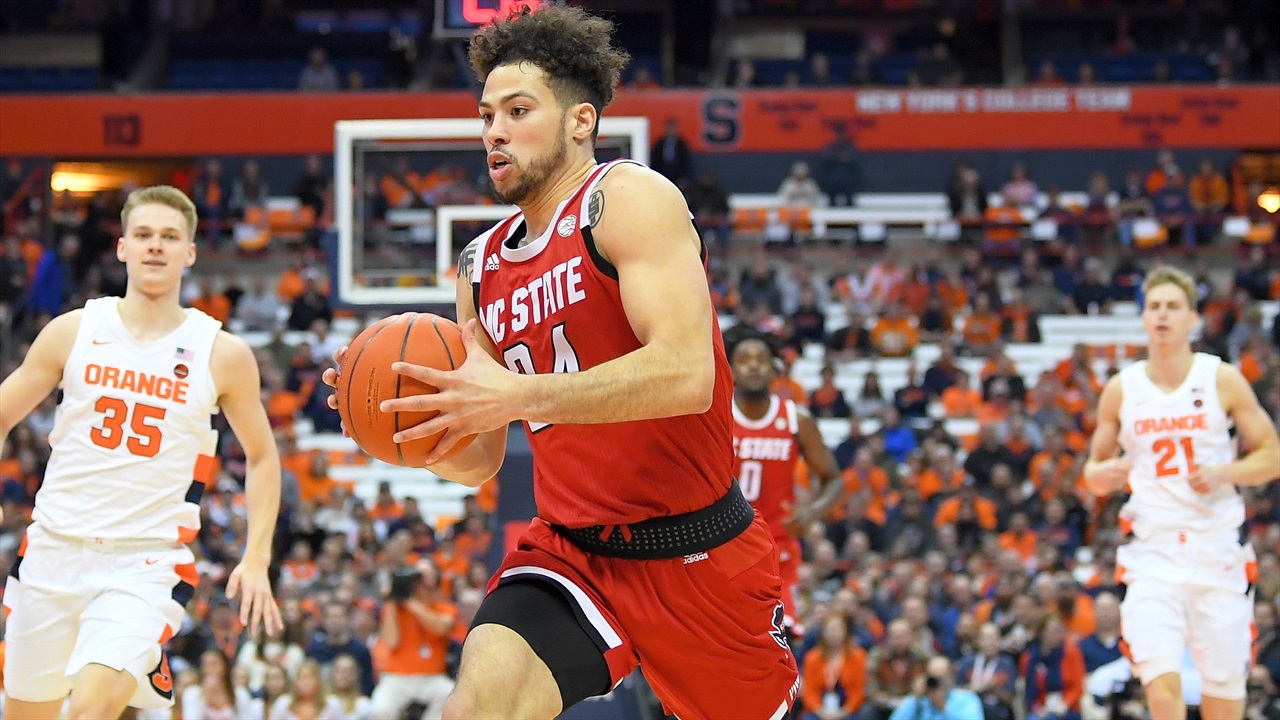 Photo by USA TODAY Sports
NC State Basketball
Devon Daniels: "This Was A Team Effort"
---
NC State redshirt junior guard Devon Daniels answered questions from the Wolfpack's radio crew following the road win at Syracuse.
---
You were down six with five minutes to go and you had seven straight points... took over the game. Can you take over that sequence?
Well I think on that shot I called Bank. I called bank on that one.
I think C.J. drove to the middle and hit me, that was a good pass there and on the layup Cole threw it ahead and found me.
just us playing together. We were pressuring them a lot on the defensive end and when we do that and get out it makes it easier for us.
You don't want to play against the zone all night. How huge was it to have 21 fastbreak points?
Huge.
For a few games we were scoring zero or four points on the fastbreak, and that's not us. With them playing the zone, we knew we had to get out and get some easy buckets, so that's huge for us.
Syracuse didn't get a field goal in almost the last four minutes. How good was NC State's defense?
That was a team effort. We just really locked in and really talked. We trusted each other's defense and got the job done.
You're a competitive guy and Girard is a competitive guy, I think. He was really good tonight. Talk about that competition tonight.
He started the game hot, really was their man guy for a great portion of the game. I took the challenge to try and slow him down.
He's a good competitor, but when somebody is like that, I'm always going to step up to the challenge.
You're averaging around 14 points during the last seven or eight games. Has anything changed with you during that stretch?
[Coach Siddle] got in my ear and told me just to play with more energy on offense and defense. I was playing hard before, but he said I could give more. So I definitely listened to that.
Craig our GA, he tells me I'm 6'5, 205 and to stop playing soft.
The lob in the first half, was there any doubt you'd get to it? You had to climb pretty high.
I saw him late... he told me to go up late, and I had already slowed down. I jumped as high as I could, but I felt like I was up there for a minute.
The three-point shooting tonight, 11-of-25... was that better than what was expected given the depth perception in this building?
We watched film, and we got the scout pretty good. We knew they played zone so we'd have to knock down shots.
At the end of the day, a court is a court, a rim is a rim, and a basketball is a basketball. You just have to play... play your game.
Never miss the latest news from Inside Pack Sports!
Join our free email list