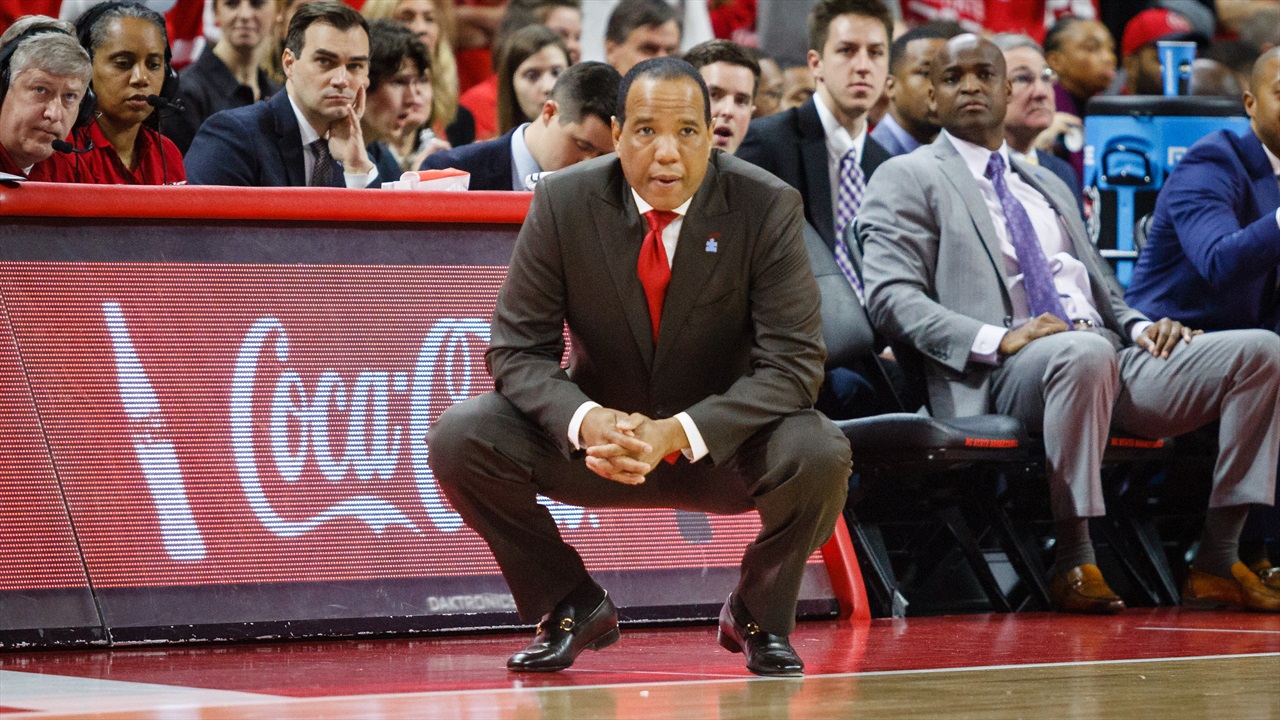 NC State Basketball
Kevin Keatts: "We Found A Way To Win"
---
NC State head coach Kevin Keatts answered questions from the Wolfpack's radio crew following the road win at Syracuse.
---
Just how resilient was your team here tonight?
Well, we found a way to win.
We talked about... my message to these guys in the last couple of weeks was to stay together no matter what adversity we have. You talk about family, there's not a family in America that doesn't go through something and argue about something, but at the end of the day, you're playing for the same team, which is NC State.
We found a way. We had some adversity. Our post guys were in tremendous foul trouble. Things weren't going our way. Girard got a hot hand and was playing well, but I thought our guys stayed composed, got a lot of rebounds at the end, and made some plays at the end.
I thought that was the difference in the game.
Devon Daniels went on a seven-point scoring run. To me, that's what turned the game around. What about you?
Certainly. I thought he made some big plays. I thought he did a tremendous job. I thought he drove the ball, made a play, his defensive effort.
Markell had a huge steal at the end, so did Devon. I thought C.J. stepped up and made a big three. I thought D.J. got some big rebounds at the end.
We closed the game you want a team to close a game.
11-of-25 from the three-point line with 16 assists... was that the formula you were looking for against the zone?
Well, we knew we had to make threes. I thought coming in eight or nine would do it, but certainly I'll take 11. I thought we did a good job of moving it around, found gaps.
They put you in a tough spot because they only give you certain shots and you have to make those certain shots.
What we didn't do a good job of is we didn't get enough offensive rebounds. We only had five and we typically do a better job of rebounding the ball against the zone.
But, I'll take it. I thought I got shared the basketball. For some reason, we average 17 or 18 turnovers against these guys, but we found a way to win.
Tonight the Pack had 23 points off 15 Syracuse turnovers and 21 fastbreak points. Was that what you were looking for?
That's what I'm looking for. I knew in order to have success you have to get out in transition against these guys.
Give them credit. That's a good-playing team. I thought we did a really good job on Boeheim, good player who can get to his spot and make shots. I thought our guys did a really effective job on him.
We forced some of their key players to have turnovers.
If I had told you Girard would go 1-for-10 from 3-point line, would you guess he'd have had 30 points?
No.
I'm looking at his stat line, he went 1-for-10 and 9-for-22 but he went to the free throw line 12 times. We will take pride in the fact that we got him to miss one free throw because he typically doesn't miss there.
The Pack went 11-for-25 shooting three's. You said the Pack would need to make some tough three's. Was this even better than you envisioned?
Yes it is. We shot a great percentage.
I'm looking now, I'm not even sure who made our three-pointers. C.J. Bryce was 4-for-6, Markell 2-for-6... the shots we made were timely shots. Pat even came in and hit a three so we'll count his three also. Jericole Hellems made a big three. Braxton Beverly made a big three.
I'm proud of these guys. It's a great team win for us.
No question about it, and ice cream is coming up.
Absolutely. We're going to get ice cream.
Never miss the latest news from Inside Pack Sports!
Join our free email list