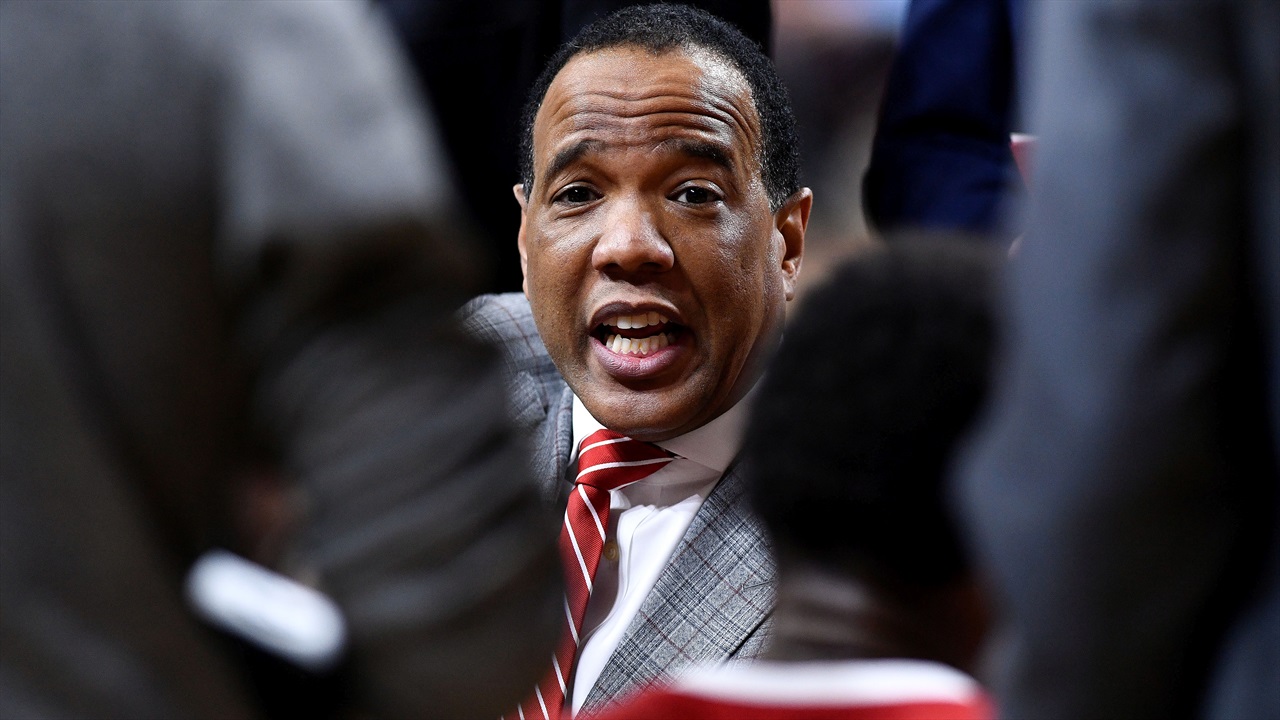 Photo by USA TODAY Sports
NC State Basketball
KEATTS: "I Knew This Was Going To Be A Grind"
---
NC State head coach Kevin Keatts met with the media following the Wolfpack's 60-54 win over Clemson Saturday afternoon.
NOTE: Click the video in the player above to watch Keatts' press conference.
---
"I thought our guys did a good job in this game. I told them before the game that they're going to have to win every type of game. I knew this was going to be a grind-it-out game. I didn't think it was going to be a game where we'd score 75-80 points. I thought it would be 50-60 points. I told them we play a non-conference game, and those games will prepare you for this game. I also wanted to see how we have improved in the last 14 days. We played these guys 14 days ago. I thought we gave up too many threes. They slipped a lot of plays and got a lot of layups. To our guys' credit, they made some adjustments. I thought we did a good job of listening to scouting reports, took away the strengths that they beat us with at their place, and bounced back to win a great game. I'm happy for our guys. I thought we played probably our best two defensive games in the last couple of games that we played, and we just want to continue to build on it."
"I didn't want to play [C.J. Bryce] 40 minutes, and I didn't know that, to be honest, until I picked up the stat sheet. I thought I'd subbed him out for a minute. It says a lot about him. Give our training staff and our strength coaches a lot of credit because they've done a tremendous job getting him able to play that many minutes. I thought he was good. That kid plays with so much composure. There was a stretch at the end of the first [half] where he played point guard for us. We can move him between the one and the four. He's so valuable to our team when you talk about a guy who's got experience and just knows how to play, can score, and play well on the defensive end. He's doing a great job. It says a lot about him to be able to get out here and contribute the way he's done."
"I don't have an update on neither Pat [Andree] nor Manny [Bates] because I went straight to radio then straight to you guys after I talked to my team. Have I ever had a situation like this? No, I haven't. I'm hopeful for both of those guys. I don't want to assume anything. I don't know what the situation is. We decided to hold Manny out because I thought we had control of the game, and I could play Danny [Dixon], but I don't have an update to give you right now."
"We did a good job. We attacked [Aamir Simms] on the offensive end. We made him work a little bit. I thought he got away with a couple bumps on ball screens. Our guys stayed aggressive. We did a good job of taking his right hand away. He made some shots late in the game, but he's a good player. He's playing great basketball. We came into this game similar to Miami, trying to take away at least one of the big three. I thought we did a good job. [John] Newman played well, and I thought we did a good job on him."
"First of all, I know what I'm doing; I'm never going to get a technical. I don't know what he said. I don't listen to Markell [Johnson]. I think he said, 'We're going to be fine, Coach. I think we're going to be fine.' If a referee misses a call, and I'm not saying whether he missed it or not, they typically don't give you a T."
"I wouldn't go to the point where I'd say we had to have them, but we needed to. You want to take care of home-court advantage when it's possible. This is a tight race. I haven't seen the scores from earlier today, but there are a bunch of teams with four wins, then some threes, then some twos. With these games right now, you could be in fifth place, or you can be in 12th place. It just depends with the metrics and how it's made up. To answer your question, they're important because it's at home, but this is a long season. It's a marathon, and there's going to be ups and downs and trials and tribulations throughout the whole season. We've just got to figure out how to win games both ways."
"I think he was pacing himself to figure out if he could play that way. I had no intention of playing him 40 minutes, but I think, early on, he was pacing himself to figure out what type of condition he's in. A lot of times, athletes don't know how much they have, and they may not empty the tank, but once they realize that they've got a certain amount of time left in the game, they realize they can play that long. I didn't say anything to him."
"That depends. Are you calling D.J. [Funderburk] a bench player or a starter? He's been very important to us. I think it's important. It's so crazy because I don't even know who our 'starters' are. I literally pick the starting lineup 20 minutes before the game starts. I look at the whole week in practice, I look at the shoot-around, and then I look at the matchups and say, 'Here's who I want to start.' Everyone will say, 'Did you not start Braxton [Beverly] because he's not shooting the ball well.' No, I just wanted more of a bigger lineup going into this game. It had nothing to do with whether he's making shots. By the way, he stepped up and made a huge three for us in the corner. When guys are not shooting the ball well, you can rely on them to make a big shot, and he made a big shot for us today."
"We don't work together... I coach at NC State."
"All I can tell you is we have a short, short, short turnaround."
"I'm going to come out and probably play 100% zone in that game... I'm serious."
Never miss the latest news from Inside Pack Sports!
Join our free email list