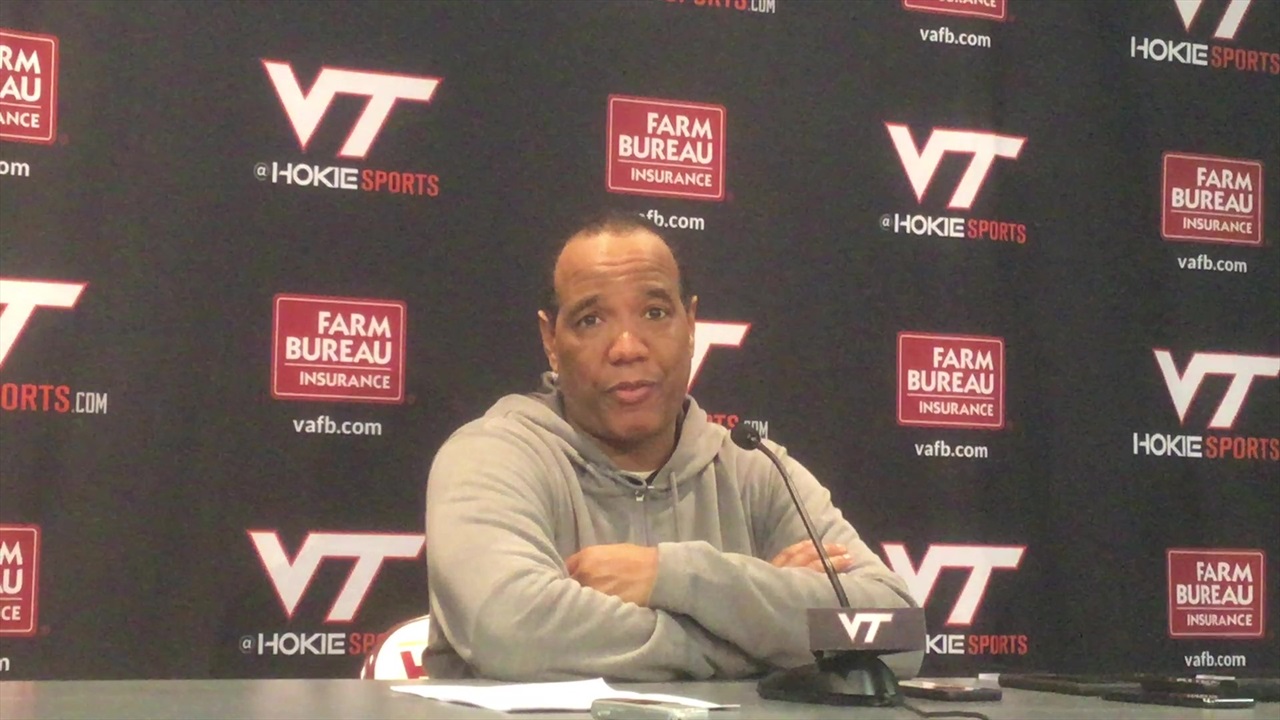 NC State Basketball
Kevin Keatts: "I'm Frustrated"
---
NC State head coach Kevin Keatts met with the media after the Wolfpack's road loss at Virginia Tech.
NOTE: Click the video above to watch the press conference.
---
"I thought we had some really open shots. There was a moment in the beginning of the second half where I thought we played tremendous defense. I think Virginia Tech started the second half misses 10 out of their first 11 shots. I didn't think we took advantage of it."
"If you look at it, it was because some of the wrong guys got the shots. We didn't finish well. I thought it was a great game back and forth, and then when you look at it I thought we missed some shots down the stretch and then, obviously, they were able to break the game open."
"We made shots [in the first four minutes]. When you look at us, it is going to be hard for us to beat anybody when we are 6-for-30 [from three-point range]. We typically don't take 30 three-pointers. We didn't make them tonight. Even our shooters, our guys who are known to make three-point shots, didn't make many of them. Pat [Andree] was one-for-six, when you look at Braxton Beverly he was one-for-six. I think Markell Johnson was one-for-seven. If we are making six three-pointerss and we are taking 30, that is not a good formula for us to be successful."
It is definitely their defense....they do a really good job of protecting the paint. They play a similar defense as pack-line. When you drive, everybody converges and you are going to get those shots. We didn't make them. We just didn't. I thought we had some good looks, hreat looks, and they just didn't go down for us."
[C.J. Bryce] wasn't playing. It was a protocol that we have to go through. He is cleared for light contact. He is cleared to workout. We let him warm up today because this was one of the days that, if he works out the next couple of days and he feels good about it, he has a chance to play Wednesday. Because we are going to be off as a team tomorrow, we didn't want to waste a day where our doctors could look at him and say he's good."
[Bryce] went through shootaround. We worked him out [Friday] and he went through practice [Friday] and he felt good. He didn't feel so great [Friday] night so, obviously, the doctors decided to shut him down."
I just think we are missing another guard. [Bryce] is a good player. I try not to make any excuses about it but there is not many teams that can afford to lose their leading scorer and their leading rebounder and be successful. We were against Notre Dame at home but against Clemson and here we could've used one more guy to be able to score the basketball for us and we didn't have that."
"That being said, we had a great opportunity for some other guys to step up and make shots."
"[Braxton Beverly] has got to be better. He and I talked about it. I thought his third and fourth fouls were fouls but I thought he could've avoided them. The guy drove baseline, he gets his third one. We were late on a switchand then he fouls a three-point shooter. With a short bench like we have, especially in our guard rotation, we can't affors to have anybody in foul trouble, and those times he was off the floor kind of hurt us. I have been able to play him at some point guard throughout the game and take Markell off the ball to give him some breaks. We weren't able to do that because I couldn't have him on the floor."
"[Markell] didn't have a good game. We will get back in the gym and we will work on some things. He knows that. One of the things that he and I have talked about is being consistent. He had an off night. I don't know if that has anything to do with Virginia Tech's defense but he didn't have a great night. That being said, most of our guys didn't so Makrlel is not to blame. If you want to blame anybody, blame me."
"I never listen to outside noise...I understand who we are right now. I understand that we don't have all of our pieces. That being said, I don't want to discredit the guys in the program so I never really harp on the fact that we don't have C.J. Bryce. If the outside is a little frustrated, then they should be also able to take a look around college basketball and see if you don't have your best player, you are probably going to struggle. I'll take the good with the bad. I've haven't made a lot about it because I want other guys to have the opportunity and don't feel like I am saying 'we have got to have a guy' but we miss him. We miss him. We would miss any of our three or four guards if any of those guys were out for several games."
"My position, I am frustrated because I am a competitor. My frustration didn't come from the fact that we didn't have C.J. Bryce. I just thought that when we needed to be tougher at the end of the game, we wasn't – and that was more the mental side of it."
Never miss the latest news from Inside Pack Sports!
Join our free email list