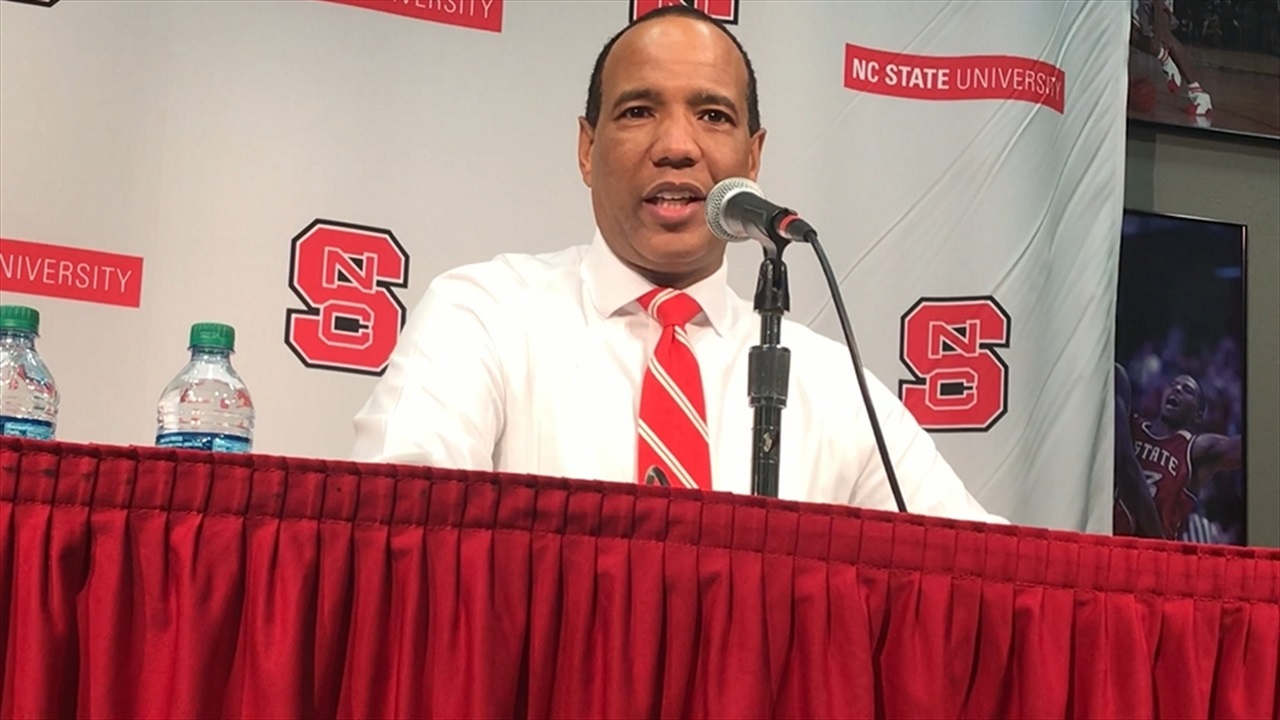 NC State Basketball
Kevin Keatts: "We Still Have To Get Better"
---
NC State head coach Kevin Keatts met with the media after the Wolfpack's 84-65 home win over Detroit Mercy.
NOTE: Click the video above to watch the press conference.
---
Opening Statement...
Any time you get your first win of the year with a new group of guys, it is exciting. I thought we did some really good things tonight. Braxton (Beverly) did a great job with a career-high of 23 points and made three pointers. He has had a lot of games around the 20-point mark, but has never had 23. I thought he did a tremendous job of getting us going.
"It was good to have Markell (Johnson) back on the floor. When you look at it, he led us in assists and rebounds. He moved the ball and it is always good to have a legitimate point guard on the floor to make plays.
"We came into the game knowing we were going to be playing against an elite scorer in (Antoine) Davis. We wanted him to have to take a lot of shots to get his points, and we accomplished what we wanted to, meaning that he scored 28 but took 23 shots to get there. We did a great job of defending in front of the three-point line.
"We still have to get better in certain areas. We were able to get out in transition and get some easy shots, which we weren't able to do in our scrimmages and against Georgia Tech. I am excited about where we are moving and continuing to get better."
On Manny Bates...
Manny (Bates) is a game changer on the back end of the press. He had seven blocks tonight. I have to ask everyone to be a little patient with him. When you first think of a post guy you think about the effectiveness offensively, but that doesn't account for the mistakes that we make that he can erase with his shot-blocking ability.
Against Georgia Tech, he had five blocks and then seven tonight, so he is averaging six blocks a game. He is getting better and is going to continue to get more confident in his role. He has got to do more talking on the back end, but overall I like what he is doing.
On Markell Johnson...
I think he didn't shoot as well because it is tough when you haven't practiced. He only practiced yesterday for a little bit to get back into the flow of things. I thought he passed up some shots. I was yelling at him to shoot the ball on that three that he did make. He will be fine. I don't worry about him because I know when his scoring comes back, he will give us another weapon on the perimeter."
On talking to his sons about being as good as Antoine Davis...
I don't, because I hadn't played him yet. But he's a good player. Give that kid a lot of credit. For Mike (Davis), it has to be really tough to coach your son because when your son's a point guard and you win it's really great, but when your son's a point guard and you lose games they complain.
On hoping his sons will play...
When it comes to my sons, if they're fortunate enough to play Division I or Division II basketball, all the recruiting would come through my wife. I won't do any of the recruiting, trust me.
On it feeling like a coaching convention with Mike Davis and John Calipari in the house...
I don't know about a coaching convention, but John Calipari, you have to give him credit. He came up here to see his son. It's tough when your son's playing for another team and you have to take care of your own team.
I talked to Cal three days ago, and he told me he wanted to come to the game, and I took the opportunity to tell him to take it easy on A.W. Hamilton when they played (Eastern Kentucky), and he beat them by 40, so he didn't listen to me at all.
On C.J. Bryce...
Yeah, you know what he had a quiet 19, but I thought he did some good stuff. If we're going to be successful, our veteran guys obviously have to lead us. C.J. Bryce is one of them and Markell (Johnson) is the other. He has put together two back-to-back games, and when you get to senior year, that's what you want from your seniors, to be able to do that.
I was very happy with C.J. (Bryce) and the way he played. I wish he had rebounded the ball a little bit more. In the last game, he had a lot of rebounds. He led us in rebounds. I thought we had some opportunities to get us to the zone to get some second and third shots, but we didn't get them for whatever reason.
On improvement before ACC play...
You know, I am smart enough not to look past everyone else to try and get to the ACC games, but I want to get better in certain areas. We came into this game number one looking at defensive transition, which against Georgia Tech, I didn't like, and I thought we did better today. Offensive transition I didn't like against Georgia Tech, and we did better today.
I want to do a better job rebounding the basketball. I thought we gave up too many second and third shots. That being said, we are going from game to game. I want to see improvement next time we play on Wednesday. As we go along, by the time we get to the next ACC game, we'll show up having gotten better in a lot of areas.
On A.J. Taylor...
A.J. just wasn't feeling good and was going through a couple of personal things, and he and I talked before the game, and we thought it was better that he just sit out of this game.
On D.J. Funderburk...
No update on D.J. Funderburk. Thanks for asking though.
Never miss the latest news from Inside Pack Sports!
Join our free email list