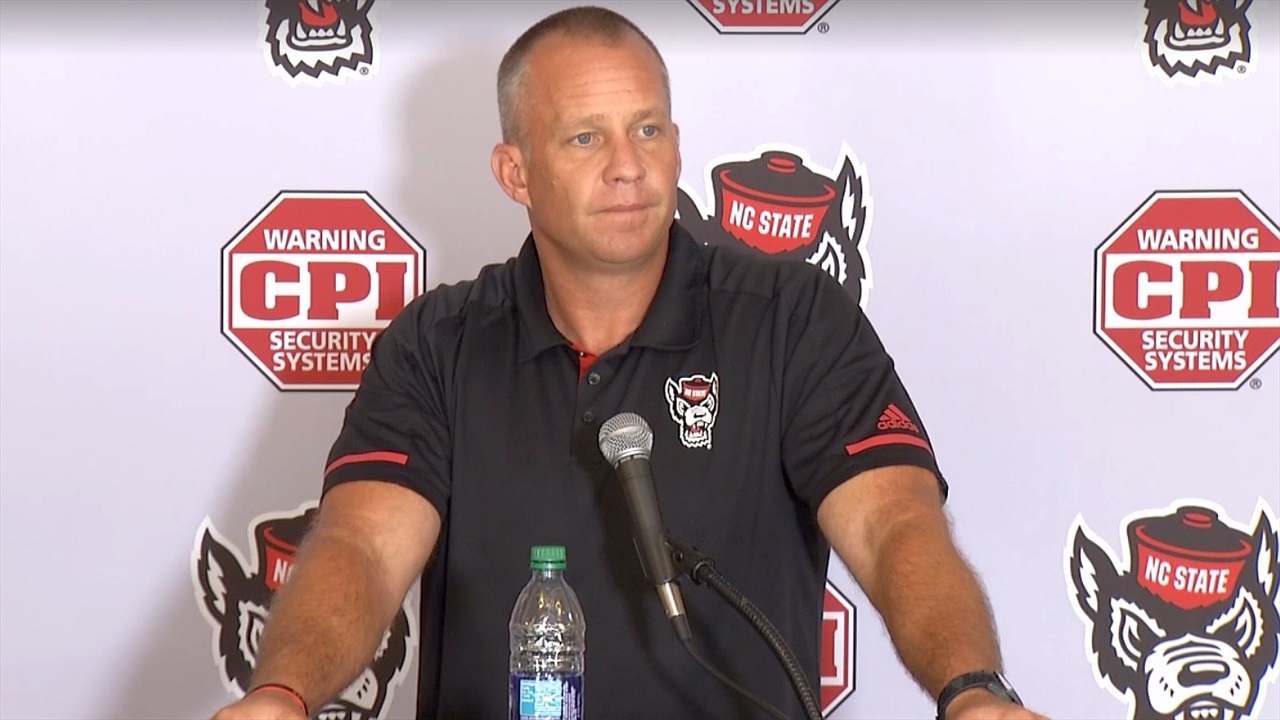 NC State Football
Dave Doeren: "They Are Frustrated"
---
NC State head coach Dave Doeren met with the media after the Wolfpack's home loss to Clemson.
NOTE: Click the video above to watch the interview.
---
On the final Clemson series...
Well, first of all, we can't muff the punt. I thought that was a really poor decision. I'm not sure what Tabari (Hines) was thinking on that play.
I don't really have a lot to say about it. It's their third or fourth (string players) in the game. You've got to try to stop them.
Obviously, it's something as a coach that you don't like to see happen, but I've done the same thing in the past. You put your backups in and you let them play football. It is what it is.
On the injury situation...
Yeah, it's bad. We are down to no depth. We had three walk-on linebackers in at the end of the game at one point. Guys played hard. Payton (Wilson) sprained his shoulder. I don't know how long he'll be out. I don't have any idea. Calvin (Hart) did the same thing.
Guys are beat up right now. We didn't have Louis (Acceus) or Isaiah (Moore), so we were down to Brock (Miller) backing up all three spots, and then he got hurt in the game. It's tough when you've got all those guys injured like that.
It's tough.
On the performance of Zonovan Knight...
I thought Bam ran really hard. I was happy to see him bust a long run. That play in particular—our stretch play—was a good play for us tonight. It was one of the better things we did offensively.
The bottom line: we can't turn the football over and win a football game. We turned the ball over three times in the first half against a team that's as good as anybody that we are going to play every year.
You just can't do that, and we did. Bright spot is definitely Zonovan. I thought Devin (Leary) played much better in the second half. He showed a lot of resiliency there. Got to get back to it. We have three games left and we still have a lot to play for.
On still accomplishing what the team wants to accomplish...
You just take it one day at a time. I wouldn't say morale is bad. I think the guys are mad, more than having bad morale. I think they are mad. These guys want to win.
They are frustrated. They all understand at the same time that we are playing with a short deck right now. They get that and they are playing hard. But we are not playing smart enough to win.
We are not giving ourselves a chance with turnovers and poor decision-making on special teams at the end. I don't think we have bad morale, I just think we have a football team that wants to win really bad and is not getting that taste right now. It is our job to keep them positive and find a way to win one of these games here.
Never miss the latest news from Inside Pack Sports!
Join our free email list