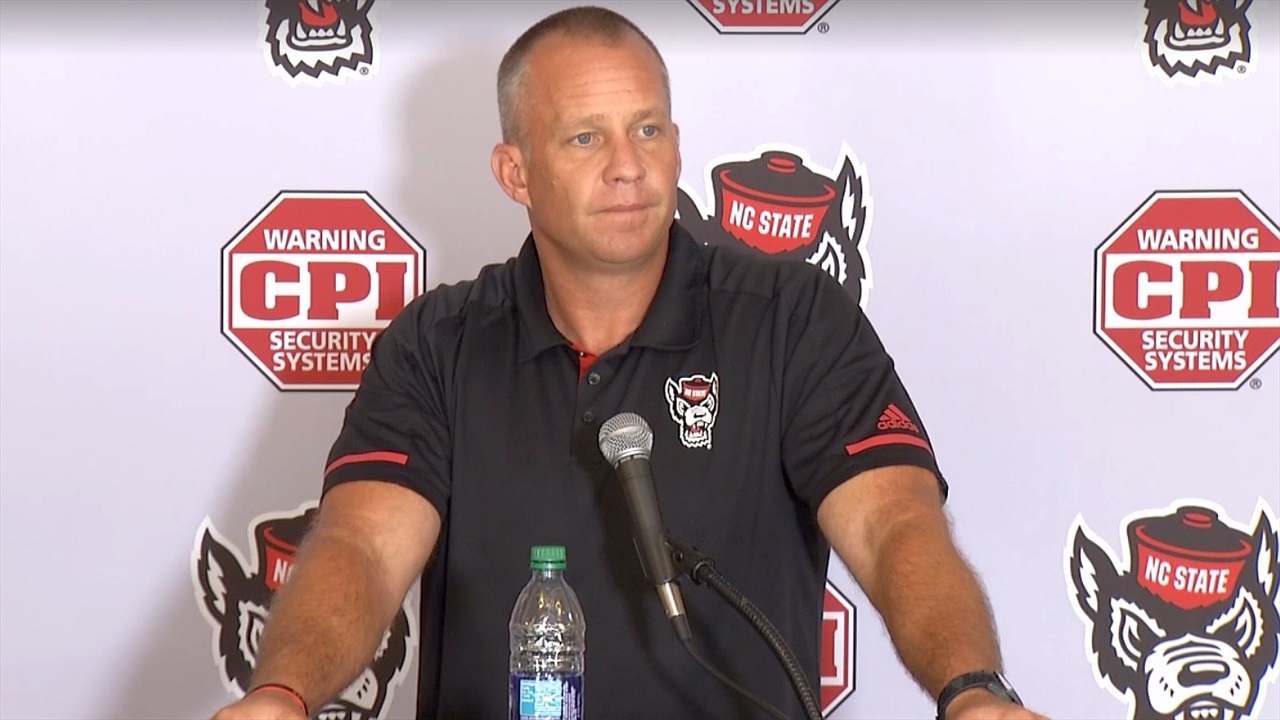 NC State Football
VIDEO + QUOTES: Dave Doeren's Weekly Press Conference
---
NC State head coach Dave Doeren met with the media Monday to update his roster after the bye week and preview Thursday night's game against Syracuse.
NOTE: Click the video above to watch the press conference.
---
Injury Updates...
Taiyon Palmer is out for the year with a knee injury.
Ricky Person is out but not long-term. He will be back but won't play this week, the same with Justin Witt. Two guys who have injuries and should bounce back but aren't back yet.
On Bye Week..
It was the opportunity to digest a lot of film and study what we need to improve on... I thought we had a really, really good practice yesterday.
Playing a mid-week game creates a different schedule for your team and coaches.
Offense Thoughts...
Looking at us, offensively we are running the football well, we're playing really good football in the redzone, and we have a lot of first downs. We are No.1 in the conference in first downs offensively.
We have to improve our efficiency on third and short the last two weeks, get more explosive plays, and be more efficient, period, in our pass game.
Defense Thoughts...
We're stopping the run, top ten in the country. I think we're doing a really good job on third down of pressuring the quarterback. We're doing well in total defense and there are some routes we have to get off the film and be able to stop more consistently.
We also have to get more takeaways. I think that's the biggest thing defensively.
There are some things we can fix and things we can understand... we have to do a good job as a staff of putting these guys in a position to make plays and for them to make them.
Quarterback Situation...
Bailey Hockman will start for us at quarterback. Devin, who also came in to the game at Florida State and did a good job, will have an opportunity. I feel like they are giving us more in the pass game.
Matt McKay is doing a really good job in a lot of areas and needs to improve on his pass game. He will. I'm really impressed with how Matt came to practice the last two days. He'll get better. He's an incredible young man.
For us to be able to do more things from a scoring standpoint and push the ball down the field, that's where we're at. Those two guys give us a better shot with their arms right now, and Matt will continue to work on the things that he can.
I feel like Bailey came in the Florida State game and showed a lot of poise and guts. He came into that game and competed. Devin came in cold at the end and threw it around well. I was proud of those guys.
Just like at the beginning of the season, those are tough conversations to have. Bailey and Devin handled their role and improved and improved in their roles and took advantage of the opportunity presented. Matt will do the same; I know he will.
Syracuse Thoughts...
We know a lot about this team.
They are really, really good at taking the ball away on defense – 12 takeaways.
Offensively they are an uptempo team with very good skill at receiver and running back. The quarterback can throw it and extend plays with his feet.
We've had some good games against Syracuse and I respect coach Babers and his staff quite a bit.
Schematically, we're familiar with their staff and how they play. I think their defensive front is arguably one of the best in the ACC. I have a lot of respect for their defensive linemen and rotation at defensive end.
They make a lot of plays for them and help their coverage with the pass rush.
Jordan Houston's recent play and how much he can help moving forward...
Him and Bam are very critical now to us, and Trent Pennix. Those are our three backs. Both Zonovan Knight and Jordan Houston have shown the ability to make plays, be consistent, and get tough yards.
They are playmakers and played good football for us. They will get more opportunities with Ricky out, and I look forward to seeing them take advantage of that.
Injuries can bring a team closer together. Are you seeing that?
I think adversity forces you to do that. You'll either fight or fail, and we're going to fight. These guys will stick together, compete, and we'll try to find solutions and stay positive.
I think that's the best thing any family does when going through tough times, and that's what we are. This football team is a family so we'll stick tight and we ask our fans to do the same for these young men who are working their butts off.
We need the 12th man to be real [Thursday night].
More on the QB situation...
Going into Ball State we felt like we weren't throwing the ball efficiently enough. That's where you saw us get Bailey get a series in the second quarter so that we could make a better evaluation of if it would be better. We hadn't given him real game reps, just mop-up reps there. We felt like he did well there and improving in practice.
Devin had been getting better in the things we were doing. We got into the game and weren't moving the football. We gave him the opportunity and we started to get some balls down the field and open up some things.
We are running the football well. It's a matter of having the ability to take advantage of coverage matchups that we're getting, and I felt like that gave us that. To see Devin come in and do what he did.
That's where we're at. Statistically, we're not explosive in the passing game right now, we're not getting enough explosive passes, we're not getting enough even pass interference calls against down the field plays.
I feel like that gives us a shot, and for Matt it's a chance to look at what he can do. I know he will.
Will Devin Leary play on Thursday night?
He could. I don't think I should give you my gameplan today, but he could.
Nick McCloud update... is there a possibility to use this as a redshirt year for him?
Nick plans to be back as soon as he can be. The goal was this game... if it's not this game, the goal will be next game. We'll just keep going that way, and if we end up in that scenario we'll get there, but his goal is to help us win this year.
True freshman left tackle... how ready is Icky?
I think he's ready. He's played well. He's been very physical and has a lot of physical plays. He's done a lot and played in every game. I'm excited for him, and I think he's going to do a great job.
Emanuel McGirt and Bryson Speas, those guys have all waited their turns to play. Now they have a shot and I look forward to seeing them compete.
How did Matt McKay handle the demotion?
Matt is a tremendous teammate and a great young man to coach. I worry about everybody who goes through things. I don't have to worry about how Matt will handle it, but I do worry about every kid who goes through adversity. My job is to tell the truth and then help them through it.
To lose your job is one thing, to quit is another. Matt is a fighter. He's going to fight hard to get back, just like Devin and Bailey when they were backups. They didn't get in, they got better.
Now Matt will have that opportunity, and we'll support him through it.
More on McKay's demotion...
He was disappointed, but understood, and asked what he could do... let's get a plan and let's go. We talked about being a great teammate to those guys... everything you'd want a young man to be.
Nobody is going to be happy with that news, and if they are, you're probably like, "Wow, why is this guy starting if he's happy to lose his job?"
Nobody is going to be happy about it, but the way he handled it is the way you'd expect a great teammate and a competitor to handle it.
Never miss the latest news from Inside Pack Sports!
Join our free email list