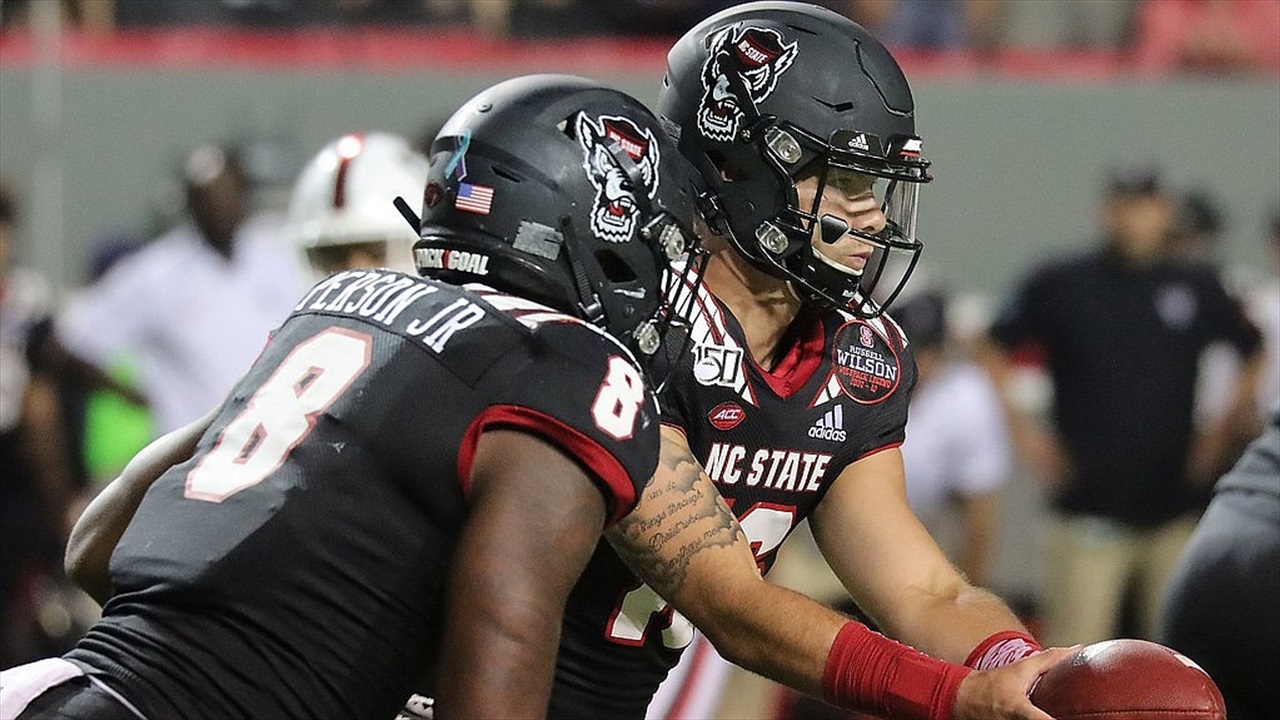 Hockman's Role in the Air With "Homecoming" Next on Schedule
---
NC State redshirt sophomore quarterback Bailey Hockman will step onto Bobby Bowden Field at Doak Campbell Stadium Saturday evening for the first time since transferring from Florida State.
Hockman left the Seminoles after Deondre Francois was named the team's starting quarterback for the 2018 season. Over a year after transferring, Hockman will return to Tallahassee – but while donning the Red and White of the Wolfpack.
"I'm excited to see some of the guys," Hockman said. "It's been a long time, but I'm focused on what I've got going on here at NC State and building this culture with the guys on my team."
After spending his 2018 academic year at Hutchinson Community College in Kansas, Hockman enrolled at N.C. State and instantly became one of the biggest names in the Pack's battle to replace the NFL-bound Ryan Finley. Though he eventually lost the starting job to Matthew McKay, Hockman's spirits never diminished.
"I feel like I'm getting better every day," Hockman said. "That's all I want to do: just get better every day. Just like Tom Brady or any of those guys that started at the bottom and rose to the top, that's all I focus on."
Four games into the season, the battle appears to be less definitive as difficulties in the West Virginia and Ball State games have muddied the waters for who has the spot behind center secure. Hockman, sitting in the No. 2 spot on the depth chart, still persists onward with the decision out of his hands.
"I'm just working my hardest, and Matt is, too, and so is Devin," Hockman said. "It's all up to Coach Doeren. Like I said, I'm just going to keep working and focus on my day-to-day and focus on what I can do to be better and help this team win."
Even if Hockman doesn't get the job, he doesn't let his positioning affect his relationship with McKay. The two continue to bring the best out of each other, and their bond is apparent on and off the field.
"Matt's a great player," Hockman said. "He's doing a great job. He's leading the team. I'm excited for him. We're close friends, so there's no hard feelings between us."
That being said, Hockman did get a chance to shine in the last game where the Powder Springs, Ga. native played in meaningful minutes as opposed to his previous appearances in games decided well before his first snaps. This was by design, and despite his drive ending in an interception one could argue wasn't the fault of the quarterback's, his cameo appears to have been eye-opening.
"On Monday (Sept. 16), Coach pulled us aside and said, 'We're going to let Bailey get a few snaps in the second quarter,'" Hockman recalled. "I was excited about it, and I think I did well. I made a big play on third down. I've just got to keep working and preparing to always be ready."
Hockman may have his chance to shine against the team that slighted him. Many among the Wolfpack faithful have already spoken out in favor of Hockman, and despite McKay playing solidly in the young season, this game is the perfect opportunity to showcase why he deserves to remain in the conversation. But maybe the gears are already in motion. The decision may already have been made about Hockman's usage against Florida State.
"I don't know if I'm at mercy to say," Hockman said regarding how he'll be utilized on Saturday against the Seminoles.
The decision is ultimately up to Doeren, but if Hockman's comment addressing his role on Saturday in Tallahassee is anything to go by, Wolfpack Nation will likely have another No. 16 to remember as its quarterback.
Never miss the latest news from Inside Pack Sports!
Join our free email list