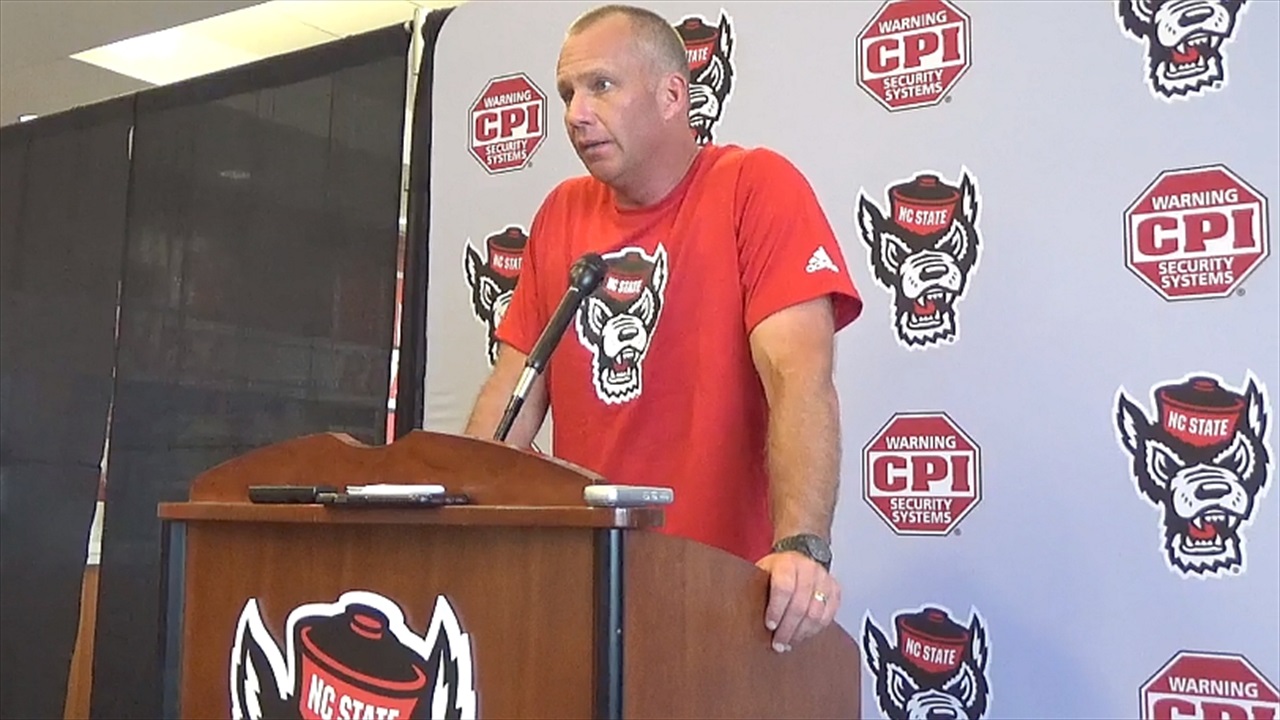 NC State Football
Dave Doeren: "We Did Some Good Things"
---
NC State head coach Dave Doeren met with the media after the Wolfpack's 41-0 shutout win over Western Carolina.
NOTE: Click the video above to watch the press conference.
---
Opening Statement...
First of all, just really proud of a lot of the guys in the game. To get a shutout and to hold a team to eight yards rushing. Defensive guys did a great job.
I thought we started slow on offense and then got the run game going. It was great for Bam (Knight) to get his first 100-yard game. I thought Jordan Houston gave us a good spark in the second half with his change of pace. The tight ends got involved in the passing game. We had 7 catches at tight end, so that was good to see.
We did some good things. Obviously, there are things we have got to do better. It was good to see us get a takeaway at the end of the game. I was proud of how they played for four quarters. We got a lot of guys out there; we played a ton of people, which is great for our roster. I think we came out of the game relatively healthy, which is really good. Nice hot day, and we are looking forward to the next one.
On what he liked defensively...
Well, we held them to eight yards rushing and 90-some yards passing. To hold a team to 100 yards is a pretty solid performance. We kept the ball in front, tackled well, didn't give up any explosive plays, and they didn't score any points.
On Zonovan Knight getting a lot of attention this summer...
I don't think he handled it well, to be honest. I think he had a big head this summer and read his press clippings too much. His attention was grabbed in camp. Our defensive kids got after him and put him back in his place. He had a really good finish to camp.
I think he thought it was going to be easy. It's not easy. It's hard. It's hard to get yards. It's good experience for him, to be honest with you. It's good experience to be humbled. Playing in the first game, and scoring on his first touch, and then he came out today and ran really hard. He had a lot of good yards after contact today.
He's physical, he gets north and south... he's a 200-pounder but he runs hard, he really runs behind his pads and drives his legs on contact. I really like how he fights for extra yards, and he takes care of the football.
On a somewhat slower start to the offense...
Well, last week, we scored a touchdown on our opening drive, so I don't really agree with that. In this game, definitely. Definitely.
I thought last week we started slow on defense and let them drive down the field and then our offense drove the entire length of the field and scored a touchdown. I thought that was pretty strong.
Today, I was disappointed. I didn't think Matt (McKay) was very sharp in the first quarter. Didn't really give our run game an opportunity with two incompletions in the first drive, but then he just kind of settled in.
Most offenses these days are built around getting that first first down and gaining some tempo in your offense. Once we started to do that and got their defensive kids tired, it was a lot better from a line of scrimmage standpoint. Five hundred and forty yards and a bunch of rushing yards and a bunch of guys played, it was pretty positive.
Another good game from Alim McNeill. Val Martin earned that starting spot, was that extra motivation for him?
Alim has to learn how good he can be. He's a guy who probably never had to work as hard as he's working now in high school and he could get away with it because of how talented he is. He's a high-potential guy and he's still learning what he can be for us.
I think it's consistency, focus, and work ethic because I think he could be a tremendous player, but Val works harder than him, period. As Alim continues to pick up his work ethic he's going to be a really, really good player.
The one thing we reward here is hard work and if you're the same guy over and over and over you'll be rewarded for that.
You were able to play younger players in the secondary. Is that good for younger players to learn on the fly?
Yes and we had some guys sore so to be able to play the young guys and get healthy was a big deal.
It was great to get a lot of reps. Cecil Powell played on both sides of the ball today... it was great to get him a catch wearing C.J.'s number.
Where did you improve?
We had three penalties on the day, that improved from six. That was something we talked about today... defensively we were outstanding on third down and I thought the redzone offense was much better.
You'll never be completely happen at the end of the game.
Overall it was a pretty good game for the guys.
Trenton Gill kicking it out...
In two years he hasn't kicked the ball out of bounds. I'd never seen that. I didn't expect that at all and I hope it never happens to him again. I've never seen him do that. Twice in the game... he's done a really good job on our kickoffs.
More on Powell playing offense...
Cecil was a two-way player in high school and maybe the fastest guy on our team. CJ Riley was one of the fastest players on our team so it gives us the ability to have a guy who can do some things with the ball. We're just trying to use our roster.... he's also a guy back there catching kicks. He's a really, really talented guy and we're trying to get him on the field.
Does the downfield passing have to get better?
Yes, it has to ge ta lot better. It has to get a lot better. You won't run the ball for 300 yards against these ACC teams if you can't throw the ball down the field. It's not going to happen. It's an area we have to get better at for sure.
Never miss the latest news from Inside Pack Sports!
Join our free email list