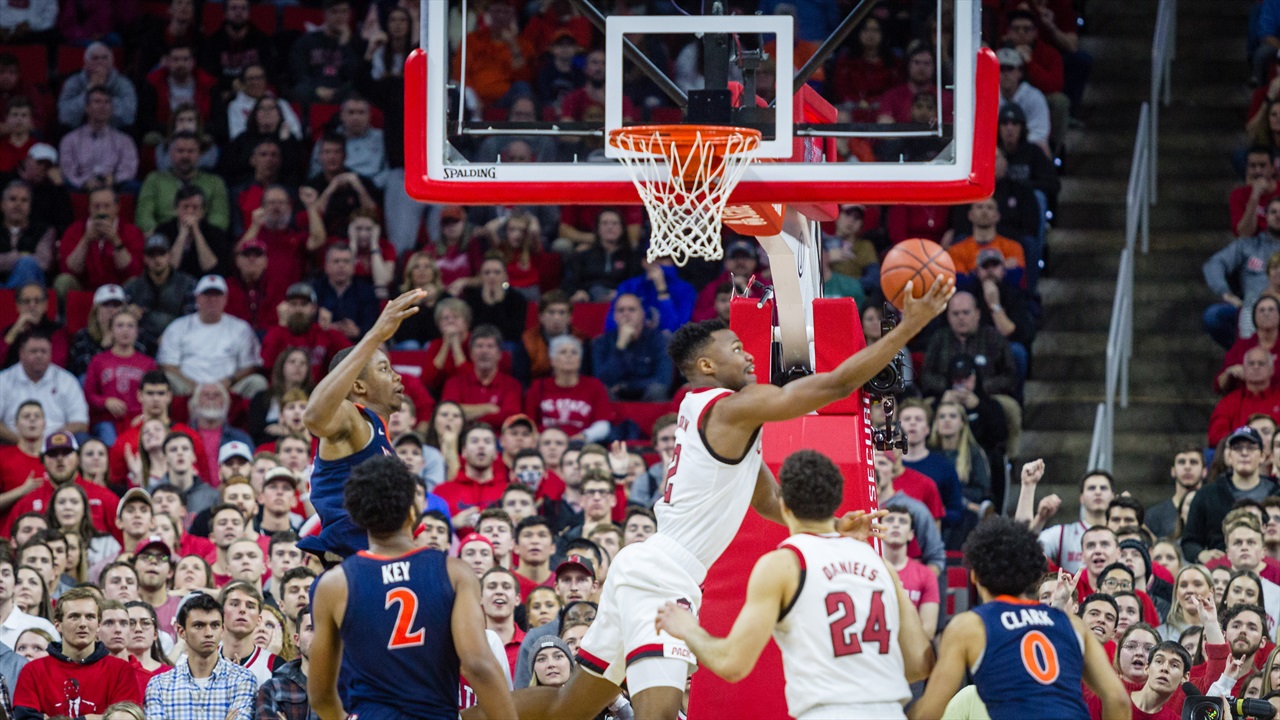 NC State Basketball
OBSERVATIONS FROM THE GAME: Virginia
---
NC State rallied from a 14-point deficit in the second half but fell short in overtime to No. 3 Virginia, 66-65, Tuesday at PNC Arena. The 22nd-ranked Wolfpack dropped to 16-5 overall and 4-4 in ACC play with the loss.
The contest was played at a pace that suits the Cavaliers, and when the Pack found itself down by double digits a lopsided loss seemed likely. NC State fought the good fight and battled back against a Virginia squad that may ultimately compete for ACC and national titles by the end of the campaign.
HIGHLIGHTS
Resiliency
Unfortunately for the Wolfpack, battling back from deficits is a learned trait and they have had plenty of practice at it this season. It has been mentioned before that NC State needs to get off to better starts and try to limit the lulls over the course of its games.
That said, Virginia is an outlier. Teams struggle against the Cavaliers not because of any type of complacency or lack of motivation, but more due to the fact that Virginia is quite good at what they do. NC State took 28 field goals in the first half and made nine, while the Wahoos made 11-of-18 shots from the floor prior to intermission.
NC State should feel like it can compete with any team in the nation, but also think it has room to grow in order to do so. The Wolfpack did plenty, but unfortunately did not do enough. If there is growth potential, find it. Moral victories are crutches that losers lean on.
Turnovers
Turnovers: Virginia 16, NC State 8
Points off of Turnovers: Virginia 10, NC State 17
Two things of note:
NC State forced a disciplined offense into many mistakes while limiting itself into only one turnover per nine minutes.

NC State scoring 17 points off of turnovers, when contrasted to the eight turnovers the Wolfpack committed, means the errors were effectively mitigated. It is always helpful to compare turnovers committed versus points scored off the opposition's miscues. In that regard, NC State doubled up with 17 points compared to eight turnovers.
Wyatt Walker
The stat-line for Wyatt Walker against Virginia was nice. He finished with 11 points and seven rebounds. Perhaps more impressively, he did so while dealing with the cumbersome duo of Jack Salt and Jay Huff.
Salt ultimately fouled out with five points and four rebounds while Huff had eight points and a rebound along with four personal fouls. Walker matched their offensive output, and NC State held its own in rebounding totals.
LOWLIGHTS
Three-Point Shooting
NC State made only seven of its 26 three-point attempts (26.9 percent), but Virginia often induces poor shooting.
Perhaps a bigger issue is the Wolfpack having 26 of its 64 shot attempts coming from behind the three-point line. That is slightly more than 40 percent of its field goal tries coming from long range.
NC State would have done itself some favors by taking more shots in the lane. The Pack actually was 15-of-38 (39.5 percent) on its two-point attempts, so the potential was there for more success in the shots they did take.
Assists-to-Baskets
Virginia: 15 assists, 24 field goals (62.5 percent)
NC State: 10 assists, 22 field goals (45.5 percent)
NC State could not make the pass that led to easy baskets. Virginia often did. The Cavaliers scored 32 points in the paint (NC State finished with 24) and it was often the extra pass that led to a layup or dunk.
PLUS/MINUS
+/- is the points scored by a team minus the points allowed by a team while a certain player is on the floor.
| | |
| --- | --- |
| PLAYER | +/- |
| Devon Daniels | +13 |
| Markell Johnson | +6 |
| Blake Harris | 0 |
| Wyatt Walker | 0 |
| Jericole Hellems | -1 |
| Torin Dorn Jr. | -2 |
| DJ Funderburk | -3 |
| Eric Lockett | -4 |
| C.J. Bryce | -6 |
| Braxton Beverly | -8 |

STAT OF THE GAME
NC State's last victory versus Virginia: March 15, 2013 (75-56 in the ACC Tournament)
NC State's last regular season victory versus Virginia: February 21, 2009 (72-67 in Raleigh)
NC State's current losing streak to Virginia: Seven games
NC State's current home losing streak to Virginia: Six games
The Cavaliers are 15-1 against NC State in regular season matchups since the 2006-07 campaign and are 15-4 overall versus the Wolfpack during that span.
QUOTE OF THE GAME
"We're right there. I believe, and I think everybody on this team, coaching staff and all, believes that we're right there. You build on it. Look at the things we did wrong, things that we can clean up, and just build on it. We've got [Wednesday] off. We're going to get some treatment, get healthy, and then on Thursday we're going to lock back in for Virginia Tech." -- NC State Sophomore Guard Devon Daniels
Never miss the latest news from Inside Pack Sports!
Join our free email list