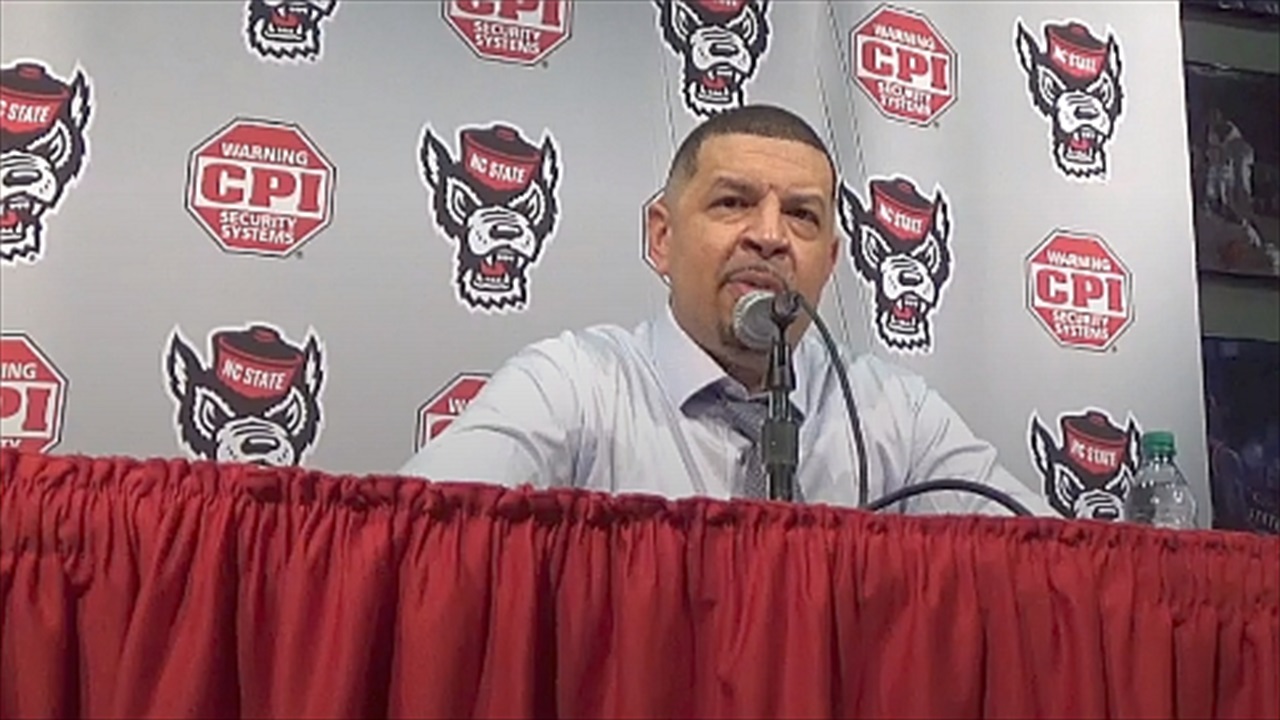 NC State Basketball
Pitt's Jeff Capel: "They Made Plays"
---
Pittsburgh head coach Jeff Capel met with the media after No. 15 NC State's 86-80 win over the Panthers.
NOTE: Click the video above to watch the pres conference.
---
Opening Statement:
First and foremost, I want to congratulate NC State. It was a heck of a college basketball game and a tale of two halves with the free throw attempts. We had a lot of free throws in the first half, and we were driving well. NC State plays an aggressive style of man-to-man defense and we were able to get to the foul line and to have it manageable at halftime.
In the second half, we played primarily zone the whole half, and they got to the foul line a bunch in the second half. Two things for us are we have to rebound and value the basketball better.
Offensive rebounds killed us in the game. Those are two things we can control and have to do a better job of. NC State getting to the offensive glass, allowing them second shot opportunities and us turning the basketball over were the difference in the game.
We're still learning, growing, and trying to figure out how to win on the road. It's a tough thing to do in the ACC and especially when you're playing against a good team like NC State.
I'm proud of my players for how they fought. I thought we battled and put ourselves in a position to have a chance to win the basketball game. We're a team, and we have to minimize those mistakes. Being good at the little things is something we need to improve on.
On NC State's shooting in the second half:
They just made some shots. I thought our zone was active, and it took them out of their ball screens. We had a couple of breakdowns where we'd see a guy in the corner and we didn't bump correctly, and that got their shooting started.
Eric Lockett went on a stretch there where he hit two big threes in a row. Torin Dorn hit one in the corner, and we have to do a better job bumping on the corner threes in those situations. We got a lead there and those threes really got us. We had some good looks on shots and missed them on our end. But again, I think it came down to offensive rebounds.
On NC State's defense:
We didn't do a good job against their defense. We had 17 turnovers, and I thought that was a big key for this game going along with, not valuing and not rebounding the basketball. We need to have pace and poise in those situations to make the right play.
On playing 15 first-half minutes without Xavier Johnson:
It was difficult. I think we did a good job. We have some experience with it. When we played St. Louis, I think he played three minutes in the first half. Johnson has got to stop committing fouls that are not smart. Both of his fouls in the first half were plays that are not smart.
We talked about that from the Louisville game the other day. He committed three in the first half, and they're not smart. He has to do a better job because we're a much different team. What that did was it put (Trey) McGowens at the point, and he had to be the guy to initiate the offense, and that's a position that he isn't quite as comfortable with right now. Our offense is not as good because we're limited in some of the things that we can do, so that did hurt us with him being out in the first half.
On how many of the team's shortcomings in certain areas come back to experience:
That excuse is not for us right now. It's the middle of January. We're in league play. We have 16 games under our belt right now, and these guys have played heavy minutes
. When we were poised and we did do that, I thought we did some good things, but when we were not and we allowed sometimes physicality to get to us, we didn't have poise in that situation. We have to get better.
On what he enjoys about being a head coach in the ACC:
Everything. It's not some things. It's everything. I enjoy the competition level of this league. I enjoy the young men that I coach, the university that I represent, the fan base that I represent, all of those things.
On whether his players were overwhelmed at the end of the game:
I don't think we got overwhelmed. I think they (NC State) just made shots. They made plays. They're a good team. They're ranked 15th in the country for a reason. They're good. They made a run. We couldn't get stops in that moment, and we missed some shots. Sometimes, that happens, especially when you're on the road. I don't think we got overwhelmed though.
On takeaways:
Well, we have to get better. We have to understand we have to minimize mistakes, and we have to rebound. We have to have poise. We've played against a top-15 team on the road earlier this year when we played at Iowa. It was the same thing. We had an opportunity to win it, and turnovers were the thing that did us in there. We have to value the basketball. We have to do a better job there.
On creating a defensive-minded culture:
We work on it every day. It's about trying to be tough, trying to be competitive, having pride in what you do. Obviously, we're trying to recruit to it with the type of athlete that we want to get, the type of versatile guys that we want to have. Our guys have worked really hard on it, and we've gotten better. I still think there's room for us to improve.
Never miss the latest news from Inside Pack Sports!
Join our free email list