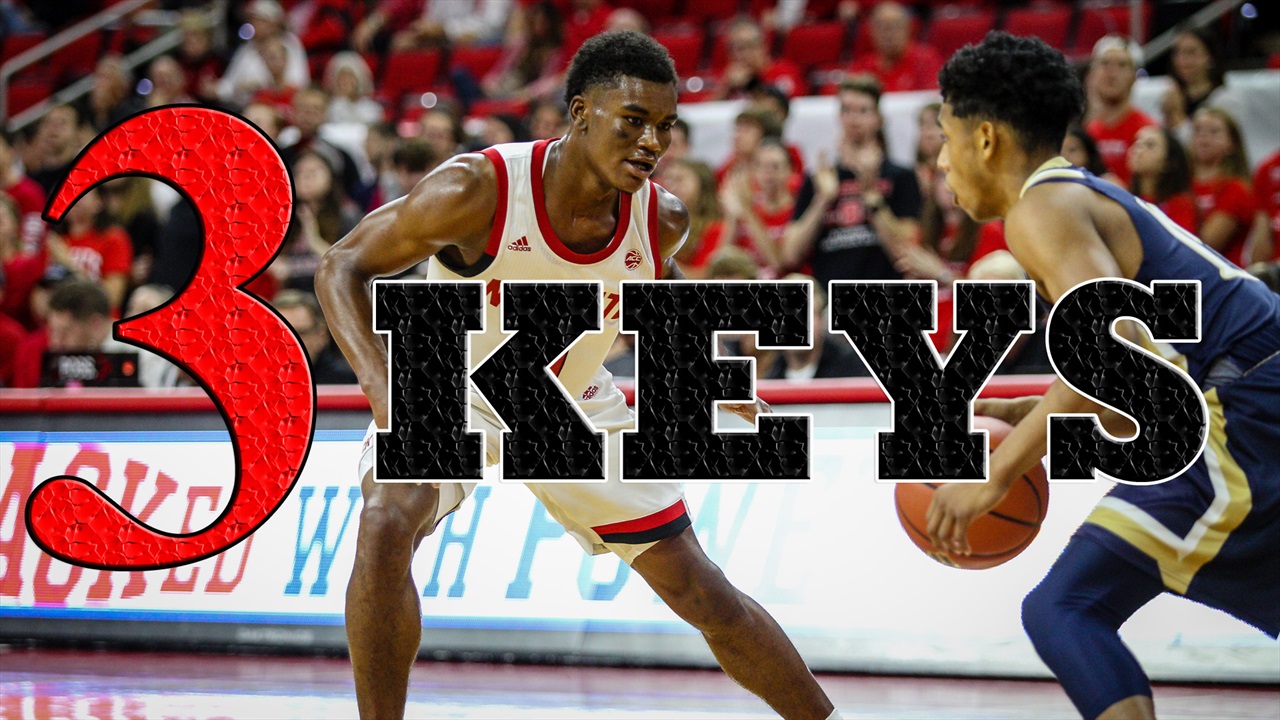 NC State Basketball
THREE KEYS: Pittsburgh
---
NC State returns to action today at noon in PNC Arena against Pittsburgh. Here are our three biggest keys to the game for the Wolfpack.
---

1. WIN ON DEFENSE... LIMIT TURNOVERS
Defensively, NC State and Pittsburgh are two teams that mirror each other in a lot of ways. Both are extremely efficient defensively and force a lot of turnovers.
| | | |
| --- | --- | --- |
| CATEGORY | NC STATE | AUBURN |
| Defensive Efficiency | 0.876 (No. 14 Nationally) | 0.874 (No. 13 Nationally) |
| Steals Per Game | 8.1 (No. 37) | 7.3 (No. 79) |
| Scoring Defense | 67.6 (No. 73) | 65.3 (No. 39) |
| FG% Defense | 42.6% (No. 107) | 38.4% (No. 15) |
| Turnovers Forced Per Game | 18.6 (No. 4) | 17.3 (No. 15) |
Clearly, these two teams utilize similar styles defensively and have been successful this year on that side of the ball. Both are uptempo teams who want to play in transition and pressure the ball. They are extremely efficient defensively... yielding a low shooting percentage while being disruptive. State's in the top five in turnovers forced, and Pittsburgh is in the Top 15 in field goal percentage defense.
NC State has to be able to win the turnover battle. It starts there defensively for both teams – who are also careless with the ball. At home, NC State should have an edge.
NC State was +10 in the turnover battle and +11 in points off turnovers against North Carolina. If the Wolfpack even duplicates that against Pittsburgh they should be able to defeat the upstart Panthers.
2. CONTROL THE PAINT
There are a variety of areas to "control the paint" and most believe the primary one is rebounding. Certainly it can be, but for NC State against Pittsburgh, the Wolfpack must pound the paint offensively and keep Pittsburgh's guards out of the paint defensively while not fouling.
| | | |
| --- | --- | --- |
| CATEGORY | NC STATE | PITTSBURGH |
| Three-Point % | 39.9% (No. 12) | 33.8% (No. 183) |
| Three-Point % Defense | 29.3% (No. 23) | 28.4% (No. 14) |
| Free Throw Attempts Per Game | 20.1 (No. 157) | 25.4 (No. 19) |
| Opponent Free Throw Attempts Per Game | 21.9 (No. 272) | 17.1 (No. 62) |
Defensively, Pitt, like NC State, focuses on limiting three-point shooting. The Panthers are No. 14 in the country in 3-point % defense, while NC State is No. 23. Unlike NC State, though, the Panthers haven't been reliable from three-point range, shooting just 33.8% (No. 183) to 39.9% (No. 12) for the Wolfpack.
Pittsburgh has been outstanding at drawing fouls and getting to the line. The Panthers are No. 19 nationally in free throw attempts per game, which suggests they are willing drivers who play through contact in the paint.
They've also done a very good job of keeping opponents off the line. That's an area where NC State continues to struggle, checking in at No. 272 in opponent free throw attempts per game.
We know NC State wants to run teams off the three-point line and force them to attempt tough three-pointers when they do shoot them. This might be a game where NC State should look to adjust – and maybe even play a little zone – in order to try and limit Pitt's dribble penetration and keep the Panthers off the line.
Does NC State need to rebound well? Of course, but they must control the paint in other areas on Saturday. They can't allow the Panthers to get to the rim and shoot a high number of free throws, but the Wolfpack must also be willing to attack the paint themselves because Pitt has done a good job of defending the three-point line.
3. IT IS A GUARD'S GAME
Pittsburgh heads into PNC Arena fresh off an 89-86 overtime home win over Louisville. The young Panthers should be confident and are led by a pair of talented freshman guards: Xavier Johnson and Trey McGowens.
McGowens had a career-high 33 points in the win, knocking down 4-of-7 treys while also grabbing six rebounds. Johnson is already one of the top passers in the ACC and he had a double-double against the Cardinals, totaling 21 points and a game-high 10 assists.
NC State can't allow Pittsburgh's guards to control the game.
Markell Johnson didn't play well on Tuesday night. He struggled with turnovers, and for the second game in a row some first-half foul trouble greatly impacted his minutes.
He has to show up because PIttsburgh's (Xavier) Johnson is a really good, young point guard.
| | | |
| --- | --- | --- |
| CATEGORY | MARKELL JOHNSON | XAVIER JOHNSON |
| Minutes Per Game | 22.1 mpg | 29.9 mpg |
| Points Per Game | 12.3 ppg | 16.5 ppg |
| Rebounds Per Game | 2.0 rpg | 3.7 rpg |
| Assists Per Game | 4.2 apg | 5.1 apg |
| Turnovers Per Game | 2. tpg | 3.5 tpg |
| Shooting Percentages | 57% FG/47% 3FG/71% FT | 45% FG/41% 3FG/83% FT |
While Xavier Johnson's counting averages are all higher, he's also averaging nearly 8 more minutes per game with Markell Johnson being the overall more efficient shooter/scorer.
NC State is going to likely throw multiple guards at McGowens, who is more of a wing in the Devon Daniels/CJ Bryce/Eric Lockett mold. Markell Johnson, Blake Harris, and Braxton Beverly will be tasked with slowing down Pittsburgh's Johnson.
We can talk all we want about rebounding, controlling the paint, hitting threes – all those things. Frankly, NC State's guards must show up. If NC State's guards outplay Pitt's guards, NC State will win this game.
Never miss the latest news from Inside Pack Sports!
Join our free email list