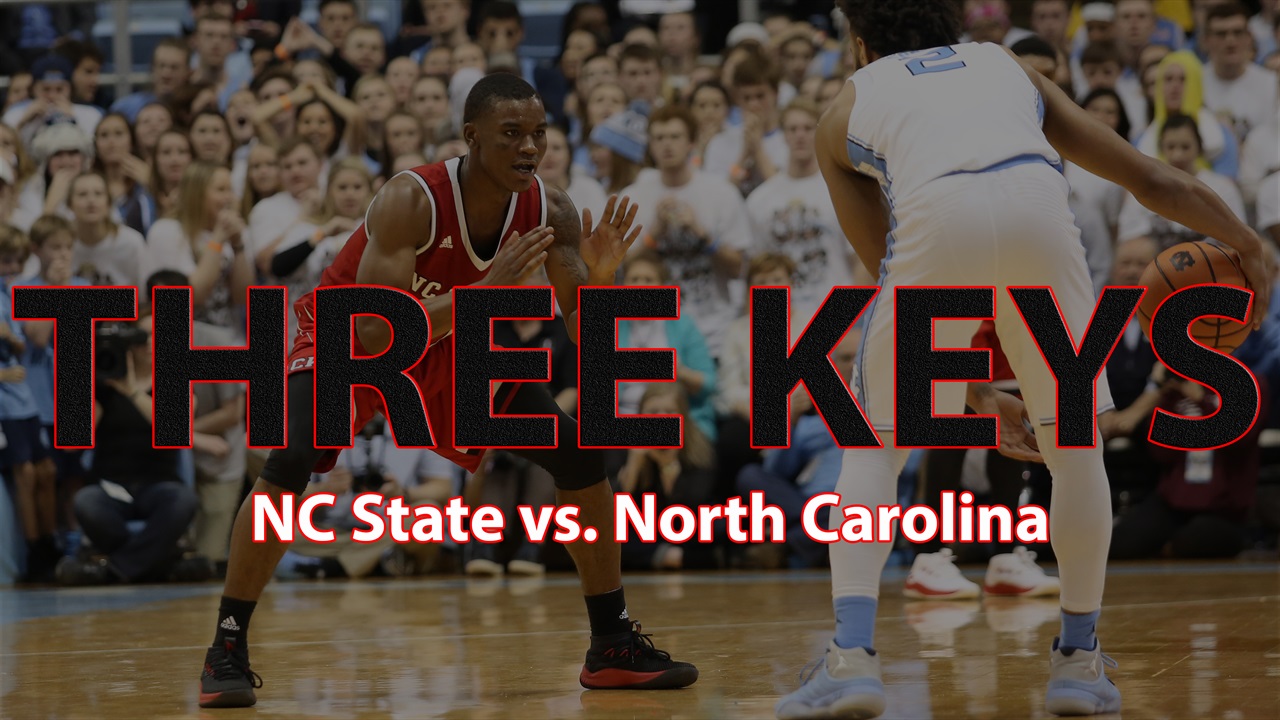 Photo by USA TODAY Sports
NC State Basketball
THREE KEYS: NC State vs. North Carolina
---
No. 15 NC State looks to secure another signature win this season against No. 12 North Carolina tonight in PNC Arena. Both teams are 1-0 in ACC play and for the Wolfpack this is a chance to validate the team's impressive 13-1 start to the season.
While North Carolina returns a lot of pieces from last year's team, NC State doesn't. However, relative to this matchup, that might not be a bad thing as the current roster certainly fits better with how Kevin Keatts wants to play schematically on both ends of the floor.
With that being said, it won't be easy because North Carolina is really good.
Here are three critical keys to the game for the Wolfpack against the Tar Heels.
1. START FAST... WIN THE HUSTLE CATEGORIES
PNC Arena is going to be rocking tonight.
This is the first time since 2006 that both NC Sate and North Carolina are ranked entering the contest, and it sets up perfectly for a rowdy environment.
NC State must jump all over the Tar Heels with a fast start. Use that energy within the building to get going early and force Carolina to chase from behind, because it could make them too aggressive and shot-happy offensively. That could lead to turnovers and transition points for the Wolfpack.
State has to play with passion and intensity... traits which translate over to the "hustle" categories.
Last week NC State outrebounded Miami by 22. Jim Larranaga couldn't recall the last time his team was outrebounded that bad. Well, North Carolina is a different animal as the Heels can match NC State's rebounding prowess.
| | | |
| --- | --- | --- |
| CATEGORY | NC STATE | NORTH CAROLINA |
| Offensive Rebounds Per Game | 11.1 (No. 29) | 11.6 (No. 15) |
| Defensive Rebounds Per Game | 25.9 (No. 47) | 30.4 (No. 2) |
| Offensive Rebound % | 37.3% (No. 6) | 34.1% (No. 25) |
| Defensive Rebound % | 78.4% (No. 25) | 79.3% (No. 12) |
Last year North Carolina was +31 rebounding in the two games against NC State. However, this year's Wolfpack team is a much better rebounding team which should help.
Also, NC State has to keep North Carolina out of transition. Both teams like to run, but NC State could have an advantage within the halfcourt due to their superior shooting and playmakers.
It's really simple. NC State has to start fast and be the aggressor. UNC is going to come in motivated, but if NC State can match (or hopefully surpass) the intensity and also win the hustle categories such as rebounding, blocks, steals, and turnovers... Pack fans will likely leave PNC Arena very happy.
2. THREE'S ARE KEY
NC State and North Carolina don't take a ton of three pointers, but both squads shoot them fairly well.
| | | |
| --- | --- | --- |
| CATEGORY | NC STATE | NORTH CAROLINA |
| Three-Point Attempts Per Game | 21.6 (No. 198) | 22.6 (No. 172) |
| Three-Point Makes Per Game | 8.9 (No. 72) | 8.3 (No. 105) |
| Three-Point FG Percentage | 40.9% (No. 8) | 36.7% (No. 66) |
| Three-Point Rate (3s Attempted vs. Other Shots) | 34% (No. 290) | 33.1% (No. 302) |
Because NC State has been so good at getting out in transition, rebounding offensively, and beating teams off the dribble, the Wolfpack hasn't needed to attempt a ton of three's. However, they are still one of the best 3-point shooting teams in the country.
Neither team, though, has been overly reliant on the three-point shot. This is obvious from the three-point rate, which is a percentage of your number of three-point attempts versus the rest of your shot attempts.
Both teams use a lot of ball-screen offense given their offensive systems, and how they defend dribble penetration factors into the three-point statistics.
NC State does a great job of attacking the paint, and when there is dribble penetration North Carolina will have to rotate off shooters and defend the rim. This should free up guys like Braxton Beverly, Devon Daniels, and Torin Dorn for clean looks all game. Add in Markell Johnson's three-point shooting off the dribble and State will have opportunities.
For NC State, they are going to try and run North Carolina off the three-point line. Wings Cameron Johnson and Kenny Williams are much better spot-up shooters than drivers, and the same can be said for Luke Maye. Guards Coby White and Seventh Woods could be the x-factors for UNC; how will they shoot it in that environment?
While neither team relies on three-point shooting, it is certainly a stat to track in this matchup. Whomever wins from behind the arc has a great chance to win the game.
3. PLAY OFF MARKELL JOHNSON
NC State junior point guard Markell Johnson seems to love playing in games like tonight. He had a breakout performance last year in Chapel Hill and was good again in Raleigh, but there was one area he struggled: turnovers.
Johnson had six in last year's home loss to North Carolina, and that can't happen again. He must value the basketball. In fact, turnovers will be a huge stat for both teams tonight.
| | | |
| --- | --- | --- |
| CATEGORY | NC STATE | NORTH CAROLINA |
| Turnovers Per Game | 14.1 (No. 211) | 13.9 (No. 196) |
| Opponent Turnovers Per Game | 18.3 (No. 5) | 15.9 (No. 38) |
| Assists Per Game | 18.1 (No. 9) | 19.7 (No. 4) |
| Assists/Turnover Ratio | 1.284 (No. 43) | 1.423 (No. 18) |
Both teams turn the ball over a lot (which can be a product of pace of play) but are elite at sharing the basketball. NC State is one of the best teams in the country (No. 5) at turning over opponents, but UNC isn't too shabby (No. 38).
Markell Johnson has to value the basketball because I expect the Wolfpack to feature him offensively once again. He's so good at creating easy opportunities for himself and his teammates and now he's knocking down his jumper off the dribble with regularity.
When NC State struggles offensively it's often because the ball is sticking in the hands of other players, not Johnson. At times, other players can become too ball dominant while not looking to make plays for teammates. Johnson seems to have the right mix of when to do what.
Limit turnovers, take good shots, share the basketball. Keep empty possessions at a minimum – meaning those that end in poor shots or "pick-six" turnovers. The ball needs to be in Markell Johnson's hands more often than not.
Let him be the playmaker and offensively NC State should be fine.
Never miss the latest news from Inside Pack Sports!
Join our free email list