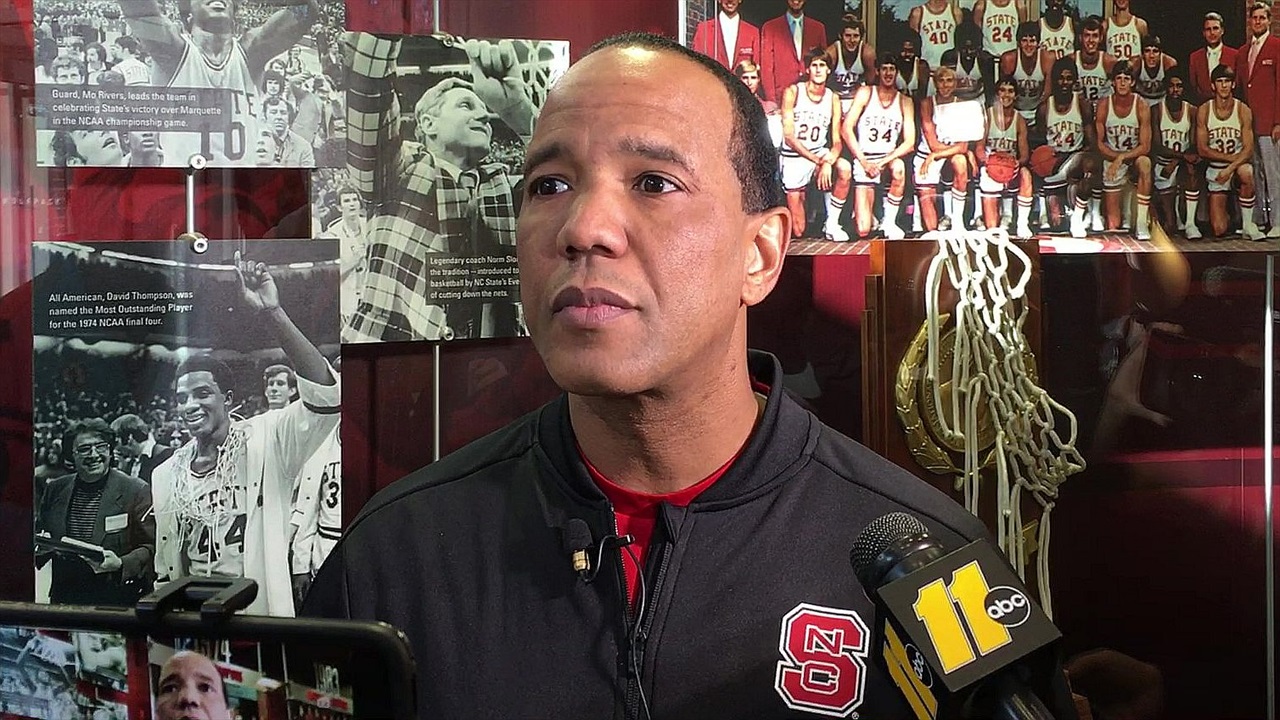 NC State Basketball
Keatts: "We Learned A Lot About Ourselves"
---
NC State head coach Kevin Keatts met with the media to discuss the Wisconsin loss and preview the upcoming game against Vanderbilt.
---
"It was big, but obviously, we wanted a different outcome. We would've loved to have won the game. I thought we improved from game to game in the six games that we played at home. I wanted to see some improvement. I thought we went on the road and did some really good stuff and some stuff that we could continue to build on as a team. I thought we played extremely hard for probably 37 minutes of the game, and I was proud of my guys for how they responded in a hostile environment."

"It was great. I think if we make a couple shots and we get to the free-throw line down the stretch, it may have been a different outcome. I thought we got some great looks. I was on the bench when Braxton took that three at the top of the key. I felt like it was going in. I think if that shot would have went in, it may have been a different outcome. It was fun. It felt like playing in an ACC game. It was a sell-out, about 17,000 people. Our guys responded. They weren't phased by the moment. That was great for me to see as a coach."

"They were devastated because they saw a great opportunity and knew we had a chance to win the game. In this program, we don't like moral victories. We wanted to find out where we're at as a team, and I think we learned a lot about ourselves, but certainly we would've loved to come away with the win."

"I think the biggest thing is to continue to develop chemistry. A lot of people forget these guys have only played together for seven guys. You could say nine when you take the exhibition and the scrimmage. I think we'll get better as we continue to play together and develop more chemistry."

"We've had games where I thought we passed the ball. This was a particular game where we were able to get in the lane and score some of the shots for ourselves. When you think about assists and how much we share, it sometimes depends on the opponent that you're playing and what they're willing to give up."

"He's had great games for us last year. I think how he played at Carolina. He's certainly had some good games for us where I thought he had to score. He's developed into a real good point guard because a point guard is a guy who certainly knows how to set everybody up and get everybody involved, but when you need a basket, he can go get one."

"Yeah, they're much bigger. They're a little bit different. I would like to say I'm sorry to hear about what happened with Darius Garland. Obviously, I hate to see any kid in any program go down, and we wish him the best as he recovers. It's a lot different, but sometimes it makes you a little bit more dangerous when you think about when you lose some of your best players. We played against a Notre Dame team without its best players, and it was tough. But they become a different team, and that means you can't key on guy. You have to take everybody seriously in the lineup."

"It'll be another challenge for us, especially in the post. I think our guys are up for it, and they'll do a good job. We won't play against another guy similar to Ethan Happ probably until we play Carolina and we play someone like Luke Maye, and Luke Maye obviously shoots a little bit better behind the arc."

"Everything that these guys are learning, they're learning as we go along. It's a new group of guys. But I'm proud of them. We'll get back in the gym. We took off yesterday. We'll get back in the gym here in a little bit and start focusing on Vanderbilt and making sure we're ready to compete in that game."

"It's great. I've said this: I think we have arguably the best guard in the country. He's explosive, but I think what makes Jalen so special is that he fits into our system. He's a guy that can get up and down, he's athletic, he can get to the hole, and get to the free-throw line. As he becomes a better outside shooter, he's going to be a tough matchup for everyone."

"No, I'm locked into the moment. We've got great players here, and these guys are getting better. I'm going to concentrate on the guys that we've got and look forward to the future eventually."

"We talked about staying in the moment. I tell him that if the NBA comes calling and you've got something guaranteed and it's right for your family, then I'm okay with that. But we talked about finishing strong, becoming a better player right now, and then we'll live with whatever the results are."
Never miss the latest news from Inside Pack Sports!
Join our free email list