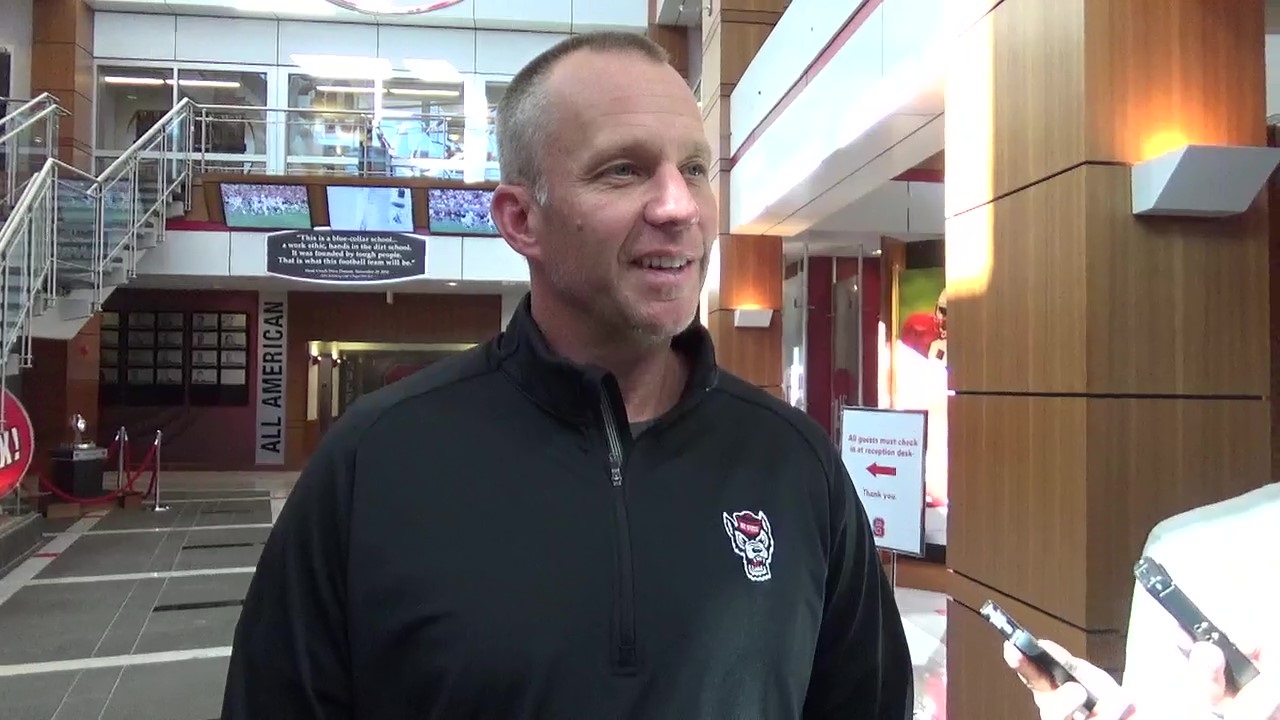 NC State Football
WATCH: Doeren Concerned With Wake Forest, Finishing Strong
---
NC State head coach Dave Doeren met with the media one final time before the Wolfpack's Thursday night game against Wake Forest.
NOTE: Click the video above to watch the full interview.
---
What did you think last night when you saw the CFP playoff rankings...
I thought that we need to beat Wake Forest.
You got four games left. We handle our business, and it'll be a relevant thing, but it's not relevant until we do that. We are one poor game away from being back down.
It's great to be recognized, don't get me wrong, but I'm more concerned about finishing where we want to finish than being there with four more games to play.
How hard is it for young people who have to look ahead like that?
Impossible.
I said, "Look, you've got that going on. You've got senior day, you got the military appreciation... all these awesome things and they're great, but what would be really, really special is to win the game. Let's just do that. Worried about that."
You can't ignore it... especially today.
What went with ECU vs. Wake Forest on Senior Day?
Family... we sent the text to the seniors and said, "can we do this?" and half of them couldn't. It just wasn't worth it... the money they'd already put in getting on transportation. It's not just parents, some of them have brothers or sisters or the people coming from all over.
It had nothing to do with wanting that to be Wake. We had already set it out there and couldn't pull it back.
Have you seen enough in practice from Big E, Shug, or Nick?
Nick and Shug practiced all week.
E is still not in practice mode all the way. He is running and in his pads doing things, but we haven't seen him play so we have to see how he feels in warmups tomorrow. Even if he doesn't get to warm up soon, we'll just have to see.
He feels way better, but we're not going to put him out there if the trainer says he won't be the way he needs to be.
He wants to play, I can tell you that.
How much did you see of Jamie Newman in high school?
We offered him coming out. We thought he was a really good player. He was in our camp. Big, strong guy, big arm, great kid. I know his coach thought a lot of them in high school.
There's not a lot of film this year but you see that he does run tough. He's not trying to go down, and he's going to try to run through people.
Not a lot of game reps to evaluate how he's gonna handle the crowd and the noise that goes along with it and then bouncing back from adversity, all the things that quarterbacks have to deal with as starters.
I'm sure he's excited to compete against us and it's a big opportunity for him, and obviously for us, third game in a row where we don't know who it is sometimes. That's kind of weird this late in the year.
What goes into the schedule for a Thursday night game?
It was game week Tuesday when we're in the locker room after the win.
We take the pads off of them in these short weeks. We did the same thing against Louisville, and I thought we played really fast against them, so we're just practicing in helmets and pads.
You only get a couple of days of work... coaches don't go to bed early and that's the grind, but we love the grind.
I think everyone in our program likes a challenge, and I'm not complaining about it one bit. I look forward to playing and wherever they put it on the calendar, let's go.

Part of the trade-off you get to be the national game?
Yeah. Kids want to be on national television... to me, this game is without a doubt, the best atmosphere we have in Carter-Finley. The Military Appreciation game is special.
So to have the troops here, whether they're active or not... the flag at halftime, the whole deal. Being in a state where there's so many bases and it's awesome.
What has impressed you about Clawson's teams?
I think he's very smart. He understands his people on his roster. I think he gets them to play
I think Dave's a really good person. I do like being around Dave and respect him a lot for building programs and he treats people with respect. I think his kids play hard and they are classy in how they do it.
There's a mutual respect I think between the both of us and look forward to competing against him because you know he's going to do a good job Xs-and-Os wise and so do you.
Bradley Chubb's honor... what has that been like?
Well Bradley, first of all I think is the backbone of what we've tried to build here.
He is a guy that built himself into what he is. He took no shortcuts. He did things the right way, treats people with respect, and he plays harder than everybody on the practice field. He prepares himself to be the best player on the game field.
He's doing that now. I was talking to one other scout this week and he said that the guys were mad at him in Denver when he first got there because he was practicing so hard. Now they're starting to practice like him because of his production. They're like, "Wow, look at what's happening because of his practice habits."
He's a glue guy. He's a guy that transforms your locker room. I'm so proud of him and not surprised at all that it's happening. I look forward to recognizing him and he deserves it.
Statement on Kelvin Harmon...
I talked to Kelvin Harmon this week, and he is going to go through Senior Day. He has not made any decisions just so you guys, but this is a milestone type thing and he has a lot of family coming in, which for him is very rare.
He's going to go through like Ryan and Chubb and all of these guys. I'll get the NFL stuff back, but sometime during the bowl we will sit down with him and his dad and decide. He'll decide if he's coming back or not, and he said if he does, he will have two senior days.
He doesn't want to not have one if that's the direction he ends up. I didn't want you guys misreading it or wondering why he's out there, but this is one of those things for him that he loves kind of the milestones of his career. I think it's really important and he doesn't want to miss that if that's where he ends up at the end of the decision, but he has by no means made a decision yet and won't until he gets all of his information back.
So I didn't want any reading into that anymore than it was.
Most likely senior to be teary-eyed?
Tyler Jones? Maybe. I don't know. Big T? Those guys are pretty emotional guys, and it's a special day. It's kind of anti-climatic because they have another home game after this, but it means a lot to our program.
Never miss the latest news from Inside Pack Sports!
Join our free email list