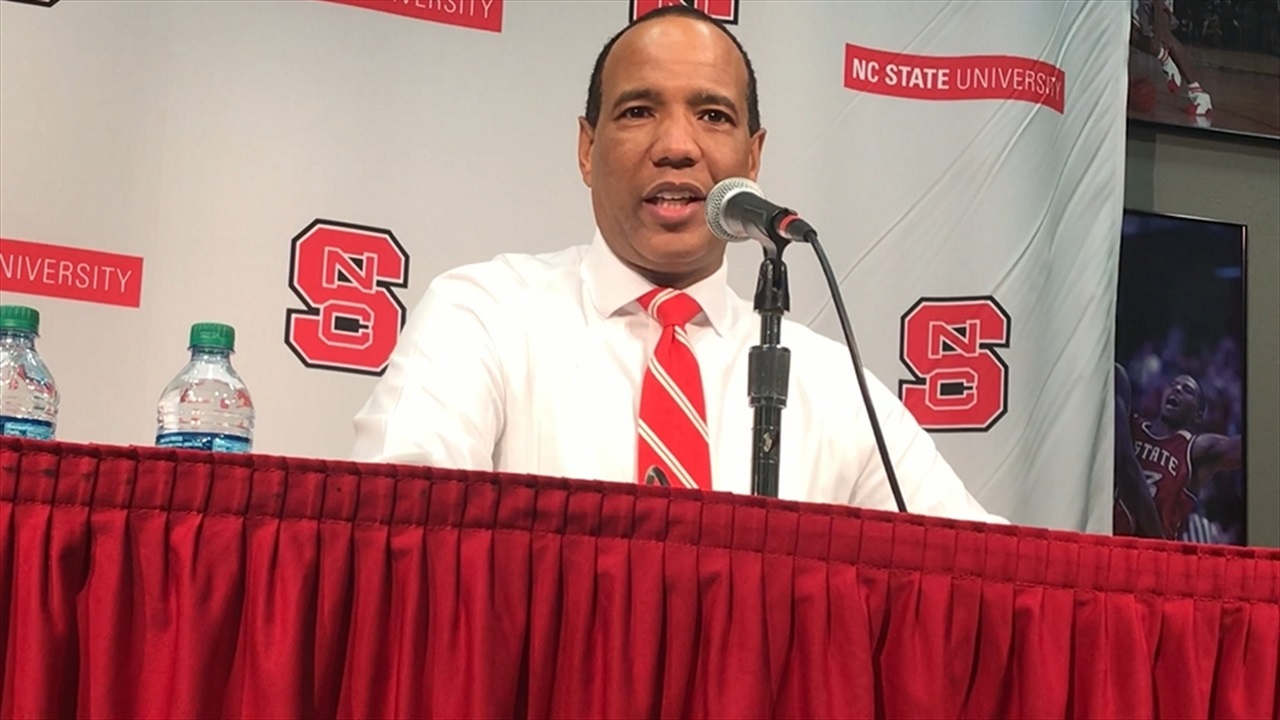 NC State Basketball
Keatts: "What A Good Game For Us"
---
NC State head coach Kevin Keatts met with the media after the Wolfpack's 105-55 win over Mount Saint Mary's.
---
Opening Statement...
"What a good game for us because we were able to see two different teams. What I mean by that is we've had a couple guys that haven't played basketball in over a year and a half in a meaningful game.
I thought our guys came out with a little bit of jitters to start the game and then once we settled in, I thought we played great. I think we finished the game on a 51-14 run, which was good for us. Our press got involved and I thought we did some good things.
When you look at the stat sheet, I'm very happy with our guys. We had four guys in double digits and DJ Funderburk was one point from being in double digits. I thought we shared the basketball, we didn't turn it over, and we were able to force some turnovers. That's my vision of how I want us to play.
I knew we were going to start off slow but I am glad that we were able to finish the game. It was good and we will take this tape and we will build on it. I thought early on we had some defensive breakdowns that I want to clean up, but when we get out in transition and we start playing, we could be a very good basketball team."
On Torin Dorn...
"I thought Markell Johnson and Torin Dorn stepped up and made a couple big plays when we were struggling. They played like guys that played in the program last year. I could say the same thing about CJ Bryce. I thought he had some great rebounds. It's important for the guys who have played for me before to lead by example and I thought those three guys did."
On long-range shooting...
"I took Torin Dorn out of the game at the end because I told him if I didn't take him out I was going to mess him average up from three. You know, it's good for some of those guys to see the ball go in. With Braxton, we're a really good three point shooting team; without him, we're average. I thought we shared the ball, I thought we made the right play, and guys stepped up and made some shots."
On playing a traditional lineup...
"I think that I will play that lineup a lot. The crazy thing is when you look at DJ Funderburk, he's really not a center, so I am able to switch a lot of screens with him. He's long, he's active, he gets a lot of hands on balls, and he blocks a lot of shots.
I even went with basically five guards at one time and we switched off screens. I'm still trying to figure out what combinations play well together. I keep going back to this: what I like about this team is the versatility. We can play small when we want to. If I have to play a traditional lineup, I can play DJ Funderburk at the four."
On Markell Johnson...
"He's one of the best point guards in the ACC when he plays. He is not a guy that is hunting shots. An ideal game for Markell would be to have 10 assists and eight points. That's okay, but at times with this team he has to be the scorer of the basketball. When we needed him to he did tonight."
On CJ Bryce and Devon Daniels...
"I thought CJ got in a groove and I don't think Devon ever hit his stride. That's probably a good thing for him and for us because we will be able to go look at the film and see some of the things he needs to work on. I thought he forced a couple shots. That's okay."
On facing zone defense...
"I think we are going to see a lot of zone this year. Not because Braxton is out. A lot of coaches around the country are switching between man-to-man and zone defense.
That's good for us because I think our guys do a good job of sharing the ball. I thought we penetrated, we got the ball to the middle, and we were able to throw over the top of it."
On pulling away in the second half...
"It was good coaching-- no, we talked about playing hard. I primarily was playing man-to-man press. When we went to our diamond press it kind of changed the game around a little bit. I wanted our guys to be able to pick them up full court and work on them a little without running a zone press. I think when we did go to our zone press we were able to turn them over."
On limiting individual opponents offensively...
"We take pride in stopping guys, so obviously I'm not happy with anybody scoring 24 points. If they do, I want them to shoot a bad percentage. We will go back and I'll look at the breakdowns. I thought he got too many open shots and I thought he rejected some screens we should have forced. He had a good game. "
On what he wants to improve...
"I thought we had too many defensive breakdowns. When you look at it, you'll say, 'Well, we held them to 32% and they only scored 55 points. I'm always looking for perfection on the defensive end and I thought we had too many breakdowns because we didn't communicate."
On substitutions...
"I'll give you a secret guys: most of the guys who come out of the game are guys who breakdown on the defensive end. When you see a guy come out of the game, he might have made seven straight shots, but if he breaks down on the defensive assignment he's coming out of the game. I'll give you tremendous offensive freedom, but if you don't play well or pick up your scouting report on the defensive end you're going to come out."
Never miss the latest news from Inside Pack Sports!
Join our free email list