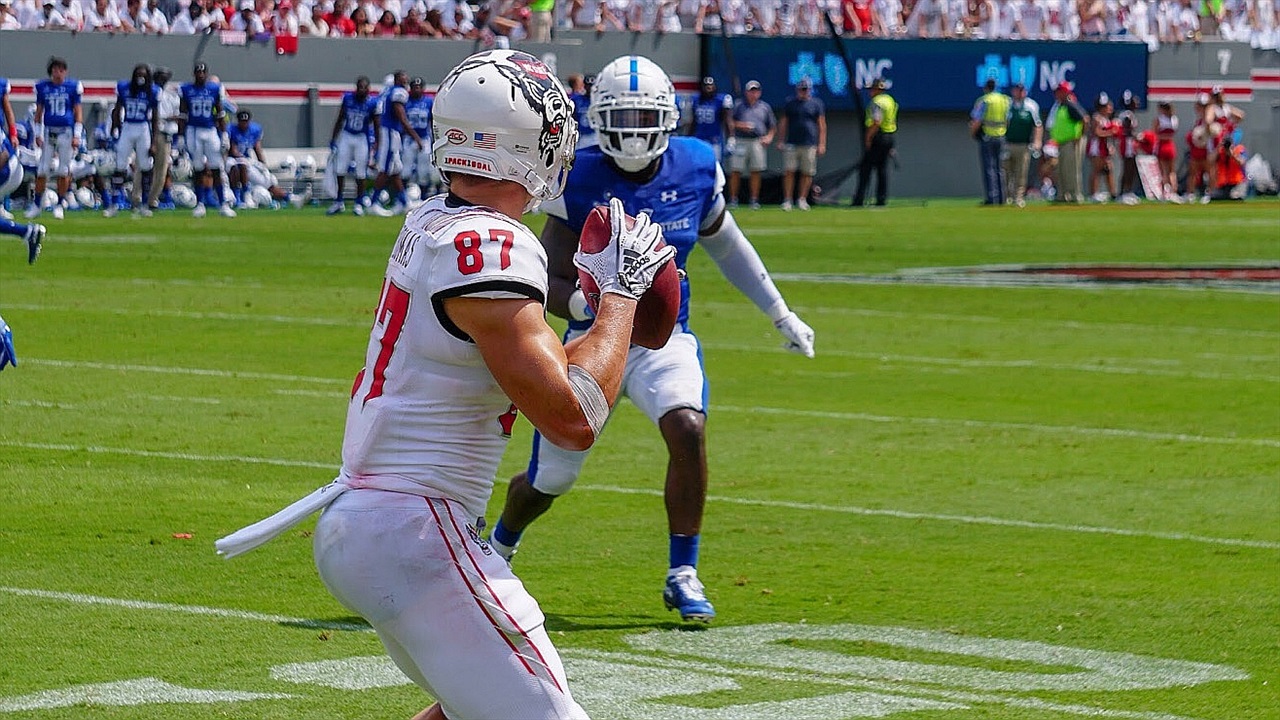 NC State Football
MCLAMB: Wake County Kids Step Up
---
Wake County stood tall for NC State.
The depth of talent in the Triangle can be speculated on, but one thing that is quite clear is that most of the good high school football players within Wake, Durham, and Orange Counties reside in or near Raleigh.
The wall Dave Doeren and his staff have sought to build around Wake County, in particular (and the state of North Carolina, in general), paid off Saturday as the Wolfpack throttled Georgia State, 41-7, at Carter-Finley Stadium to improve to 2-0 on the season.
The good news gets even better for the Pack as the youth of NC State's team, and its local talent, would seem to indicate that this is the first of many memorable afternoons.
The Sanderson High School duo of Trent Pennix and Alim McNeill registered their first touchdown and sacks, respectively.
"It feels good," McNeill said. "It just goes to show how hard we worked at Sanderson. We definitely worked hard for what we accomplished today."
Matthew McKay, the Wakefield High alum who would be given the keys this season if something happens to Ryan Finley, came in late to score a touchdown himself.
And then there is Thayer Thomas.
It is becoming increasingly evident that in Thomas the Wolfpack has more than just a hardworking kid. The Heritage product has the potential to become a star and, yes it is true, can eventually be one of the NC State greats at his position.
"It is special that we have all of these Wake County guys on this team," Thomas said after NC State's win Saturday. "You don't see a lot of that in the college level... it is really special to see Wake County guys making big plays."
The Wolfpack has produced some terrific receivers in its history. In fact, Thomas was tutored by Torry Holt -- perhaps the best of them all -- while in high school.
"He has just been a blessing in my life," Thomas said of Holt. "Same as Coach [Dewayne] Washington and Coach McDonald as well."
Thomas finished with nine catches for 114 yards and a touchdown. The slots have received a lot of work in NC State's first two games. With Jakobi Meyers on the sideline saddled with a leg injury, the Pack did not miss a beat with his replacement.
"Thayer is playing at a high level," NC State head coach Dave Doeren said. "I think sometimes guys get categorized, a walk-on category, and people think that they just overachieve and they are not that great of athletes.
"He is an over-achiever, but he is a tremendous athlete. He's got great quickness. He's much faster than people give him credit for, I can tell you that. He's got good ball skills. He works really hard. He's tough. He had a good game today."
Part of the development of players resides in the mitigating circumstances that surround him and his position group. Thomas put himself in a situation where he would get the opportunity and he made the most of it Saturday.
Pennix can get that shot if NC State's running woes continue. McNeill has that chance because the entire defensive line had to be replaced from last season. McKay is always one play away from being the man behind center.
For NC State it is good to know that the quartet can produce when called upon and it is gratifying that each one will have three years of eligibility after this season. If a talented football player in Wake County wants proof that there is potential to shine in their hometown there was plenty of it on display Saturday.
"I would not want to play anywhere else," Thomas said. "I am just so blessed to play in my hometown in front of these people at my hometown school."
Never miss the latest news from Inside Pack Sports!
Join our free email list