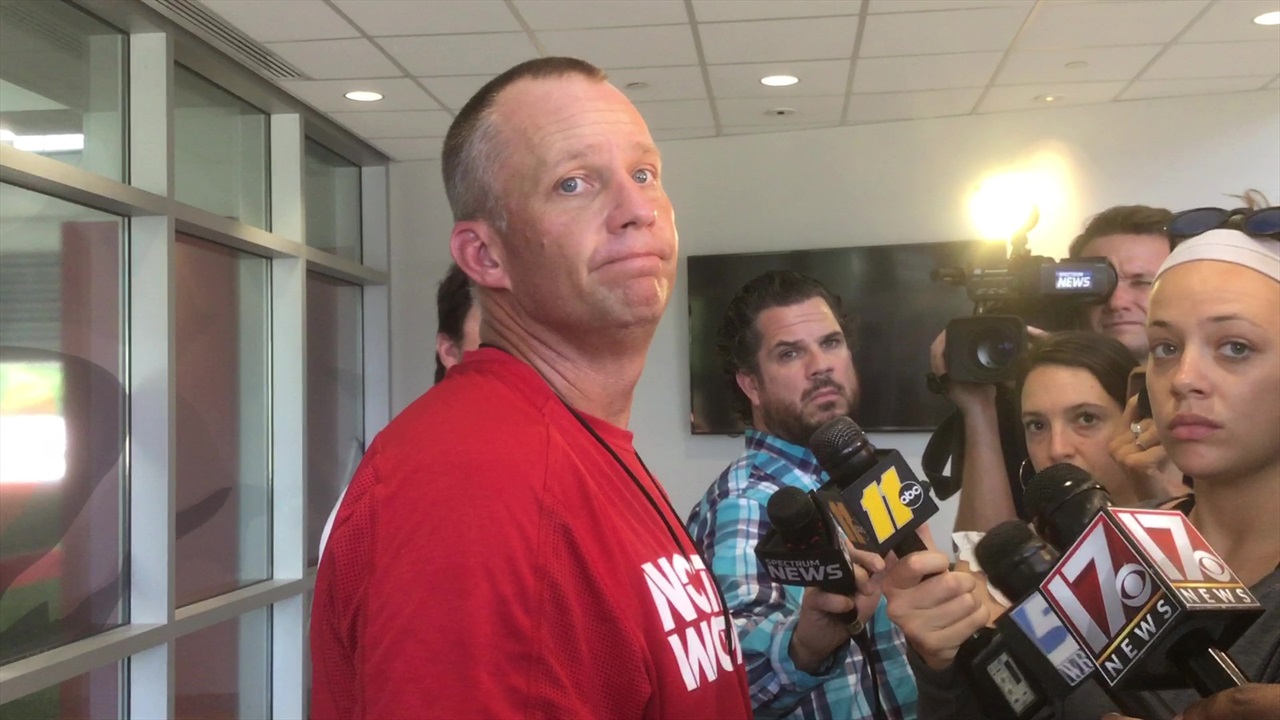 NC State Football
WATCH: Doeren Talks First Practice In Pads... Defensive Freshmen
---
NC State head coach Dave Doeren met with the media after today's practice to discuss his team now practicing in pads.
---
Thoughts on practicing in pads vs. not...
The ability to coach technique and fundamentals is different than the first two days.
You don't get to really see the flaws in plays... you get to see guy's finish. The defense today was knocking balls out.
Getting ball security to where it needs to be... heat is tough, that's why we were the full pads, but the heat here is tough.
Do players look forward to that as much as the coaches? Putting on pads... feeling the heat?
Players you want definitely look forward to that. If you don't look forward to having full gear on why are you out here?
I think the guys had good spirit. We had the day off yesterday and we got a lot done.
Freddie Phillips is back at practice. What is this process like for him?
It's great having him back with all the stuff he's been through with his Achilles. Just his sprit, how hard he's worked. Everyone is pulling for him, rooting for him. He's a try-hard guy, a tough guy who works hard. It's great having those types of guys on your team because it helps your special teams and defense.
How are your freshmen defensive linemen doing?
Some of them have got better.
Alim was pretty out of football shape I'd say, but he's starting to come on. We're starting to see him. He's explosive. He just has to learn what he's doing and play with better technique. We're excited about what he can do.
Ibrahim Kante, I mentioned the other day, he's continued to show out on the field.
It's good having Shug back in practice and seeing him run around.
Those are the guys that stand out probably on the d-line.
Do you see any leaders emerging in that group?
Absolutely.
Roseboro, James Smith-Williams... those guys have done a really good job leading at the defensive end position. Eurndraus Bryant is kind of a quiet guy. He goes about his business everyday, and Deonte Holden is trying to give the guys some spirit as well.
When you evaluated your defense last season, where do you want to be better this season?
We want more interceptions. That's the biggest area... just to create more plays like that. We've done a nice job of stopping the run and a nice job forcing fumbles, job creating more interceptions.
Our play in the backfield, our tackles for a loss, sacks have been above par.
We just have to take advantage of those [interceptions] opportunities. We don't always get them so we have to make our layups as DBs when the balls hit us in the hands.
How is Chris Ingram doing?
He's doing well.
You're out here trying to cover Kelvin Harmon and Steph Louis so at times you're in great position and they are making plays. That can be frustrating.
He made a great play today, punched the ball out. I like his attitude, how he's going about his business.
There is good competition at corner right now.
Thoughts on CJ Riley...
He's more confident.
I think when you're a year away from that ACL, two years away from it... he's the fastest guy on our team and he's 6'5.
He really played well the four days and kind of hit a wall on day five. He was a little bit better today. We expect him to be productive this season.
Do the other receivers rub off on him?
Definitely you don't have a choice with Kelvin and Steph.
Do you expect a big season from your nickels this season?
Yes and there is good competition.
We're waiting for Griff to come back. He has a lingering ankle... it's frustrating because I know he wants to be out there. When we have him, Freddie, and Tanner Ingle, we feel good about the three guys we have there.
Tanner Ingle has looked really good. Probably the best of all the defensive freshmen so far.
Never miss the latest news from Inside Pack Sports!
Join our free email list