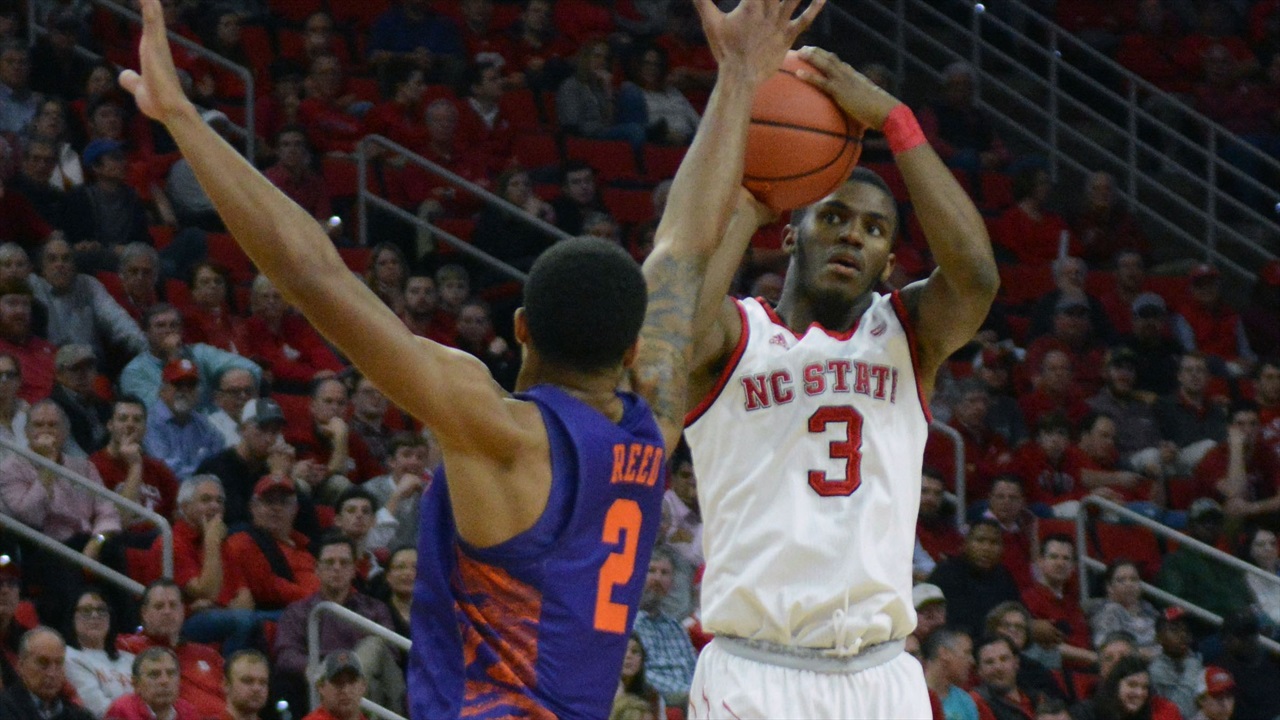 Photo by USA TODAY Sports
NC State Basketball
UPDATED: Projected 2018-2019 Hoops Roster And Depth Chart
---
NC State currently has twelve scholarships filled for the 2018-2019 season after Lavar Batts Jr. announced that he will be leaving the program. Here is a closer look at the Wolfpack's projected roster and depth chart for the upcoming season.
2018-2019 Projected NC State Scholarship Roster
Here is an updated roster of the scholarship players following the Lavar Batts Jr. news.
Torin Dorn
G
R-Sr.
Vance (Charlotte, N.C.)
6-5/208
Dorn led Charlotte in scoring as a true freshman and transferred to NC State after the 2014 season. He played a reserve role last year and excelled this year in NC State's four-out, one-in offense.
C.J. Bryce
G
R-Jr.
UNC Wilmington (Charlotte, N.C.)
6-5/190
A terrific perimeter player, Bryce was a huge pickup for the Wolfpack as the first-team All-CAA performer projects to be a major contributor in Kevin Keatts' system. He must sit out the 2017-2018 season due to NCAA rules.
Wyatt Walker
F/C
R-Jr.
Samford (Jacksonville, FL)
6-9/240
An efficient post who can create for others and rebound, Walker should excel in NC State's offensive system. Expect him to play a major role right away and has two years of eligibility remaining.
Markell Johnson
G
Jr.
East Tech HS (Cleveland, OH)
6-1/164
A dynamic athlete, Johnson can play both guard positions for the Wolfpack and had a breakout season after earning honorable mention All-ACC honors.
Devon Daniels
G
R-So.
Utah (Battle Creek, MI)
6-5/200
An efficient player who produced as a true freshman for Utah, Daniels projects to be an impact player for the Wolfpack. He must sit out the 2017-2018 season due to NCAA rules.
Derek "DJ" Funderburk
F
R-So.
NW Florida State (Cleveland, OH)
6-10/225
An impact JUCO transfer, Funderburk is versatile enough to impact at three positions.
Batts was the first commitment of the Kevin Keatts era. A former VCU signee, Batts didn't play a lot this season.
Braxton Beverly
G
Soph.
Hargrave (Hazard, KY)
6-0/180
A former Ohio State signee, Beverly joined his former prep school coach, A.W. Hamilton, in Raleigh. A knockdown shooter, Beverly is valuable due to his perimeter shooting and ability to play both guard positions.
Blake Harris
G
Soph.
Missouri (Chapel Hill, N.C.)
6-3/195
A mid-year transfer from Missouri, Harris will sit out the first semester of the 2018-2019 season before being eligible. Look for him to contribute in the backcourt as a playmaker and disruptive defender.
Immanuel Bates
C
Fr.
Northwood Temple (Fayetteville, N.C.)
6-11/215
Bates is NC State's first commitment in the 2018 recruiting class. An elite-level shotblocker, his offensive game is still raw, but he will likely need to play right away for the Wolfpack.
Ian Steere
PF/C
Fr.
Northwood Temple (Fayetteville, N.C.)
6-9/260
Steere has the size and athleticism to impact right away at NC State. His overall skillset is a terrific fit in the Wolfpack's offensive system, and he should flourish as a rim-runner on offense and rim protector on defense.
Jericole Hellems
WF
Fr.
Chaminade (St. Louis, MO)
6-7/210
Hellems will fill the small-ball role NC State has been looking for in the 2018 recruiting class. His versatility and toughness should enable him to see the floor as a true freshman.
Saddiq Bey
G
Fr.
Sidwell Friends (Washington, D.C.)
6-6/200
Bey is capable of playing multiple positions as a true freshman for the Wolfpack.

2018-2019 NC State Projected Depth Chart
Here is a look at the scholarship roster based on classes and positions.
Position
Senior
Junior
Sophomore
Freshman
PG
Markell Johnson

Braxton Beverly
Blake Harris

SG
Torin Dorn
C.J. Bryce
Devon Daniels
Saddiq Bey
F
Derek Funderburk
Jericole Hellems
F/C
Wyatt Walker
Ian Steere
C
Manny Bates

PARTING SHOTS
* As of now NC State has 12 players on scholarship for the 2018-2019 season and is continuing to pursue other players.
* This roster is loaded with length and athleticism, especially on the wings and in the frontcourt. Dorn, Bryce, Daniels, Funderburk, Bey, and Hellems give Kevin Keatts multiple options to play small-ball with, and the expectation is NC State will play that way going forward with Walker, Steere, and Bates rotating in at the center position.
* Torin Dorn is the only senior on the roster. Wyatt Walker is an incoming grad transfer, but he has two years of eligibility remaining as a redshirt junior.
* NC State is evaluating Milwaukee transfer Brock Stull. A grad transfer like Walker, Stull would have one year of eligibility remaining.
* NC State is also hosting Kentucky transfer Sacha Killeya-Jones this week for an offiical visit. Killeya-Jones would sit a year and have two seasons left to play.
Never miss the latest news from Inside Pack Sports!
Join our free email list