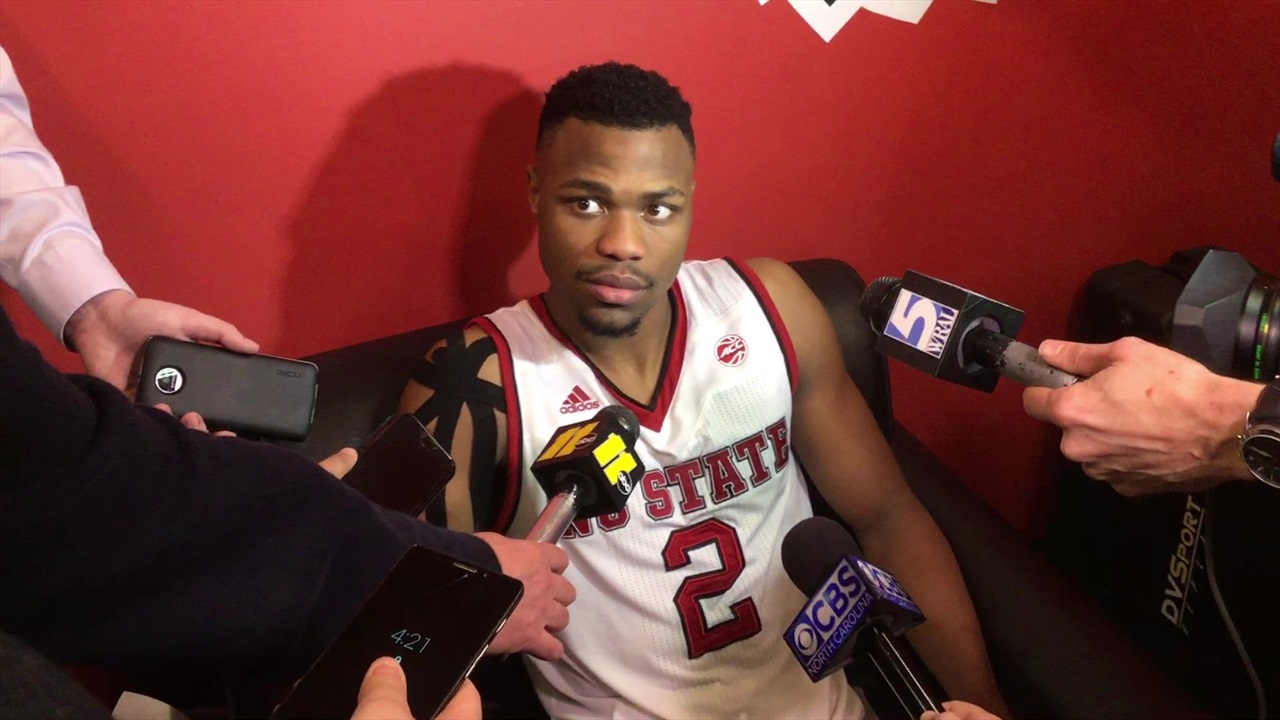 WATCH: Torin Dorn
WATCH: Malik Abu
WATCH: Braxton Beverly
NC State Basketball
Locker Room Report: Wolfpack Players
---
NC State's Abdul-Malik Abu, Braxton Beverly, and Torin Dorn met with the media after the loss to North Carolina.
---
Forward Abdul-Malik Abu
What was different?
I feel like they lived in the paint on us (last game) and we didn't stop any dribble-drives.
This game we got outrebounded and Luke had a good game. Not to say one player beats you, but he played well. We have to even up the paint better as a unit and make game-winning plays.
On not getting stops in the 2nd half...
That's the biggest thing. We've got to cherish these possessions more and get stops when we need to. We felt that we handed one to them. We made some big plays to get a surge going and then we'd give one up. Things like that is what we're going to learn from this. Coach Keatts always tells us that throughout this whole season it's going to be a journey and we're going to lose some and just to make sure to learn to make winning plays and not hurt ourselves.
On UNC's Rebounding...
Yea they play hard, and I feel like we played hard, but we've just got to match that intensity. They got their hands on a little bit more balls than we did, but at the same time we've got to value each possession.
On the difference between this game and the game in Chapel Hill...
Honestly I wouldn't say it was very different. They hurt us in the ways we knew they could hurt us and that's our fault. If they came out there and did something different and we didn't cover this, then we would be having a different conversation, but they hurt us in the ways we knew how to stop. It was just mental errors and hurting ourselves at the end of the game.
On the emotions attached to this rivalry game...
I don't like to lose regardless of who it is. I just feel it more for the fans more than anything. I'm a competitor, I don't value any game differently, unless it's a championship. But at the same time, I really want to win.
What need to be fixed heading on the road?
Defense, pride and energy. Get those and we'll be fine.
Wing Torin Dorn, Jr.
On not being able to catch up to UNC-CH in the 2nd half...
Yeah, 2nd half we couldn't get enough stops and that's all that was. We could score the ball but when we don't get stops it's hard to win games.
On defending Luke Maye...
He just has a great motor and intensity. We just can't let a guy get 17 rebounds and 30-something points and expect to win
On the difficulty to get stops in the 2nd half...
We've got to pay better attention to the scouting report and match guys' intensity and rebound the ball better.
On Markell Johnson's double-digit assist numbers, the past few games...
He's an incredible passer and we've all known that so it's just a great thing for him to show that on this stage
On Luke Maye...
Yeah, he got hot and he played extremely hard. Give it up to him, hes a great player. So we've got to match the intensity and play harder, starting with myself.
On Coach Keatts' message following the game...
It was just that we've got to play harder and we've got to get stops down the stretch if we want to win.
On the emotions during the rivalry game today...
Being a competitor, you want to win every game. Being an in-state rivalry like it is, it just gets hot. But we've got to get stops down the stretch and play a little better if we want to win games.
Guard Braxton Beverly
On second-half defensive struggles…
We just have to take more pride in getting stops, especially at that point in the game. We were just beating ourselves. We were playing hard, but we just weren't staying disciplined, what we've learned all year. So that's something we have to pick up on.
On where defense starts…
It's mainly a team rotation. I mean, there's great players in this league and there's a chance you're going to get scored on every now and then. Team-wise we have to be able to help each other and then the next person helps that person.
On Luke Maye's second-half offense…
All I can say is he's a really good player. He's got a bright future in basketball. He plays really hard and has a lot of heart and really wants to win.
On rebounding responsibility…
That was a big key. That was a big thing for us the first time we got the win, we had a good rebounding game. We just didn't have that same intensity to go grab the boards this game and that's something we have to get back and make sure we refocus on that.
On Keatts' postgame remarks to the team…
You know, we just have to get back to work. We have to learn from our mistakes, continue to grow, continue on with the season.
On getting back on track…
Just do the same things we've been doing all year. Same way that we won six games already. We have to keep doing that. We have to play hard, play for each other and it'll take care of itself.
On what changed…
Just effort. I think we just kind of let it get to us and get down on ourselves instead of just picking each other up and saying, 'Hey, you know, we're fine,' and just continue to get stops and play for each other.
On takeaways from playing upperclassmen…
Of course they're really good players. Like you said, they won a national championship, they've been there for a few years...the good thing about me and Markell--and any other guard on the team--we're up for the challenge. We want that, to see where we match up. We can go with anybody that you put us up against. But of course, you know, they're really good players and they have a lot of experience. They've been down; they've lost, they've won. They've made comebacks like they have. There's some stuff we can learn, just to stay positive with each other and just continue on, don't get away from what we normally do.
On takeaways from the two losses…
Just don't hurt ourselves. Just do what we do. Continue to play smart, stick to our principles like we've been taught all year and how it's been successful for us all year. It's nothing major, just stuff we have to get back in the gym and continue to work on. Just stay positive with each other.
Never miss the latest news from Inside Pack Sports!
Join our free email list